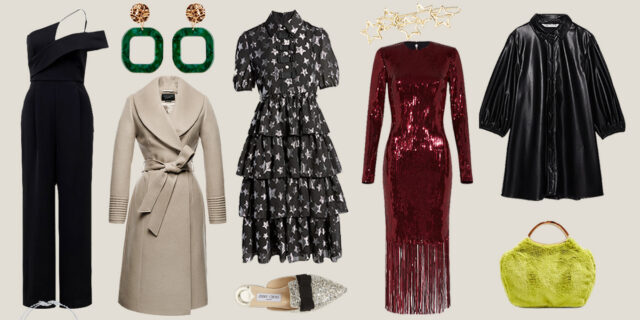 The festive season is finally upon us and so too are all the social commitments we agreed to. It is always a busy time of the year with diaries full of social gatherings. Between family demands, gift shopping and parties with colleagues and friends can be a tiresome month, made more difficult by not knowing what to wear for each occasion.
Fear not, here are some ideas on what to wear for this festive season, which is sure to take the pressure off. Whether you will be chilling out at home with family, attending glitzy holiday parties or socialising with old friends there is something for every occasion.
Shopping for gifts
Hitting the stores in December is a challenge, for which it is necessary to go prepared. Crowds of shoppers mean that stores are busy and often very warm, meanwhile outside can be bitterly cold, depending on where you live.
It is essential to dress comfortably, opt for loose, warm layers. Choose a sensible yet stylish pair of shoes, like trainers, loafers or a smart flat heeled boot. Wear natural makeup and minimal jewellery. This will avoid any necessary top ups; items getting in your way and make it easier in the fitting rooms if you are lucky enough to be shopping for yourself.
Festive brunch with friends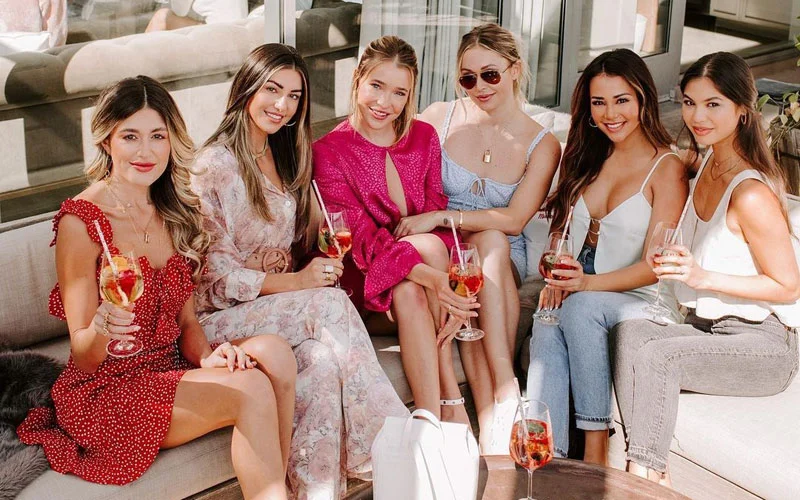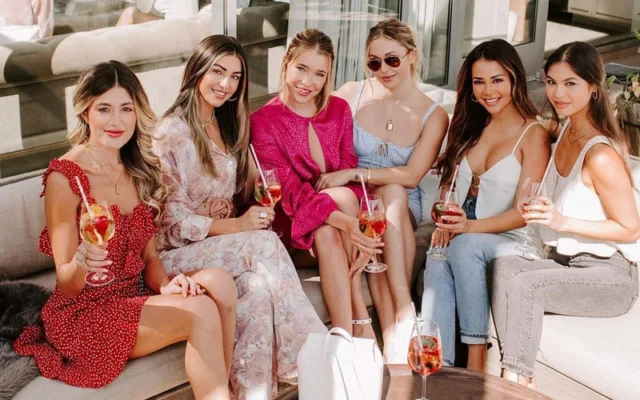 Meeting friends for brunch during the festive period is sure to be a more glamorous event. Choose a dress, midi skirt or smart trousers. All can be paired with either a beautiful knit jumper, an elegant top or coat. If you prefer to stick to neutral tones with your clothing, then add a touch of colour with some playful accessories such as a bag or scarf from Lancel. Accessories can be a great talking point when among friends. Add some glamour with beautiful earrings or necklace. To complete the look wear with a heeled shoe or boot.
Office party
Some people may love them, some may hate them, but there is usually an office party scheduled in everyone's diary in the build up to Christmas.  We have all heard the office party stories, from the cringy to the horrifying. Get off on the right foot by choosing the right outfit. It is an opportunity to show off your personal style without the restraints of a uniform or office dress code. However, it is important to get the balance right without going too far, remember you are likely to be socialising with seniors, management or members of your team. Therefore, stick to an elegant and sleek look. A satin or velvet blazer teamed with a cigarette pant would look great. For something more feminine, wear a jumpsuit or an elegant dress. Avoid clothing which is too short or tight. If you want to express your quirky side, then have fun with the accessories, like a bright heel or a statement clutch.
Family get-together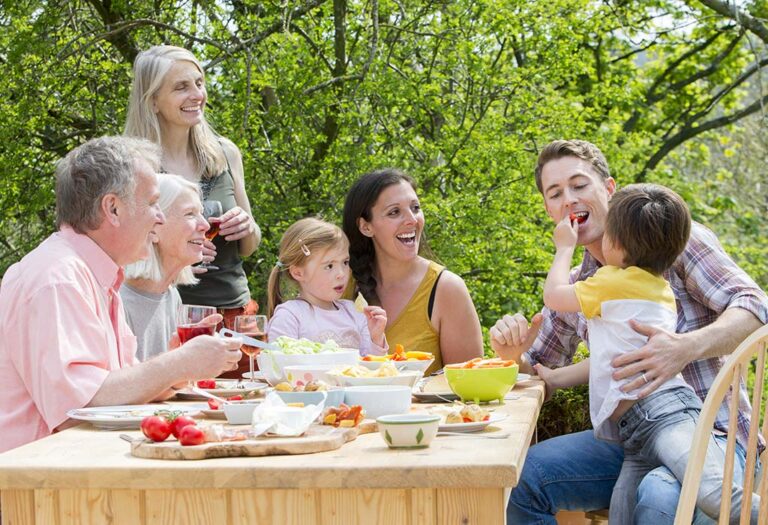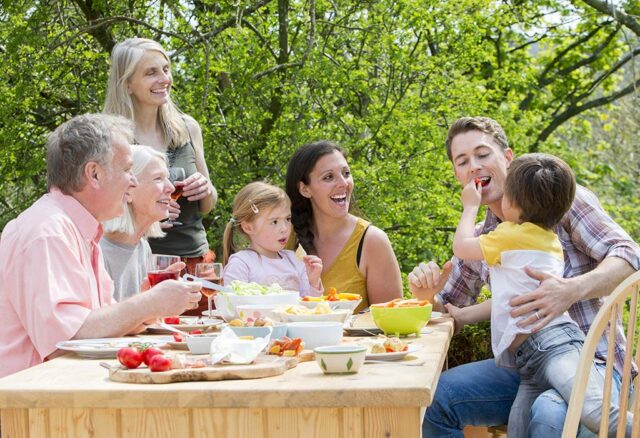 Undoubtedly, there will be many opportunities for family get-togethers over the holiday period. When choosing what to wear opt for something comfortable and stylish. Jeans and a festive cable knit or a lovely wrap dress are the ideal outfits. No matter whether it is celebratory drinks and nibbles or a delicious meal together that is on the agenda you are sure to look great. Again, keep accessories simple and paired back. Pair your outfit with a trainer, chic pumps, or low-heeled boots to ensure comfort while catching up with relatives.
Date night
Dressing for a date night and still looking fabulous in the colder temperatures is simple. For an evening meal or drinks, a blazer dress with heels or boots is a great look. Alternatively, a satin dress with a chunky boot and leather jacket is a classic look.
If the plan is ice skating or a visit to the Christmas markets, then jeans and either a leather jacket or warm coat would be ideal.
Cosy night in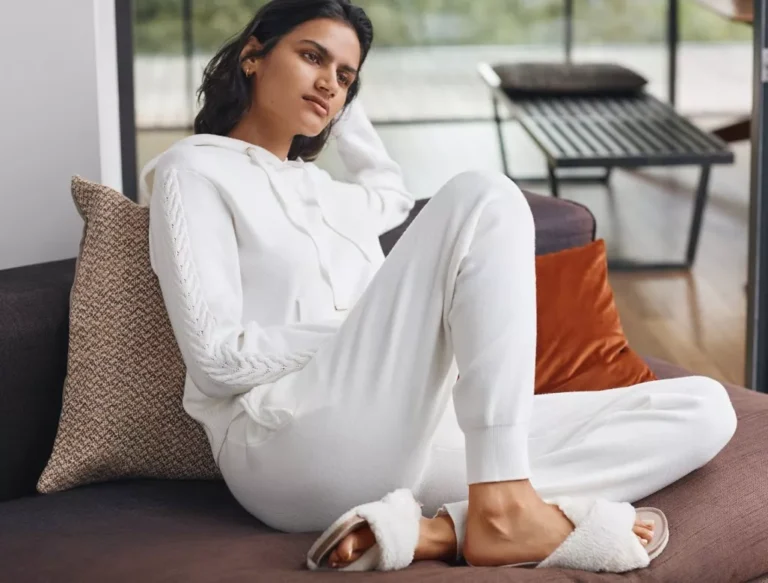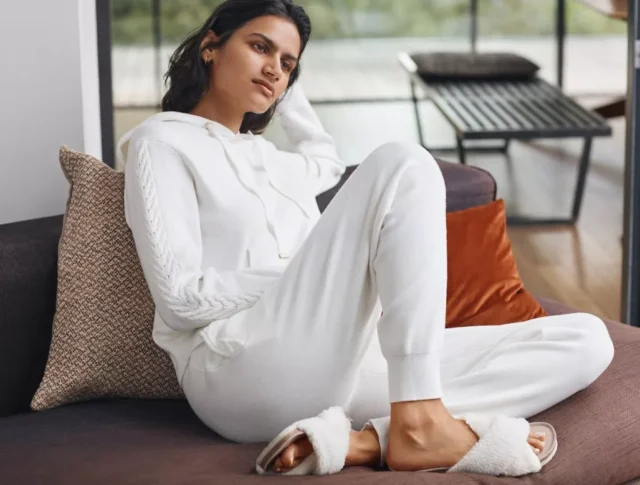 In between all the partying a little rest bite is required. If a night in chilling on the sofa with a hot chocolate and watching a classic holiday movie is on the cards, then cosiness is key.
Embrace the hygge vibes and relax in a comfortable pair of joggers. If you want to feel, more put together wear a matching jogger and jumper set in a soft knit or fleece fabric. Otherwise, succumb to the cosiness entirely and choose a luxurious pyjama set. The only accessory required is a pair of warm socks.
Christmas Day
Everyone has a different approach to dressing on Christmas Day depending on your family and traditions. Some choose to go full-on glam, while others remain in their comfiest clothes to allow for lots of feasting! Either way get the day off to a great start by choosing a nice pyjama set to wear while exchanging gifts around the tree.
If you want to go for glitz and glam, then a beautiful dress in a festive red, deep green or a metallic shade is always fashionable. For a more relaxed but smart look, consider a satin or faux leather relaxed jogger teamed with this season's favourite a wide collared blouse. Wear with a court heel or beautiful heeled boot. A touch of red lipstick with complete the look perfectly.
If you will be visiting family and friends or going for a walk before the Christmas lunch, wrap up with a warm coat with a tartan scarf, for the perfect nod to the season.
New Year's Eve (100)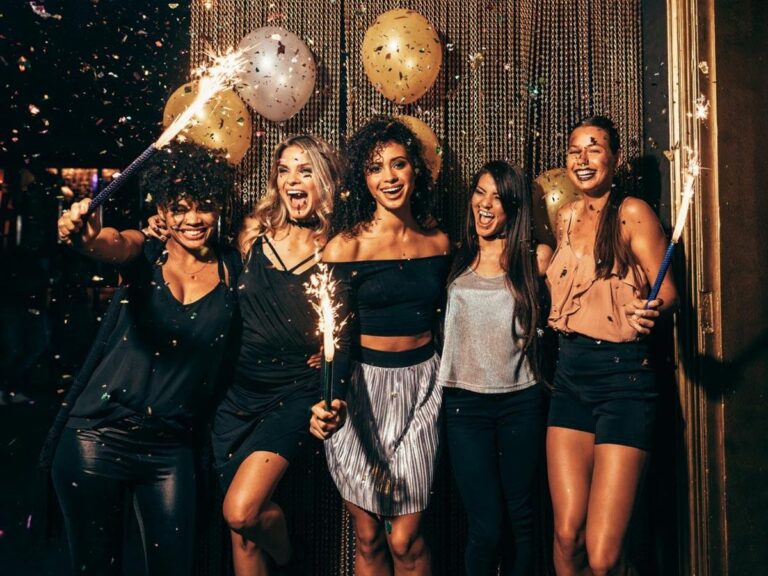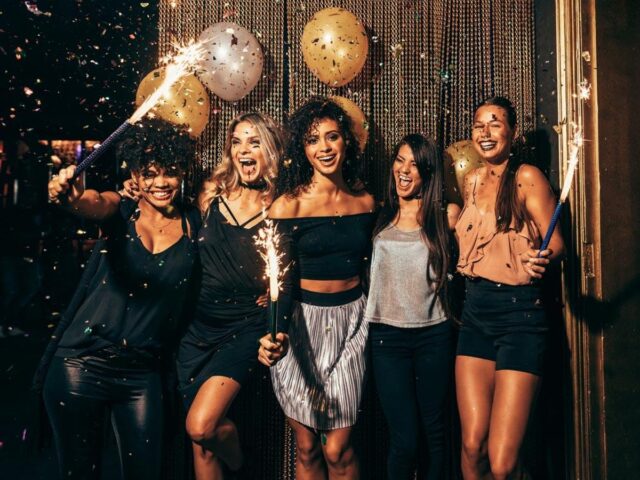 A New Year's party is the ideal night of the year to don yourself in all the sparkle and sequins. If the occasion allows for black tie choose a full-length gown in black or rich tones of red, green, or navy. Even if your plans are a little more low key, it doesn't mean you have to skip on the glam. Choose a mini dress or pair a satin, sequin, or tulle skirt with a sleek camisole top. Match with sparkly heel and an elegant clutch. Why not go all in with the makeup too, continue the sparkle with a glittery or metallic eyeshadow. Finally, stay warm while admiring the fireworks in a faux fur jacket.
Follow these simple guidelines and you will look stylish for any occasion this festive season.