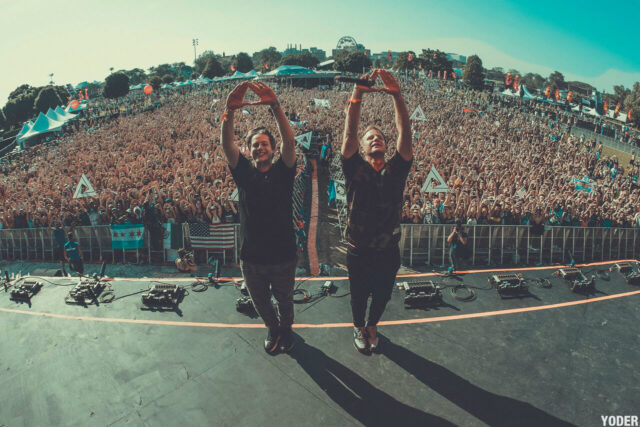 Hailing from Austin, Texas, duo Tritonal have solidified themselves in the electronic music scene as dynamic artists with a wide range of musical styles. Their latest album, Painting With Dreams, continues that trajectory with more experimentation and solidifies their commitment to progressive house. The duo proves that they have more melodic, joyful, and pumped up dance floor anthems, as well as mellow and peaceful tracks to offer.
Chad Cisneros and Dave Reed of Tritonal have made quite the name for themselves as an exciting act to see and are comparable to the likes of The Chainsmokers, Galantis, and Cash Cash. If you\'ve ever seen them live, you know they really bring out the energy and sure-fire dance hits. Tritonal's 2011 debut Piercing The Quiet produced eight top 20 Beatport singles. They have played prominent festivals around the world including EDC, Ultra, and Electric Zoo. The DJ/Producer duo also has its own show on Sirius XM Electric Area called Tritonia.
Painting With Dreams marks Tritonal's complete transition from trance to progressive house since their debut Piercing The Quiet. Since the first album, they have released more progressive hits like "Until You Were Gone", "Colors", and "Untouchable". This album sees more of these types of songs, but also embraces more mellow, piano ballad, and even a hint of tropical house songs.
The instrumental first track, "Tela Vuota", shows the smooth and relaxed piano elements and hints at the energetic build up that will be prominent throughout most of the album. The second track, "Broken" with Jenaux featuring Adam Lambert is a pop/dance classic, with a catchy hook and a danceable drop. Reminiscent of Galantis's \"seafox\" aesthetic and high-pitched vocals, "Waiting 4 U" is also a catchy dance track. Other stand-outs include "I Feel The Love" featuring Ross Lynch, with an anthemic chorus ("I feel the love, I wanna get to know you"); "Getaway" featuring Angel Taylor with another catchy phrase ("You are my getaway tonight") and high-energy instrumentals; "This Is Love" featuring Chris Ramos & Shanahan, a high tempo, club-friendly track. The most prominent instant classic, though, is their first single "Blackout" featuring Steph Jones. The memorable lyrics and catchy tune throughout make it the clear choice for a leading track and first release.
What makes Tritonal so unique is that they are able to execute pop/dance tracks well, but they can also produce slower, more reflective songs with that positive vibe we've grown to appreciate in other hits. This can be seen in the title track "Painting With Dreams" featuring Shy Martin. The song is essentially a ballad featuring piano instrumentals and what seems like tranquil forest soundscapes. This uplifting instrumental piece is a refreshing moment to balance out the more energetic tracks. The same style is seen in "Set It On Fire" featuring Fred Page, with empowering lyrics ("Tonight the world is coming down, we're gonna set it on fire"). "Livin' The Dream" also has a mellower vibe and even some tropical house elements with the use of a guitar. The style in this one is reminiscent of a Sam Feldt or Thomas Jack track, but with a Tritonal twist.
The last song on the album captures the various, often contradicting styles of the album. "Only Mortal" featuring Nick Sibicky begins with easygoing piano instrumentals and trance elements, then dives into an energetic portion of semi-dubstep sounds to close out the album with a bang (and then a little cool down). This mix of mellow and melodic sounds with higher energy is truly difficult to accomplish, and Tritonal has done it well. This is what I think makes them so great – the duo is able to bring a positive and uplifting feel to any sort of sound or lyric. If you've ever seen them live, you'll know that there are moments filled with bliss and others where you just want to downright dance.
Painting With Dreams is out today via Enhanced Music. Stream the full album and check out Tritonal\'s North America tour dates below:
Visit Paintingwithdreams.com for tickets & info.
Photo Credit: Yoder