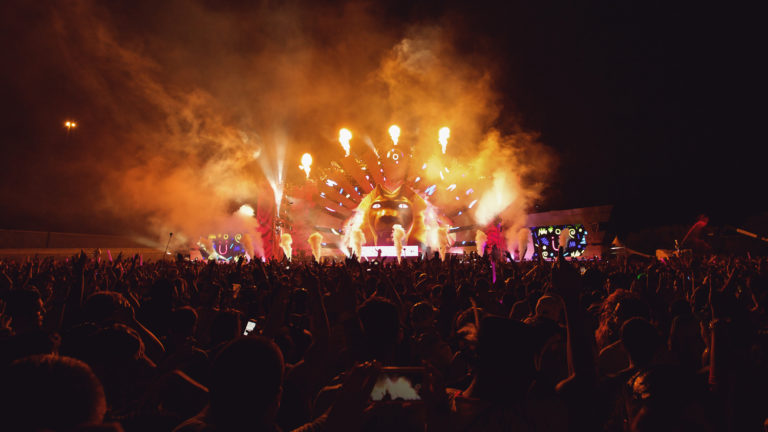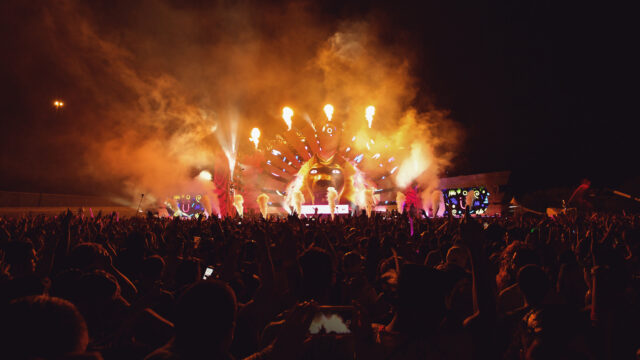 It has almost been week since we said goodbye to the kingdom we called home for a day at the Sun Life Stadium in Miami, Fla., and I am still finding paint all over my body. My TomorrowWorld bracelet is now full of all different colors of paint and I could not be happier, as now when I look down at my bracelet I have memories from two different music festivals in which flood my head. This was the third time I attended Life in Color, but the second time I attended Life in Color Miami–and boy this festival has grown and evolved into a beautiful experience. My journey in the kingdom was full of paint blasts, interactive art installations, and of course dance music. So, let\'s dive in straight to this festival review because I have a lot to discuss.
Leading up to the festival I was getting my normal pre-festival jitters because the anticipation for Life in Color grew more and more each day. The marketing and build up for this festival was handled remarkably well. Once I arrived to my hotel I quickly busted out the white tank, white bandana, and of course the CamelBak. I had about 30 minutes to get ready because my first interview of the day was with DJ Crespo, so I hoped in my Uber and was on my way to enter the kingdom.
Once, I got out of my Uber, I heard the bass from the main stage and I knew instantly that my face turned into a smile. The first observation that I made was that I noticed the location of this year\'s installment of Life in Color was different from where it was held back in 2014 when the festival was for two days. I for one did not like this change because it seemed like we were packed sardines in the music festival. I felt as if there was no wiggle room and that because it was a smaller location, the noise bleed from the stages were easily noticeable. The other problem I had–and I know many other attendees told me–was the fact that the ground was all gravel with rocks and all. This made it quite hard to shuffle. But as we all know the family of people that go to music festivals do not (and in this case did not) stop breaking it down and cut shapes; proving that even a little gravel can't stop the party.
Unfortunately, there are times when the party can be too demanding on the body. As I was walking up to the where I needed to check in as press, I saw to my left three kids being assisted by medical professions–that nearly broke my heart. This brings me to another issue. Life in Color Miami is a 16+ event where the age is very noticeable. To some extent, I do feel that kids at that age have a right to experience the rave scene and culture. However, this scene is mature and is meant to be dealt with care and therefore the lack of experience and maturity can ultimately end roughly.
After check in I was immediately brought back to the artist tent where I met the lovely Amanda Re, who is the CEO of Women of EDM. Women of EDM is a brand that shows the lifestyle of a female ravers\' with content published by women. She is known for interactive interviews with artists instead of the traditional basic mainstream interview techniques. Re is someone who is full of life and really cares for the culture and scene. As such, it was a pleasure exchanging words with her.
The first set of the festival I heard was from Danny Crespo; and DJ Crespo was throwing down one heck of a set. I wish I could have been experienced the set in the crowd instead behind at the artist tent because he definitely got the crowd started. I met Crespo once his set ended for an interview and talked about the new direction he is going with his music for the new year (stay tuned for interview write up).
Once the interview ended, I was escorted to the festival where I really got to go explore the kingdom. From the moment I walked in the festival I already loved the direction that Life in Color was going in. The theme was a perfect because it gave room for a lot of creativity and the creators utilized it to its full potential. I of course went immediately straight to the main stage called \"Raging Kingdom.\" The main stage was a huge lion head and then two big projectors one on the left and one on the right. However, I thought the stage was going to be a bit bigger with some more visualizers. This was a stage that thrived at night–I will say that. Consequently, the \"Underwater Kingdom\" was the kingdom where I spent most of my journey.
The \"Underwater Kingdom\" brought TomorrowWorld memories back to my head because the stage was under a tent just like the two stages from TomorrowWorld. This was the bass stage and the sound echoed off perfectly from the tent. Since the theme was underwater they had tentacles coming from the back where the DJ was with multiple columns on both sides. There were also bright visuals left, right, and center of the stage. The \"Underwater Kingdom\" was a stage that maintained it's crowds both during the day and night. There was not one time I was not dancing my butt off while I was at that kingdom.
I then made my way to the local talent stage which was the \"Spirit Kingdom.\" This was the smallest stage out of the three stages that played music. It didn\'t look like it took them that long to put the stage up either. It was just a platform with CDJS on a table and two booth monitors. Do not let the size fool you though because, although this was the smallest stage, it always drew a crowd and those speakers were powerful.
The last kingdom was called \"Sphere Kingdom\". This kingdom focused on flow art and was also heavily interactive with its art installation. The art installation was a metal sphere that would shoot fire all the way to the top. This \"Sphere Kingdom\" was quite big and was a great way to show art off to festival goers. I think this was a great addition to the festival and still went along with the theme perfectly.
The food trucks were not to far from the \"Sphere Kingdom\" and I thought this was great. There was fantastic variety, but where the festival failed is the fact that they were squished together in the corner which made for longer lines. That didn't throw me off though, I mean how could I not resist a grilled cheese or cheese fries. The food was also had a fresh taste so it was worth the money.
Life in Color had an opening ceremony where Cali, Echo, Zeke were present on stage. These are three important animals that play a huge role in your journey through the kingdom.Their firework displays also really impressed me at this festival. All of it matched the music on time. Out of all the performers, Ruby Rose had surprised me the most by throwing down a dope festival set. NGHTMRE played at the \"Underwater Kingdom\" and he went in. Slander joined NGHTMRE on stage for a little too which had the crowd on a whole another level. Nonetheless, The best set hands down of the festival was Jack Ü.
Diplo and Skrillex drew in the biggest crowd of the whole festival. I definitely knew a lot of money was put into that production because all I can say is \"wow.\" That was my first time seeing Jack Ü and it made no difference to them that they were playing for a 16+ because they wasted no time before dropping the bass. The lights, the fireworks, and sound was all so clean. I can honestly say I am still reminiscing on that set–it was that good. Once Jack Ü ended the crowd cleared out and went straight to Flosstradamus.
I arrived right in the middle of the song \"Lighters Up\" and the crowd was live. LIT is simply an understatement. Unluckily, it started to pour during this set so everyone at the festival was trying to get under the tent to avoid the rain; making crowd ever expanding. Fortunately, I made my way to the main stage to catch 3LAU and at the end of the set he debuted a new song. The new song was a different style from the normal 3LAU as it sounded lighthearted and almost tropical.
Once 3LAU\'S set ended I had the opportunity to meet Justin Blau and did a quick interview with him. The interview went great (stay tuned for interview write up). There was a closing ceremony after Steve Aoki and I enjoyed that as well. It made us all connect to one another and really blended well with the theme. During the closing ceremony they debuted the Life in Color 2016 anthem and it was a truly beautiful song.
People that attend this music festival expect to get paint on you. Simple as that. No matter how hard you try to dodge paint you will eventually get hit. The hoses are sometimes easy to dodge but then again people can buy paint and that's it, game over. The matter of the fact is that it is a paint party–keyword being \"PAINT.\" Alas, I think sometimes Life in Color over does it and maybe in the future can just designate one stage for paint and then having a stage where you can take a break from the paint. There were 25,000 people covered in paint and at times I felt like an ant at the main stage being covered by spillage.
If this exact festival could have been in the location where Life in Color Miami 2014 was held, I think it would have made for an even better kingdom experience. Regardless, I know I have been to many festivals before and experienced different productions so my expectations are high, but Life in Color Miami really stepped it up this year. I know 16+ is a young age but if I saw this at the age of 16+ as my first festival I know my mind would be blown. I think Life in Color went in the correct direction for their theme in my opinion. I think when a festival incorporates such a theme into the festival it creates a closer bond.
Another way the creators helped to infuse a feeling of mutual respect for one another was right when the festival was about to end, they brought this guy named Mike on main stage.Mike has been to music festival all around the world and his aunt reached out to the LIC team. The LIC team granted his aunt\'s wish and they hooked Mike up with meeting some of the artists and getting tour around the site. I thought this was a great way to show these young kids that the essence of spreading good vibes is synonymous with being kind.
All I know is, I will never forgot my journey through all the kingdoms. It was a perfect festival to start my 2016 festival season at. Next time I might bring a poncho though and a Lifeproof iPhone case. Take a look to see if Life in Color\'s kingdom is coming to a city near you.
Check out our photo album from Life in Color Miami below: Photo credit to Jason Tuno
[foogallery id=\"34585\"]