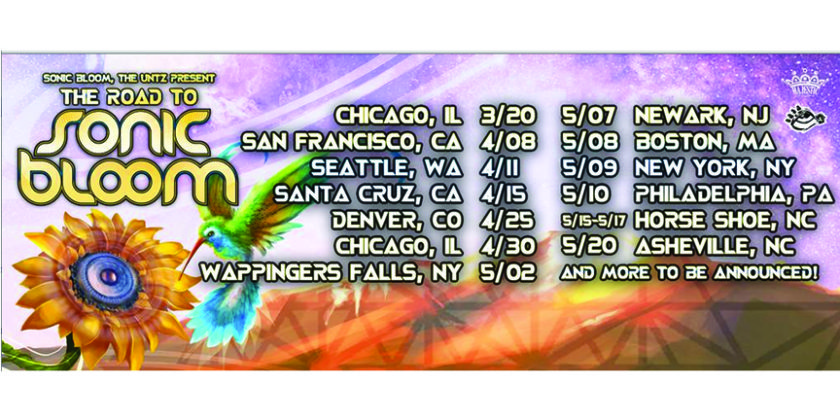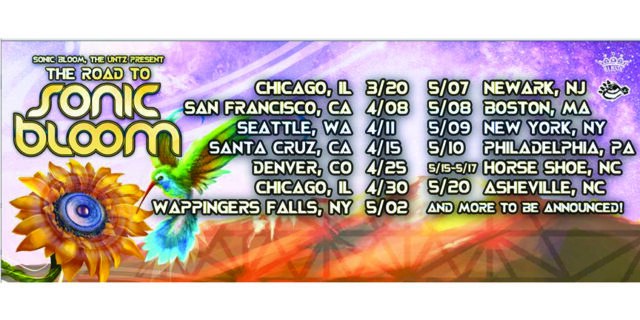 This past Friday, Notion Presents, The Untz, and Sonic Bloom brought The Road to Sonic Bloom Tour through Chicago's Copernicus Center for the first night of the tour's sacred booty bass music and a healthy dose of funky glitch wobbling. The event boasted two stages, the Notion Presents Main Stage and the adjacent MADE stage which hosted the thirteen fantastic acts that rolled through the venue. Complete with a thorough vending area, the indoor event gave attendees a little serving of summer festival feelings amongst a great atmosphere.
The main stage kicked things off with Kromuh at 8 pm, followed by Spankalicious, Ill-Esha, Andreilien, Mr. Bill, and main act, Kalya Scintilla. The MADE stage, put on by Chicago's very own MADE Gallery started the party with DJ Taz, followed by Kyral x Banko, Homemade Spaceship, kLL sMith, Plantrae, AtYya, and a closing act by Defunk. If any of these artists have yet to appear in your Soundcloud collection, reposts, or stream, you should probably follow them as soon as possible.
This was an extra special event considering it was many of the artists' first show in Chicago, along with a decent amount of natives on the line-up. Kyral x Banko, Homemade Spaceship, Kromuh and DJ Taz are all homegrown acts. Canada brought two new sound architects to our soil for the first time: the ethereal ritual bass from AtYya, followed by funk master Defunk. Australians in the house included big names Mr. Bill and Kalya Scintilla. This event gave Chicago a very rare combination of well-respected international acts and local musical talent to explore and enjoy in just one night.
Colorado\'s visionary Sonic Bloom Festival brought Chicago an exciting display of the type of musical environment it creates. The Copernicus Center presented a traditional theater with seating, a balcony, and ornate décor, making for a magical main stage, while the MADE stage was more of a dancefloor type atmosphere. The wooden floors and bar in the back made the smaller stage quite a party. Both stages set forth featured art installations, collaborated visual and light production, and tons of beautiful new music. Attendees were mature and polite amidst getting the funk down. This year, the actual Sonic Bloom Festival is set to take place in Rye, Colorado, June 18-21. If the tour is an accurate taste of the real Sonic Bloom, I have a feeling many people from Friday\'s show are now sold on making the journey in June as well.
Chicago was not only the first stop on the tour, but also the only city to have two appearances. The Windy City gets another event on April 30th in case you did not catch the first one or need to experience it all over again. If this seriously respected event makes Chicago its first stop and makes another appearance a little over a month later, they must have complete confidence in our ability to turn out a great crowd. If there is anything that solidifies our passionate electronic scene this 2015 festival year, this event may have done it.
Stay posted for some more about these artists, especially our fellow Chicagoans as they make a name for themselves along the road to Sonic Bloom.
Follow the MADE Gallery Chicago here!
Source: The Untz Presents the Road to SONIC BLOOM nationwide tour