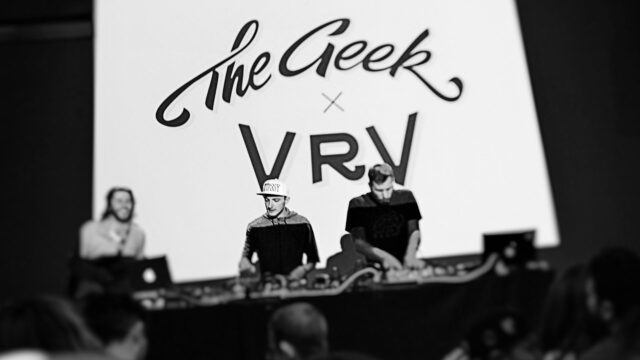 The Geek x Vrv graced the 1st Ward /Chop Shop last week for the second stop of their first American tour, The Amongst Friends Tour. Axel Rondeau and Vincent Teoule are both from Paris and began making music together around 18 months ago. As they began collaborating they realized they had different styles, Rondeau preferred electronic while Teoule liked hip hop, but these two unique styles became one and resulted in a sound that is taking the electronic community by storm.
The Geek x Vrv's soulful electro/hip hop sound can be easily compared to the works of some of the legends in this genre such as Griz or Gramatik. Coincidently, the Parisian duo signed with Griz's label All Good Records right before the release of their massive EP, "Electric City". Their current tour is also being supported by Gramatik's label Lowtemp and Super Best Records as well. The huge amount of support is a result of the continuous stream of incredible tracks that The Geek x Vrv have been producing for the last year and a half.
I have no other job, just music. Music is my life. That\'s it.
Axel Rondeau
Teoule and Rondeau got their first taste of success when their track "It's Because" gained a lot of attention in France along with millions of plays which landed the track on 'Radio Nova', one of the biggest French radio stations. A few months later, The Geek x Vrv entered Odesza's "Say My Name" remix contest and took first place with a feature from Thissongissick. The duo continued their rise by signing with All Good Records on February 10th and dropping the groundbreaking "Electric City" EP.  The EP is getting tons of plays while also really illuminating the talent that our French friends possess. Now, Rondeau and Teoule are wrapping up their debut American tour of eight cities all around the country.
It\'s crazy to come here and play music. It\'s amazing.
Vincent Teoule
The Geek x Vrv received a warm welcome in Chicago with kids screaming "AXEL" at the top of their lungs to people showing love and smoking cigarettes with Vincent before the show. An awesome crowd came out to support and were treated to a bumping, intimate set with one of the hottest new groups in electronic music. Manic Focus and CYN joined them on stage as special guests to help make it a killer show. The Geek x Vrv were preceded by Late Night Radio and Krooked Drivers who helped set the tone for the whole night with extremely funky vibes. Check out the video recap here.
The Geek x Vrv\'s newest song, \"Waves\", is part of the On and On Records 1Ø1 compilation and is actually playing in the video. And this song is also the first interactive music video using Soundcloud, yeah they let all their fans comment on the song before the release so they could throw them all on the official music video.These French electro-soul funk masters are obviously innovators who are starting a massive revolution in the electronic music scene and will stop at nothing until everyone can feel the love.