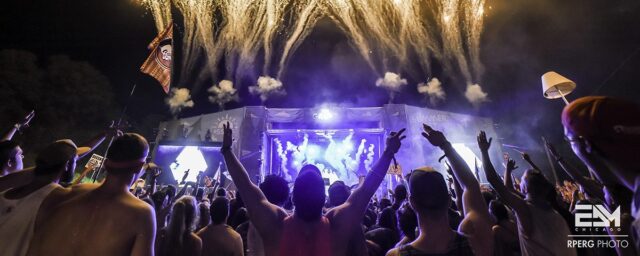 When you think of camping festivals in the Midwest, you probably think of Electric Forest.
I wanna change that.
The festival scene around here is obviously lacking. Sure, there's solid events scattered throughout the summer, but it's nothing compared to festival culture in California or Colorado. Forest is pretty much the mecca of festies in the Midwest, and it's well-deserved.
However, I've grown to be a bit underwhelmed by Forest after attending the past three years. Between the massive crowd, identical production from 2015 to 2016, and the sheer amount of other festivals that can be attended in June, I can't believe I'm saying this, but I have no problem skipping Forest next summer.
Thankfully, another festival has replaced that escape-from-reality, life changing experience that I once thought only Forest could bring. It's Summer Set in Somerset, Wisconsin.
Celebrating its fifth anniversary this year, the schedule was downright disappointing, and I had a hard time accepting the $225+ price tag React was charging for this fest. I attended Summer Set for the first time last year, and it blew me away. But I thought it was due to having a great group of friends to stay with, along with a perfect camping location and neighbors I still keep in touch with to this day. It all seemed too good to be true, honestly.
This year proved me wrong. Summer Set is the most underrated festival I've ever been to and I never want to miss another year of this awesome gathering again.
The Crowd
One thing I've come to realize about festivals is there's one thing that matters more than location, performers, weather, or anything else: the crowd.
The crowd sets the vibe for the entire weekend. There's often patterns to predicting whether or not a crowd will bring those good vibes that we all look for – and sometimes force ourselves to feel – at festivals. For example, camping festivals bring skilled festie-goers, epic campground DJ setups, and more. Only the skilled can survive a camping fest and fully enjoy it, which is a staunch difference to an urban festival, where anyone 18 and over can hop on a train and get fucked up with their friends. As festivals become increasingly more popular, more kids are showing up just to drink (and do more) and be away from home, which makes that elusive, "here for the music" vibe increasingly rare.
Located about 45 minutes from Minneapolis-St. Paul across the state border, I've gone into Summer Set TWICE now with a negative expectation of the crowd and it's literally been the two best crowds I've ever been in (well, maybe not as good as Basspod at EDC). More people dance and lose themselves in the music here than anywhere else I\'ve been. Artists notice it too. It's beautiful, really.
They say people from Wisconsin and Minnesota are some of the nicest people you'll ever meet. Maybe that explains it.
The Location
Summer Set is held at Somerset Amphitheatre, an open air concert facility that hosts events throughout the year. Living next to a venue, Somerset citizens know and accept that there'll be some loud noise and bass in their quiet neighborhood sometimes. Summer Set is unique in the fact that artists have virtually no noise restrictions during their sets.
This is almost the exact opposite of Forest. Being in the middle of nowhere surrounded by farms in a town of less than 500 people, these citizens don't take as kindly to a random weekend of noise pollution once a year, sometimes past 3 A.M (note: Forest nearly gets cancelled every year – a city council repeatedly votes 3-2 in favor of letting them stay). The sound systems at Forest are ridiculously quiet; it surprises me that more people don't complain about it. Combined with massive, uncomfortable crowds that push you further and further back from the stage, it really takes away from the experience.
The Stages
The stages at Summer Set are awesome. The mainstage, located on the Amphitheater's grounds, boasts both a huge concrete area in front of the stage and a massive bowl of elevated grass seating surrounding it. This gives the audience basically an infinite number of viewing options.
Wanna stand and rage? Explore the crowd, find somewhere that feels right and vibe out. Wanna sit and chill? You're guaranteed a flawless view of the stage wherever you go, and you're not too far away, either. I've truly fallen in love with Summer Set's mainstage. The only other stage I've liked more/as much is Cosmic Meadow at EDC.
The Grove is basically a main stage, too. Situated in the back of the festival grounds, it takes a bit of a hike through hilly Wisconsin terrain to get there. However, once you see The Grove, you never want to leave. The lush forests and decorated landscape make for a straight up dreamy place to see a show. The Grove is usually reserved for jam bands and live performances, but DJs also play here too – notably Zeds Dead in 2015 and Gramatik in 2016.
The one problem I had about Summer Set would be having one less stage than last year. Instead of having the EDM-dominated Big Top in its own area by RV camping, the festival got rid of The Meadow and placed Big Top there instead. I can't complain, as this means it was in between the other two, allowing for easy stage hopping and less hiking.
The Camping
It's Summer Setup. The camping, along with security and police presence, ruins this festival, right??
Wrong.
Summer Set has the reputation of being a trap for festival-goers, hence the nickname. You can expect to get there, have your car torn apart for 30 minutes, your food containers opened, and if that's not enough, a K9 unit will search your car, too.
I've heard multiple accounts that this happens here. But I have yet to see any security or police activity that I haven't seen at another fest. Actually, I would describe it as much more relaxed than most.
Last year, we arrived on Friday afternoon to no line and a quick, fair car search. However, that was South Campground, and South sold out before I decided I wanted to go. North Campground has more people and a separate parking lot, and possibly increased security presence. Walking back and forth to your car to move your stuff is the worst, so we stayed offsite.
Somerset not only has a legit music venue, but several campgrounds and family activities around it. It's a mini getaway next to the twin cities, with tubing, fishing, hiking, and more.
Staying at Float Rite or Apple River Family Campground will turn your Summer Set experience into a great one. The offsite campgrounds are laid back and full of friendly people, and include showers, real bathrooms, and electricity. The venue is right across the street, and there's a shuttle service available too.
The idea of "Summer Setup" weeds about inexperienced attendees or those that are coming just for the drugs. I really feel like the bulk of people at Summer Set LOVE the music and are there for the experience, something that is a lot less common than you'd think.
The Music
It blows me away that I can write for that long about Summer Set without even mentioning the performers. But everything else is so great here that it comes secondary to me.
The 2015 lineup was stacked, but this one was just okay. 2016 headliners Chance The Rapper, Bassnectar, and Skrillex all delivered with exclusive 90 minute sets.
No complaints there; the weakness of the lineup showed in the undercard, though. I wasn't blown away by Mija or Steve Aoki on the first day. The second day, I decided to try tubing down the river and pace myself for the rest of the weekend and just get there in time for Autograf and Black Tiger Sex Machine. Sunday was pretty great though, with awesome sets from Rufus Du Sol, Mr. Carmack, and Gramatik. I could count the number of acts I was excited to see on my fingers, but I still had such a blast. Weird.
Summer Set has afterparties at The Grove. Tucked in a secret part of the forest, they hosted Mija and Zhu the first night, and Jauz and Illenium on Saturday. The fest ends at 12 or earlier every night, so going to one of these afters is essential to getting the best possible experience.
That Saturday after was easily the highlight of my weekend, and maybe my summer. Although I think Illenium is a great producer, I usually find melodic dubstep kinda boring. After his set at Big Top earlier that day, he completely switched it up for the aftershow, throwing down the filthiest dubstep I could've possibly imagined, and gracefully ending with some of his productions. I cried when he finally played \"Don't Let Me Down,\"and I'm not ashamed of it at all.
Jauz came next, playing until around 3 A.M. I love Jauz, but it's obvious that he's becoming more and more commercial as his popularity increases, as evidenced by a \'collab\' with Tiesto….but vintage Jauz came out that night at Summer Set. I can't really put it into words how great this was to see. He played all of his best productions, as well as a good amount of exclusive material. It sounds ridiculous, but it was the most fun I've ever had in my life, and if anyone was sitting near the back of the hill by the bars and saw a guy going so hard that it made you uncomfortable, sorry.
The End
I woke up on Monday morning with a bittersweet feeling. After an extended stay at college, I was starting full time work in an office downtown that Wednesday. The first thing I thought of was the end of summer and how I'd have to wait until next year to experience anything like this again.
But then I felt a sense of overwhelming comfort and serenity. I felt lucky to be able to attend such an event. I felt lucky to meet so many friendly and amazing people. I felt lucky to be so open minded and to find happiness in such a weird scene.
Until next year, festival season.
Check out our full photo album from Summer Set below:
[foogallery id=\"40315\"]