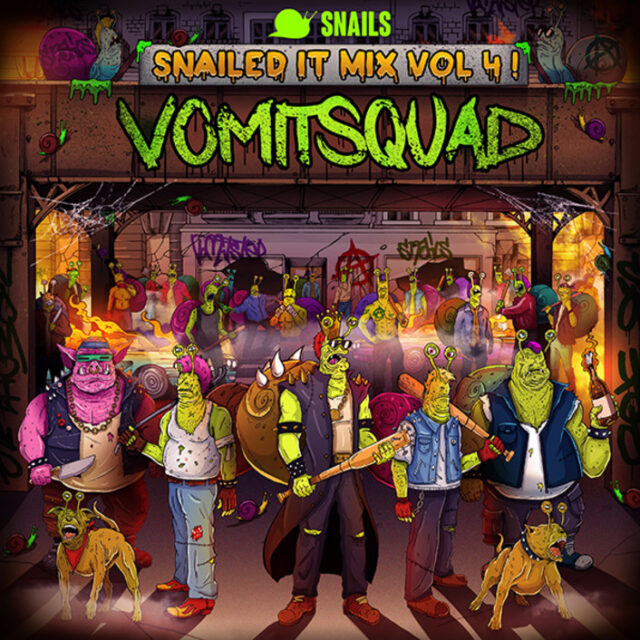 It\'s been a long time since SNAILS dropped a \"SNAILEDIT!\" mix, but his latest edition makes the almost year-long wait worth it. The Vomitstep pioneer brings us almost 45 minutes of all unreleased bass gems. This grimey new mix comes right in time for Halloween, and follows his massive \"Cannonball\" collaboration with Flux Pavilion, as well as his heavy \"Deep In The Night\" release with Pegboard Nerds.
Needless to say, 2016 has been an exciting and strong year for the Montreal-based producer who first started making waves in 2013 with bangers like \"STAXX. Fast forward three years and Snails is at the height of his game as we tune into SNAILEDIT! Vol. 4 (Vomitsquad). By the way, this 4th installment may just feature new cuts by Kill The Noise, Ghastly, and his highly-anticipated collaboration with Skrillex (you can also hear this one over at OWSLA Radio).
But, wait…there\'s more exciting and interactive news here! Although the entire mix is filled with unreleased tracks, Snails promises over his Soundcloud to uncover more tracks with more plays:
All ID Artist Names Revealed at 150,000. ONE ID Track Name Revealed every 25k plays after that.
Stream the mix and grab tickets to SNAILS\' upcoming tour dates below!
Tour Dates | Tickets:
10/28 – Los Angeles, CA – Escape From Wonderland
10/29 – Chicago, IL – Freaky Deaky
10/30 – New Orleans, LA – Voodoo
10/31 – Kansas City, MO – The Midland (Safe In Sound)
11/12 – Seattle, WA – Tacoma Dome W/ Flosstradamus
11/18 – Pittsburgh, PA – Southside Warehouse (Safe In Sound)
11/19 – Atlanta, GA – Coliseum (Safe In Sound)
11/25 – Sacramento, CA – Sacramento Memorial Auditorium (Safe In Sound)
11/26 – Las Vegas, NV – Brooklyn Bowl
12/29 – South Lake Tahoe, CA – SnowGlobe
12/31 – Denver, CO – Decadence
1/6/17 – 1/10/17 – Holy Ship!