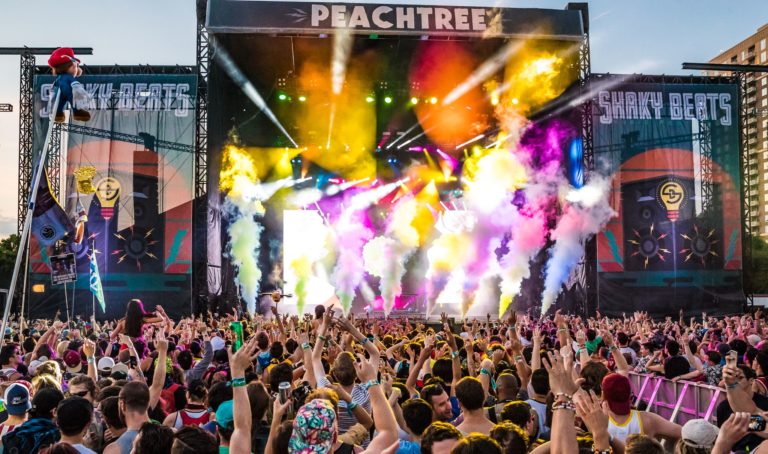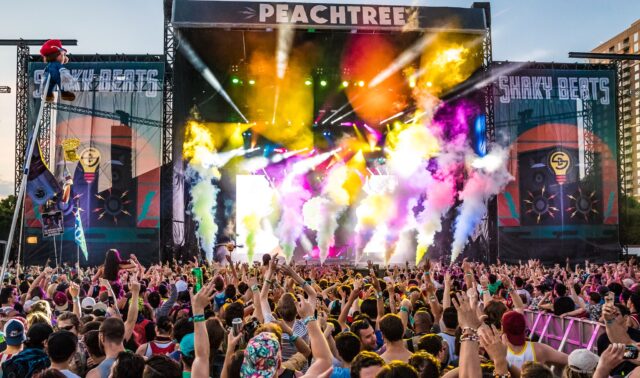 Sadly, it has already been a little over two weeks since Shaky Beats Festival has taken place in Atlanta, GA, and the natural high that this first-time festival created is still present in my everyday routine. Shaky Beats chose not to focus solely on the music, but instead put their festival-goers first and wanted to create an overwhelming experience full of love, friendship, tasteful food, and memories that will last with us for a lifetime. The impressive organization level for this first installment festival was quite astonishing, given the bad weather and storms that the festival fought off on the first day. For the three days (May 20-22) that I was present at Centennial Olympic Park, I did not have one outside worry come and tap me on the shoulder. My body was completely free from the world\'s problems, and the feeling was like no other. Let\'s dive into this review now before I give away everything just in the introduction and leave no surprises for you readers.
Mother nature, unfortunately, has not been siding with the electronic dance music community lately and it seems like for almost a year now that bad weather has been happening consecutively on festival weekends. During the drive up to Atlanta, rain and gloomy clouds made up the sky. However, that did not stop us from bringing the good and positive vibes all the way from Tampa, Fla. Prayers were sent out to the Rave Gods immediately that morning, and even Shaky Beats made sure to update their attendees via social media with the latest updates. Walking up to the festival grounds I saw ravers from all over and this included international music lovers as well. There was even an individual going around outside the festival handing out FREE ponchos for people who were attending the festival. There was a gorgeous vibe that could be smelt all over the moment you scanned your ticket and walked into Shaky Beats and I will never forget it.
The moment that I took my first baby steps into Shaky Beats I could not help but just do a 360 degree spin to take the scenery and people that surrounded me all in. Centennial Olympic Park was impeccable. To look back at times and see the city of Atlanta around you, and then to turn back around and see the stage and lights shine brightly on your face was breathtaking. Gives me goosebumps just thinking about it again. Each stage had a name, which I loved, because it helped create the story for the weekend. The mainstage was named \"Peachtree\" and Duke Dumont was playing as we made our way over there. The amount of room and space this venue created for everyone was so pleasant and refreshing from other festivals where sometimes you feel like you are squished like sardines.
Peachtree was a MASSIVE stage for a first-time festival. The stage consisted of a large visualizer in the back of the stage and then a raised high definition screens on both sides of the stage. Let me go on a quick tangent about these raised high definition screens. In all of the festivals and shows, I have attended I have NEVER seen a more CRISPER or CLEARER HD screen than the two HD screens that were at the Peachtree stage. I was so impressed at the overall production of this first-time festival and I had only been inside the festival grounds for about 30 minutes. Truthfully, my words cannot describe how beautiful the mainstage was, and pictures and videos can not even do it justice- you just have to experience it for yourself. This was a stage that thrived at night with the number of lights installed all over the stage.
\"Piedmont\" was the next stage that we crossed paths with after checking out Peachtree and Duke Dumont, who by the way was throwing down one heck of a set full of house techno. Piedmont stage was a perfect stage because I felt like we were more surrounded by mother nature versus the city in a way. Colorful lights were hitting the trees at this stage so the sky at night was a ray full of colors. ZHU was just hitting the stage as we walked up, and the good vibes from the mainstage were even multiplied at this stage. There was plenty of room to dance around in, as well as places for you to chill, relax, and catch your breath. 
\"Ponce De Leon\" was the last stage at Shaky Beats, and just because it was the smallest stage at this festival meant nothing because the artists and energy from the crowd I saw said otherwise. This was a stage that it was made possible to see it from all different angles no matter where you either sitting or standing jumping up and down in the crowd. There were awnings that wrapped around the back as well so this made the stage for perfect escaping the sun at times. However, day one of Shaky Beats had us ending at Peachtree seeing Major Lazer close out the festival with an hour and a half set!
In all my years of being involved with dance music and festivals, I have yet to experience Major Lazer and let me just say I am so glad my first Major Lazer set was at Shaky Beats Festival. Even mother nature made way for Major Lazer, because the little sprinkle of rain completely let up and there was no thunder or lightning. For those of you who have not seen Major Lazer yet, their sets are not just music based. They put on  a whole performance with dancers, live instruments, crowd interactions, and of course music that just makes you want to get off your butt and dance! This was honestly one of the best closings to a day one for a festival I have ever gotten to take in, and it was a blessing. Just like that, day one of Shaky Beats had me wanting more and the feels for day two were already kicking in.
[iframe id=\"https://www.youtube.com/embed/x5ZoPq41KaQ\"]
Day two of Shaky Beats was hands down my favorite day out of the three and it was not because of the magnificent lineup they had scheduled for that day, but because I got to really explore everything the festival had to offer and interact with the people of Shaky Beats. Oh and not to mention- the weather from the previous day cleared up with perfect blue skies and a weather temperature with a constant breeze. Shaky Beats also announced via social media and through their app that there were changes to the festival layout due to the rain from day one. This fascinated me, because it showed the public that this festival really cares for the experience of their attendees and are able to adapt to any situation.
The start of the second day consisted of checking out the food vendors and merch tent. The food trucks that were made available at this festival were phenomenal. Catering to any food lovers\' needs such as, Indian, Mexican, Chinese, and of course American. I had a BBQ pulled pork quesadilla from Tex\'s Tacos, and my mouth was still watering over the sensational taste of it after consuming it. Not to mention, the free water filling stations that were filtered and cold, provided by CamelBak. Once our bellies were full with appetizing food, it was time to check out the art installations that were scattered through the park.
The art that was displayed during this festival blended well with the Atlanta scene. Huge giant speakers were placed in the middle of hills right before mainstage. A graffiti wall was open for all who attended Shaky Beats to show off their artist skills to the world. There was even a Shaky Beats sign spelled out like the Hollywood sign that lit up at night that was set up a perfect for a Kodak moment. These little additions really helped shape the festival in making it stand out to other competitors.
On the second day, Porter Robinson and ODESZA were the two artists that stole the show for me. Having these two artists playing really brought together people from all over the world. Porter Robinson played a live set while the Atlanta sunset was in the background. Shaky Beats did their homework for that one, because to not only witness a live Porter Robinson set but to have the sun set slowly in the background…. That was just unreal and magical. During this set, I got to meet up with old friends as well as make new ones all the way from California!!! You heard me correct- there were individuals that traveled all the way from California for this first-time festival! The people that were at this festival wanted to talk, interact, and ultimately share the Shaky Beats experience with you all as one.
[iframe id=\"https://www.youtube.com/embed/oqaR2Ypuc4A\"]
Porter Robinson\'s live set then led into the closer of the night at the Peachtree stage, and that was ODESZA. Having these two play one after another was just a religious experience. That was the first time I ever got to witness an ODESZA set and boy was it dazzling. The live instruments with all of the colors from the lights and the city light shining in the background made it a set you could get lost into at any second, and left you wanting more and more. Then at the finale of their set, they had the Atlanta Falcons Drumline come out and play together with ODESEZA!!! Showing pride for their city was so beautiful. Writing up this part had my hairs sticking straight up because the pure emotion I saw on everyone\'s faces during this set was a sight. I do not think my ears and eyes have ever experienced something like the ODESZA set at Shaky Beats. #takemeback
[iframe id=\"https://www.youtube.com/embed/2R8DlBBGBxk\"]
Day three of the festival rapidly approached just as any other festival with superb weather and I had already felt my heart being claimed by Shaky Beats. Day three was strictly about the music for me and the squad. With artists such as NGHTMRE, Yellow Claw, Carnage, and Big Gigantic there was no time for games, hence why we used the second day to go exploring and meet people. NGHTMRE threw down a set that even consisted him playing his latest collab with Krewella and Pegboard Nerds on Monstercat called \"Superstar.\" Carnage, of course, delivered hard festival trap that had the crowd going constantly. Later Carnage then ended up being a surprise guest during Big Gigantic closing the festival at Peachtree. Day three even showed just how easy it was to get around this venue because during the remainder of the festival we kept running into all the new friends we made from the past two days.
Unfortunately, all good festivals must come to an end. Shaky Beats Festival,  you were nonetheless one of the best festivals I have ever attended and I mean that. From the good vibes that wisped through the air, to unforgettable sets like Marshmello bringing out Waka Flocka. Shaky Beats accomplished everything that a music festival should! Bravo and hats off to the whole Shaky Beats team for making something so blissful and flawless. I see a sunny future for Shaky Beats after the weekend I had. Truthfully the post festival depression was real. But I know that this is not goodbye, but a see ya later Shaky Beats. Can\'t wait to see all of my Shaky Beats family again. Until next time Atlanta. #ShakyBeats
Photo Credit: aLive Coverage
Video Credit: Jason Adamchak