After uncertain months behind closed doors and in an unnatural stay at home isolation, the best thing to rejuvenate your soul is to travel. The US offers so many urban, natural, cultural, and other attractions. If you are still uncomfortable around people but do want to travel, a great option is to take a road trip.
You could plan a custom road trip between two random towns in the US or explore established and popular routes like Route 66 or great Pacific coast highway.
For now, travelers are not allowed in the United States, but with the calming of the coronavirus situation, this will soon change.
We will go through the main attractions of the west coast 1600 miles long road trip for all those who plan to travel soon.
Top 11 attractions along the Pacific coast highway
There are a couple of possible itineraries. The longest is from northern Washington, just above Seattle to San Diego in California. The shorter but also popular route is from San Francisco to San Diego, a formidable distance with lots of incredible sights to see.
Our recommendation is to drive the longer route to experience exceptional sights in Washington and Oregon, and then move down to sunny California. The best time to go is between July and October so that September could provide the best weather along the way. You could also choose the direction. It is better to select Seattle as a starting point because you will drive closer to the ocean if you go southwards.
1. Port Townsend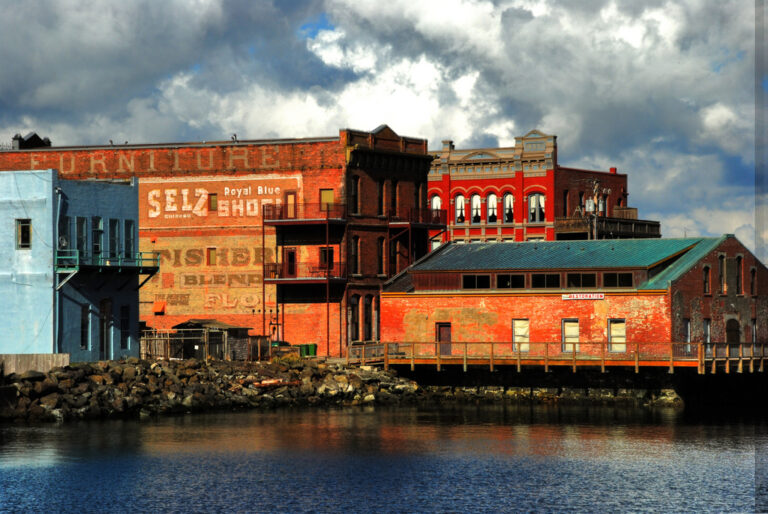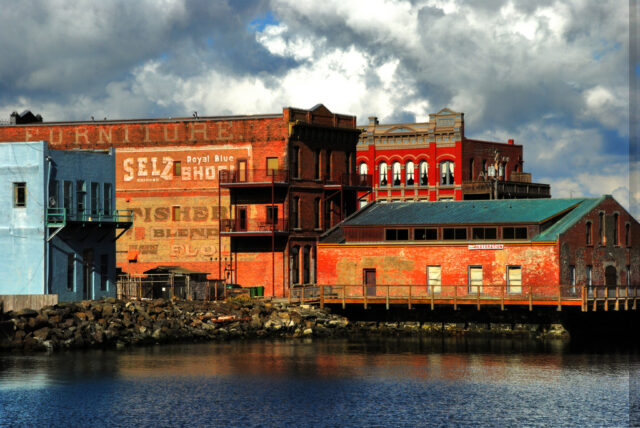 A relatively short drive from Seattle is Port Townsend, the starting point of the Pacific Coast Highway Road. Situated near Olympic National Park, you can see rich rainforests and diverse coastlines. Visit Hoh Rainforest and Cape Flattery on Olympic Peninsula and make your way down towards Oregon.
2. Washington state attractions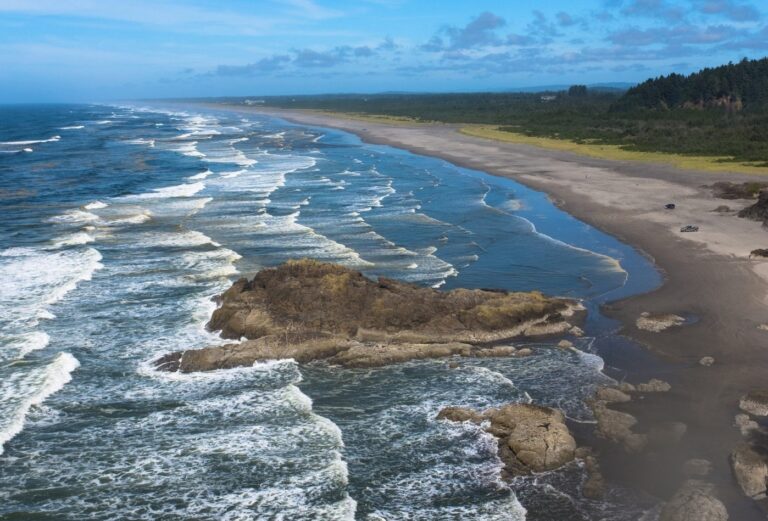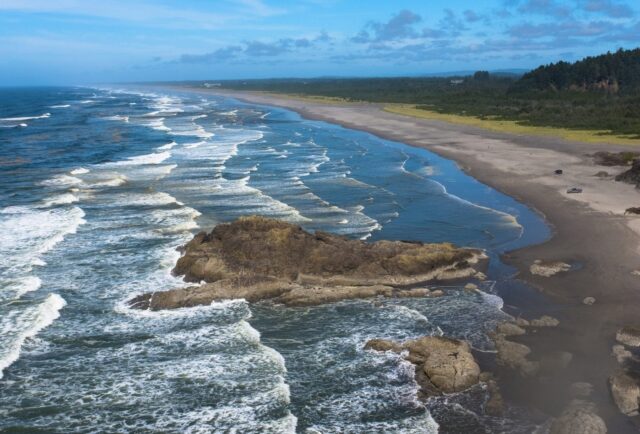 Ruby Beach is a perfect site for picture taking, known for sand, an abundance of driftwood, and beautiful view.
Aberdeen is a small town where you could visit a house where Kurt Cobain, iconic singer, and songwriter of Nirvana grew up.
On the way out of Washington, visit Long Beach, where Lewis and Clark's expedition reached the Pacific Ocean. Long boardwalk, many trails, and dunes along the coastline are main attractions.
3. Portland
You will enter Oregon in Astoria, the sight known as a set for The Goonies movie. Although Portland is not on the coast, this vibrant city, home of many tech companies, has an incredible food scene, and you could relax in Portland Japanese Garden. A short drive to the east leads you to Multnomah Falls.
4. Haystack Rock and Devil Punch Bowl
South of small-town Seaside, you can find picturesque Cannon Beach with stunning Haystack Rock. Take a walk along an enormous beach and take breathtaking pictures for your social networks. Devils Punchbowl to the south is a new rock structure. Depending on an ocean tide, you could walk in the bowl, and there are many hike trails around the fantastic hole.
5. Crescent City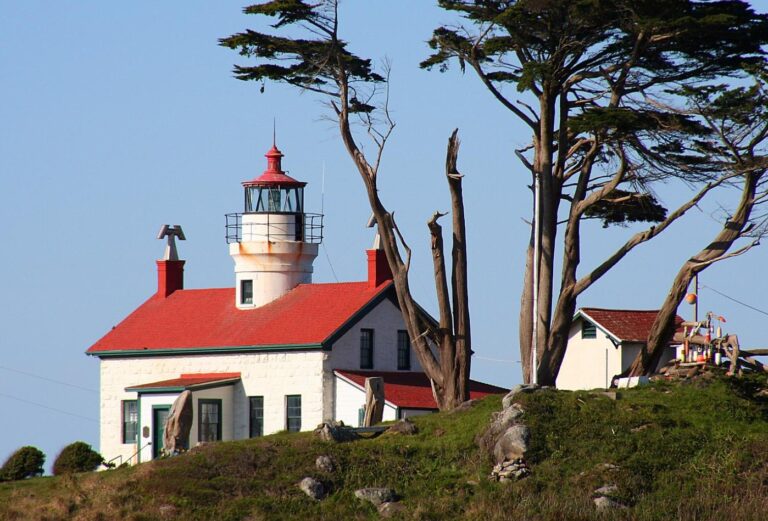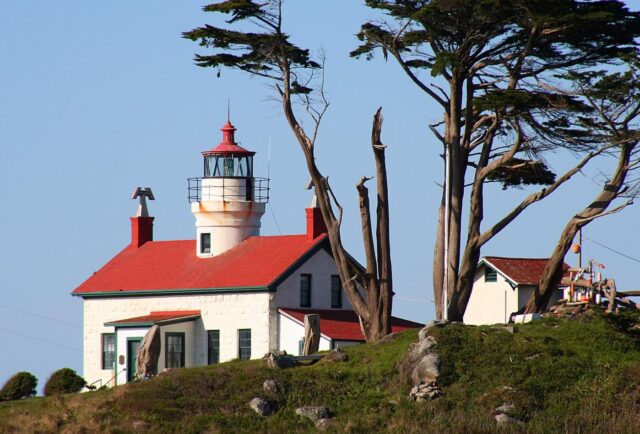 Now you are in California. The coast is like Oregon and most of northern California with giant rock formations in the ocean. Walking on the boardwalk will give you plenty of opportunities to take pictures.
6. Humboldt Redwoods State Park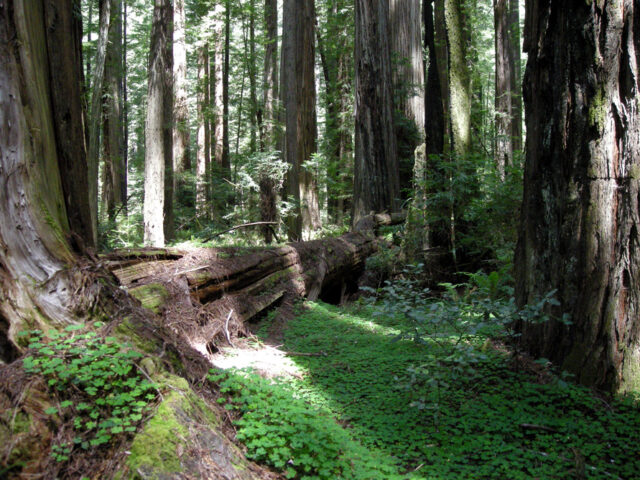 The coastal highway goes through the Redwood Forrest. California Redwood is like Sequoia, but different species. It is also one of the tallest trees in the world. If you want to explore more about these exciting giants, there is a possible detour through California's inland part.
7. San Francisco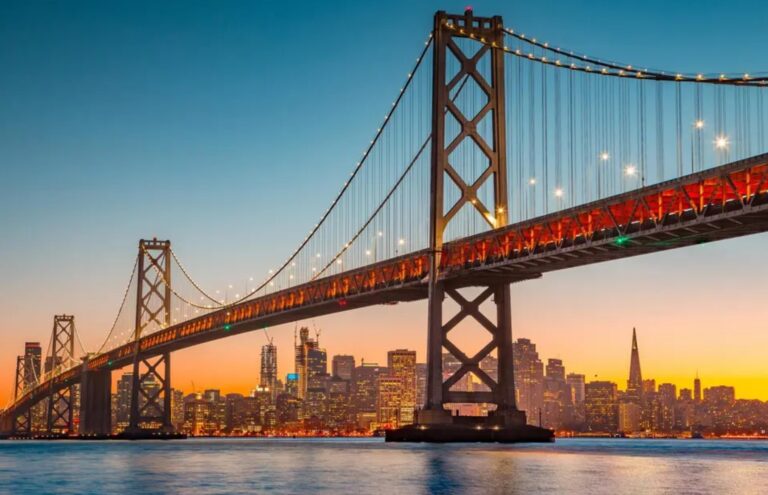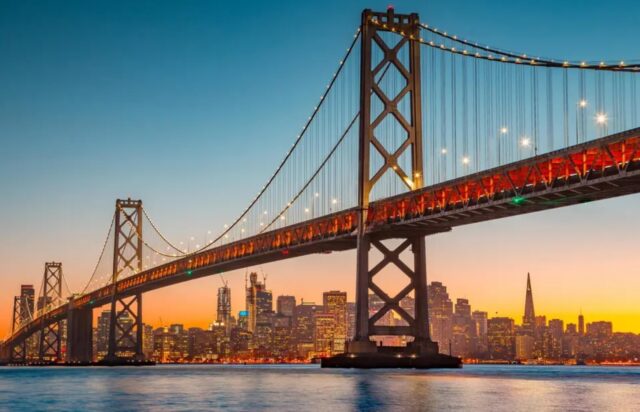 Pacific highway goes over the iconic Golden gate bridge. You can explore the Mission neighborhood, visit Fisherman's Wharf and Chinatown. You can drive in a cable car and learn about Victorian-style houses known as the Painted Ladies.
8. Big Sur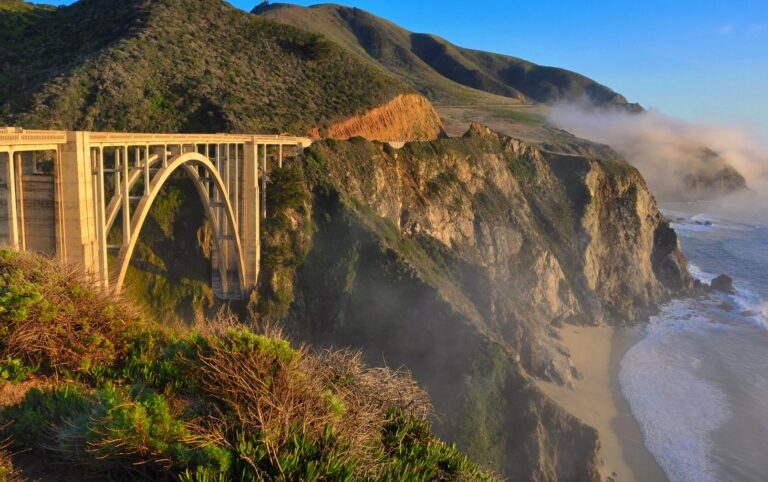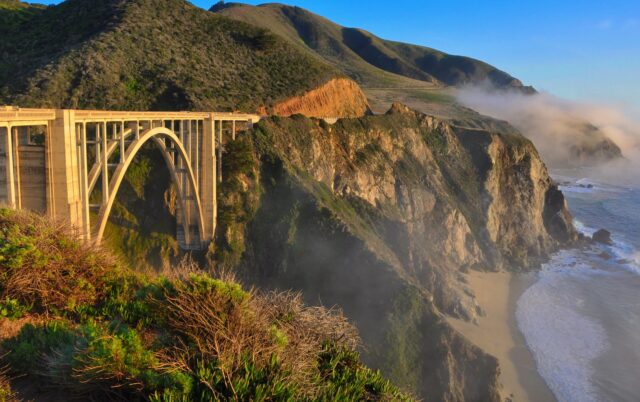 Big Sur is an incredibly beautiful part of the California coastline where Santa Lucia mountains connect with the Pacific. You will drive over the scenic 280 feet high Bixby Bridge. Explore beautiful beaches, many hiking trails, and lookout points. Some of the famous spots are Pfeiffer Beach, Ragged Point and McWay Falls.
9. Santa Barbara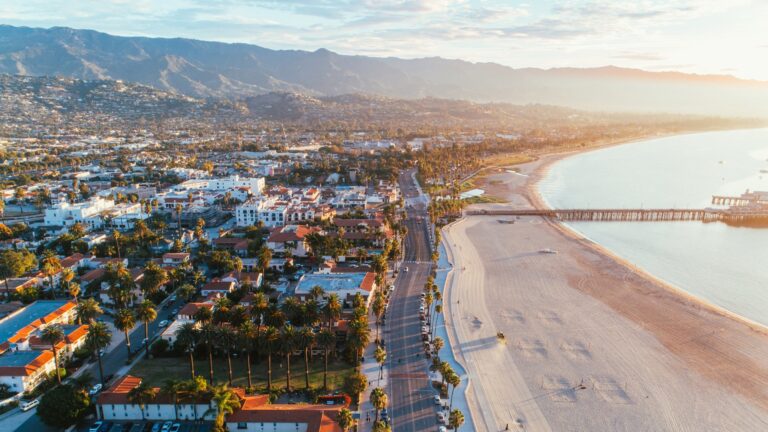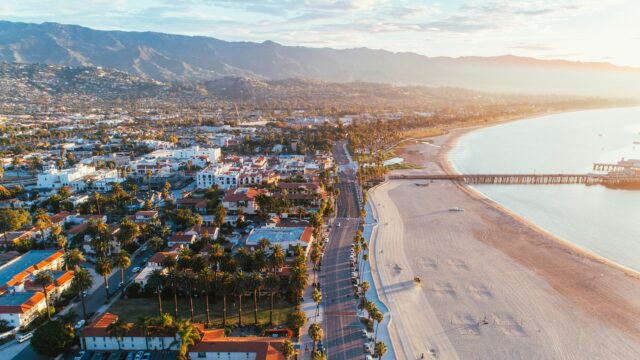 Just north of Los Angeles lies the coastal town of Santa Barbara. Vast sandy beaches include Lookout Park, Butterfly Beach, and Refugio State Beach. You can explore old Spanish architecture or visit a famous zoo or Stearns Wharf, the most visited attraction in Santa Barbara.
10. Los Angeles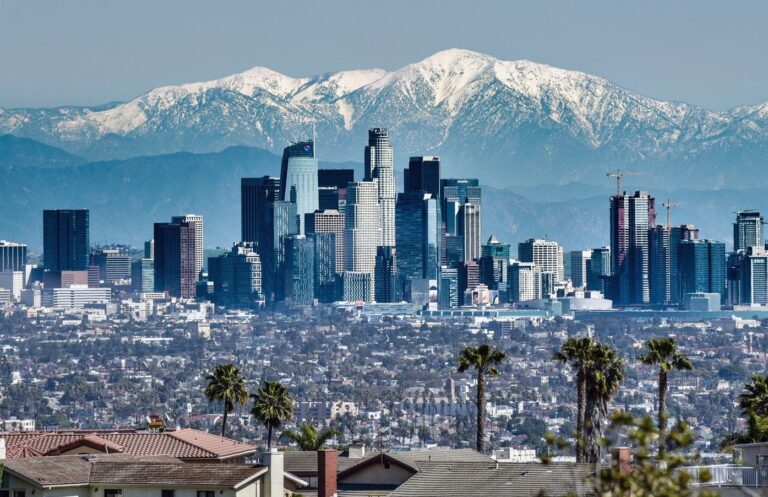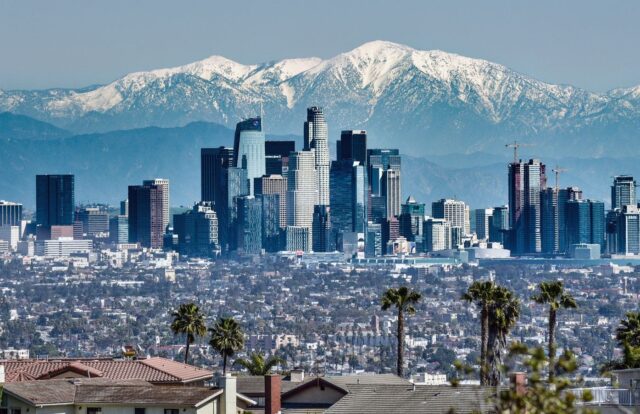 One of the biggest cities in the US can be a place for a standalone visit. Visit Venice and Malibu beach, take a stroll through the Hollywood Walk of Fame. Santa Monica Pier is the endpoint of Route 66. Universal Studios attractions will give you a glimpse of Hollywood blockbusters. The list of possible destinations within the city of Angels is countless.
11. San Diego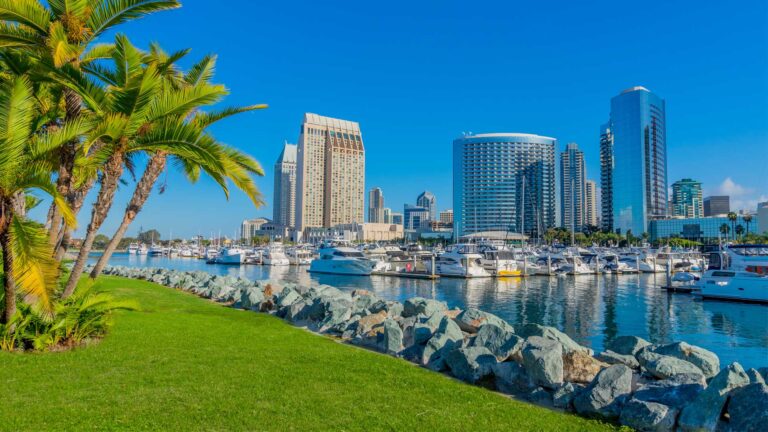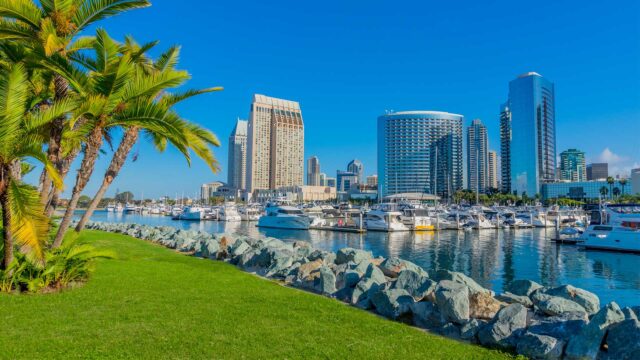 Surfing paradise, San Diego marks the destination on the west coast road trip. Black Beach is famous for surfing, but there many other great ones. San Diego is close to Mexico, and the influence on the cuisine is enormous, so trying as much street food as possible is a must. Millions of visitors come every year on USS Midway, historic naval ship, and among the city's most notable attractions.
Along the 1650 miles road trip, there are many more sights and attractions to explore. For foreign visitors to get to California, there is a process that involves an ESTA visa, which you can get on usaestaonline.com, and the Visa Waiver Program. Currently, the admission process has been halted due to the COVID-19 pandemic. The ESTA documentation will determine whether you can come to the US or not. Once granted, VWP will allow tourists to visit for 90 days, which is more than enough to explore the stunning Pacific coast highway.
Bottom line
Whichever stretch of Pacific coastal highway you choose, there are numerous attractions. Natural wonders, rugged and calmer coastline, incredible beaches, and exciting small and big towns. The road runs through three States, and for the best experience, you should take at least two weeks to explore the scenic highway and all the detours.