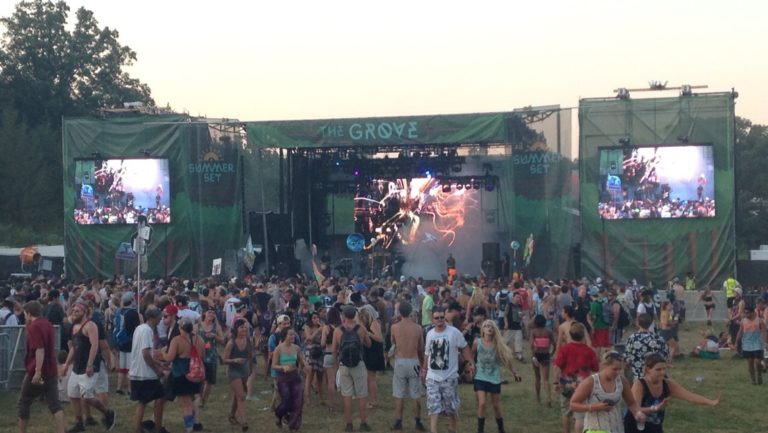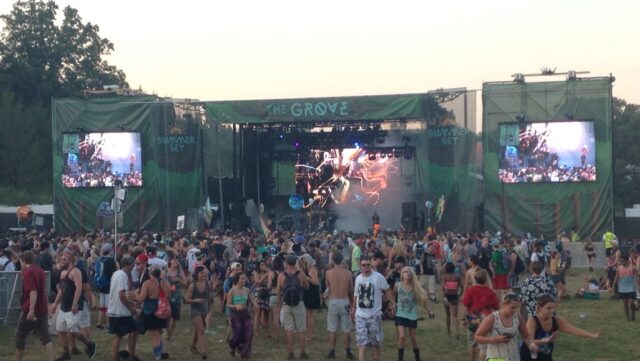 Summer Setup.
That\'s the mindset I had going into the weekend of Summer Set Music & Camping Festival. Having never attended before, the only accounts I had heard about the event were negative. It had earned the nickname \"Summer Setup\" due to its rude and unlawful security staff, complete with K9 searches from the local police force, who were apparently getting stricter every year. After waiting in line for six hours at Electric Forest and hearing accounts of Camp Bisco, I was also prepared for a long, frustrating wait.
Neither of those happened.
Friends who arrived early on Thursday were subject to strict searches, as were those who arrived around sunrise on Friday morning. Security was supposedly taking 20-30 minutes to each car, going as far as to open jars of peanut butter and unopened packages of food. However, once the line got too long, they were told to speed it up, and then spent under 5 minutes on each car. By the time 10 A.M. rolled around, the line was almost non existent and gate security was noticeably tired from a long night. The line to walk in the festival gates was always pretty short as well, even on the first day.
Summer Set did unbelievably well at managing their crowd. The campground and parking lot was never overcrowded, and the Wisconsin terrain with several hills and valleys allowed for scenic and enjoyable (but sometimes tiring) walks from stage to stage. The Main Stage is complete with a concrete floor level, surrounded by hills on all sides. Summer Set takes place on the grounds of Somerset Ampitheater, which means it also has a huge working bathroom behind the crowd area. Much nicer than being subjected to three or four days of port o potty use.
Summer Set\'s strength is definitely its various stages. The Main Stage hosted a variety of music, including The Weeknd, Keys N Krates, Action Bronson, and an unforgettable performance by Jauz. Bassnectar, Big Gigantic, and Deadmau5 all had exclusive 90 minute slots on main stage each night. Die Antwoord\'s set got cut off about 30 minutes in due to an evacuation on Sunday. However, Summer Set was able to deal with the weather very well.
The Meadow was a small stage located near the main which hosted a variety of unique acts. Purity Ring closed out the stage Friday night with one of the most beautiful stage setups of the weekend. The Saloon was located at the back of the main stage , and was a small bar with several tables. Chicago rapper Saba was impressive on this stage Sunday morning.
The Grove was a nice forest environment that hosted bands like Odesza, Tycho, and Lotus, along with Rae Srummurd and G-Eazy. They saved one EDM show for this stage – Zeds Dead [video]. It was the last show at The Grove all weekend. One of the first shows most people saw after the evacuation, The Grove was ridiculously packed, and Zeds Dead put on one their best shows of the summer.
While Zeds Dead was throwing down to thousands of bassheads, Borgeous was playing at the Big Top. I figured I\'d give his show a chance after such an amazing weekend at this EDM focused stage, but I couldn\'t even last 5 minutes there. However, it was actually pretty good scheduling – this was the only shitty big room house music there all weekend, and all of the real music fans were at Zeds Dead anyway. The rest of the weekend at Big Top was full of incredible music of all electronic genres and a crowd and environment that I haven\'t been a part of in a long time.
The first day at Big Top started with Haywyre and Trippy Turtle, who both threw down nice, vibing sets to kick off the weekend. The covered stage got hot really quickly, but that didn\'t stop the crowd from sticking around for Audien, Kap Slap, and TJR. Audien\'s shows are so predictable, but it\'s done very well. Kap Slap, who started as a bedroom DJ making mashups years ago, threw down some really impressive mixing during his set. TJR was a party as always, but overall, the energy on the first day was average.
Saturday at Summer Set was one of the best festival days I\'ve seen in a long time. The day started with Manic Focus at the Big Top at 4:30. After Bakermat, Jauz played the main stage at 5:30, and threw down one of the heaviest sets I\'ve seen this summer. It was much different than his set at Concord Music Hall in February on Borgore\'s [interview] tour. That set focused on the house elements of his music, while this one focused on his dubstep influences. It was one of the most energetic crowds I\'ve seen; it was the middle of a 92 degree day in the blazing sun (main stage was the only one with no shade), but the crowd was massive and getting down. Jauz told everyone he was extremely sick at home just days before and almost didn\'t make it, but the crowd was giving him the energy to keep going. Later in the set he premiered the final version of his collaboration with Skrillex.
After Jauz, Brillz [video] played at Big Top at 7. Going off the energetic and genre-bending music that Jauz brought, Brillz played a completely mesmerizing set that definitely ended up being my favorite of the weekend. The Big Top was a sauna; this had to be one of the hottest weekends of the year. Towards the end of his set, Brillz told us \"you people are the craziest I\'ve ever seen in my life!\" Not sure if he was just saying that, but I would have to agree. It was an amazing environment full of people dancing in the most ridiculous ways. The set flowed so well and barely anyone left. Best part about this stage was that people gave each other room and you could walk right up to the fence, which meant that security could supply the crowd with water.
After rumors of several hospital visits and deaths on the first day, security tossed out cold water bottles and gum to festival goers in the front constantly at Big Top. This one security guard named Leroy stationed in the right front was constantly tossing water bottles 10-15 rows back into the crowd. All you had to do was put your hands up or make eye contact with him. In an environment where drug use was obviously rampant, it was an amazing display of safety and harm reduction that I\'ve never seen from an individual before. In this picture on Brillz\'s Twitter, you can see him ducking down, case of water in hand, so everyone can get in the shot. What a good guy. Shoutout to Leroy.
Tchami came next at Big Top, who threw down a very different type of set for the first thirty minutes. It was really heavy on bass and Jauz-esque music, but the second half brought his signature future house sound. Shiba San [video] started at 9:30 after playing at Dirtybird BBQ Chicago seven hours before. Shiba went on early, dropping an epic closing set that was different yet just as impressive as his set at Spring Awakening. If you aren\'t following him already, Shiba San is going to be playing festivals for a while. His music blends deep house with Dirtybird and G-house influences to bring a sound that most people love to dance to. Saturday made me realize that the future of EDM is simply great, genre-less music that makes people move.
Saturday\'s closing act was Big Gigantic. Following a disappointing and quiet set at Electric Forest, I didn\'t expect much of these artists that I once loved. However, the set was really impressive and vintage Big G. The Floozies played an afterparty at The Grove until 2:30 A.M., followed by a set from Jauz in VIP. Overall, Saturday was one of the best days of any festival that I can remember.
Sunday\'s lineup was rather weak, but that was probably due to the massive amounts of money paid to the headliner – Deadmau5 [video]. After Milk N Cooks got cut off by the evacuation, the only other recognizable names at Big Top this day were Vaski and Borgeous. Deadmau5 was impressive for a while, but left most of the crowd wanting more. After an hour long evacuation to the campsite area, the show actually ended earlier (10:15) than he was billed on the schedule on the mobile app. Campsites were relatively tame that night, and some suggested that it was because Deadmau5 disappointed a lot of us.
Overall, I was really impressed with my first year at Summer Set. I\'ll definitely be back next year – it was so refreshing to be at a festival who managed their crowd almost perfectly. Everyone was respectful of one another, minus a few unfortunate encounters with Somerset police that I saw. The people attending were crazy, but caring. The only complaint I have is the scheduling on Sunday, as the lineup was a bit disappointing. However, this was such a great event that I didn\'t really care.
Big Gigantic\'s Dominic Lalli said it best in a speech at the end of his band\'s show: this is all about making memories with your friends and having fun in the summertime. The sense of togetherness and good vibes at this festival was amazing. There was room to dance everywhere, along with seated areas with great views and friendly people. After being disappointed by Lollapalooza and being around that mainstream side of EDM, Summer Set brought out the best parts of the scene and created an unforgettable weekend, no matter how or where you chose to spend your time.