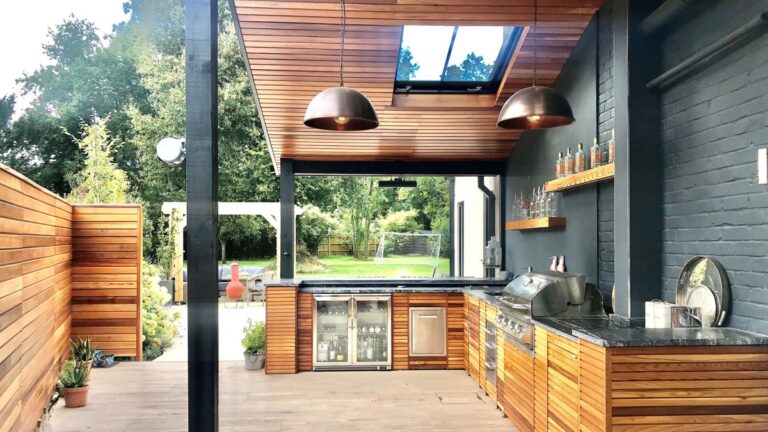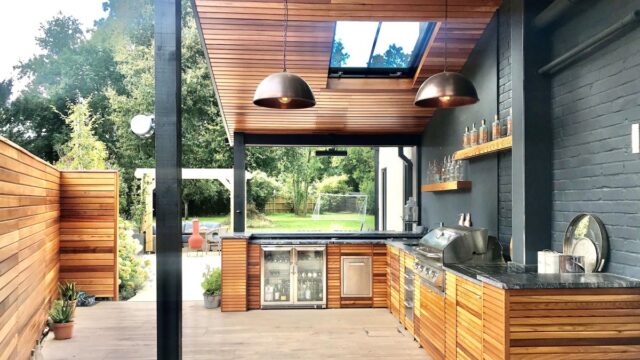 Do you have a fire pit in your backyard? Maybe you have a basketball hoop or a barbecue? If you spend a good amount of time in your backyard, you've probably made it a comfortable, fun place to hang out.
There are plenty of elements you could add to your backyard to make it even more fun, but have you thought about an outdoor kitchen? If you haven't considered getting an outdoor kitchen kit, here's five reasons you possibly should place this item at the top of your list.
1. You can get a ready-to-assemble kit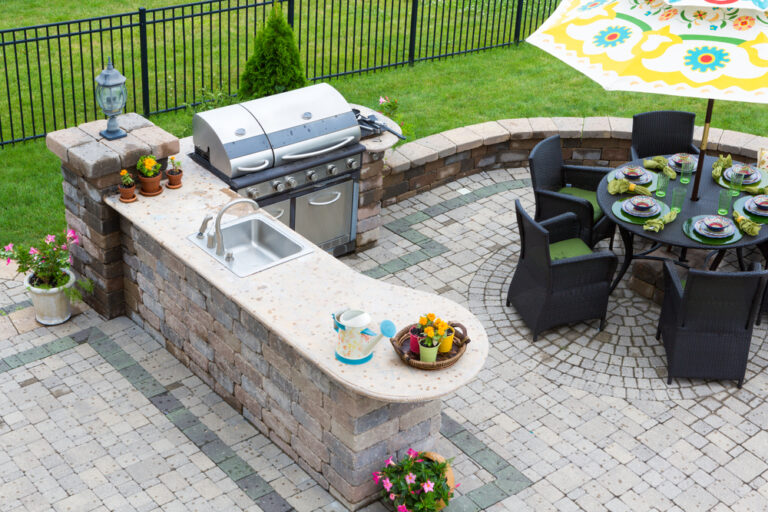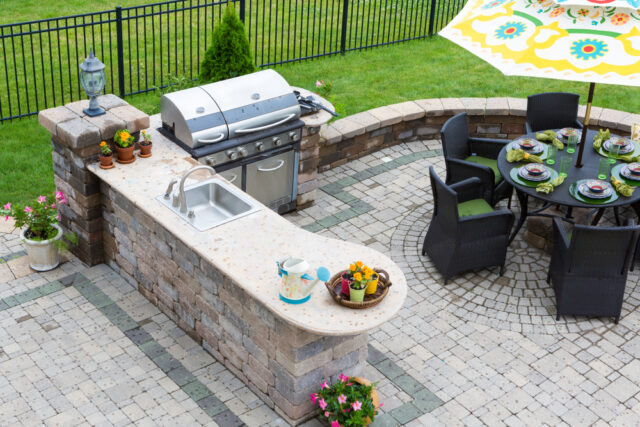 If you've ever thought about outdoor kitchens, you've probably considered the time and labor involved in putting everything together. Like any home improvement project, installing an outdoor kitchen from scratch can be a little inconvenient and time-consuming.
You might recall someone who had to hire contractors to finish the job or bring the unit on site with a crane. What's especially discouraging about this prospect is that many of these assemblies don't even come with appliances; they compel you to find properly sized appliances elsewhere and purchase them separately. Then, you have to install those appliances, which requires hiring even more contractors.
Though this is typical of some outdoor kitchens, you have other options. For instance, RTAOutdoorLiving.com can be fully assembled in a few hours without a contractor. They also come with appliances and are made of premium-grade materials.
You have plenty of alternatives to a massive and costly construction project. If you're short on time and just want to get the job done, ordering an outdoor kitchen for your yard doesn't have to be a big ordeal or expense.
2. A backyard kitchen makes date night sweeter
Whether you're married, partnered, or dating, a full kitchen in your backyard will make your date nights a lot sweeter. Imagine having a date in your backyard in which you spend the evening outdoors: enjoying a warm breeze, cooking with your date, and then sharing your meal on the spot.
Imagine not having to leave your date and run back into the house to get more food or heat something up. That's one of the magical facets of an outdoor kitchen.
Traditionally, when you wanted to cook outside, you had to use a barbecue. Those are great for hamburgers, steaks, potatoes, and a slab of salmon, but not everything can be grilled.
If you want to dine on pasta dishes such as ravioli, manicotti, or fettuccine, you need a real stove to boil water and prepare the sauce. When you have an outdoor kitchen, though, you can do all of that in your backyard.
Your date will appreciate the fact that neither of you will have to keep disappearing into the house throughout the meal to fetch various necessities, big and small.
3. Your parties will be better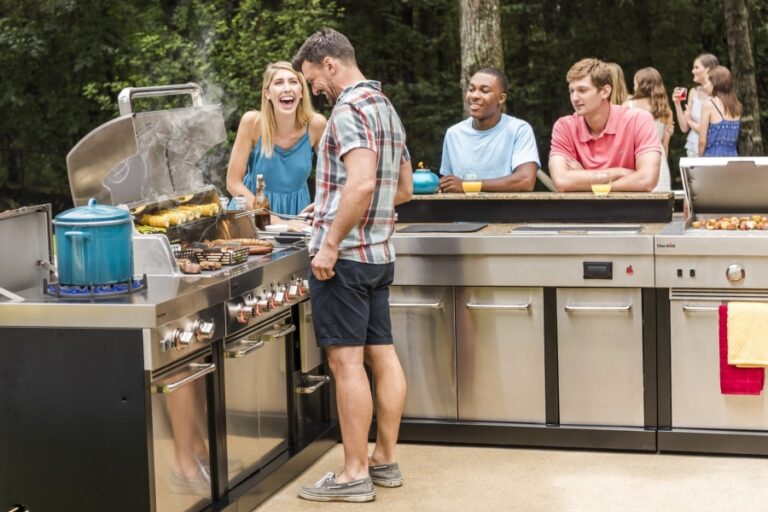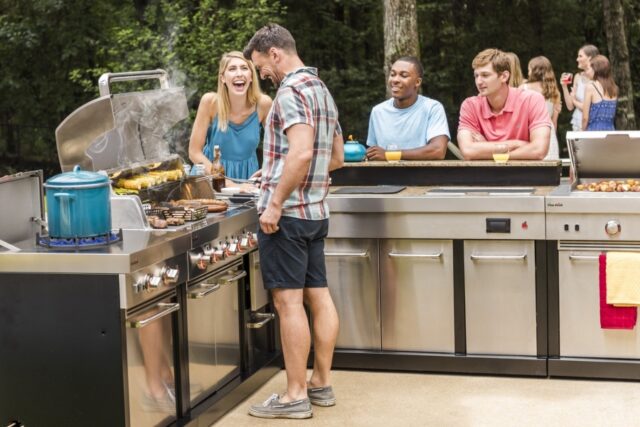 When you host a party at your house, it's great to be able to cook outdoors and mingle with your guests. As host, you would prefer not to have to leave your guests for too long, and if they're going to hang out in your yard, that's where you ought to be, too.
Cooking in your backyard will make your parties more fun because it will keep everyone together. When everyone else is having fun outside, few are apt to wander indoors to spend time with the cook.
Part of the reason barbecues are so much fun is because everyone gets to hang around the food while it's cooking. People can take turns watching the grill, and the chef gets to stay active in the conversations.
Having an outdoor kitchen will make your parties feel more like barbecues, but with foods that are cooked on a stove or flat-top grill.
4. Guests can serve themselves
When you're the host, you don't necessarily have time to cater to every guest throughout the party. You also might not want to be constantly serving people, especially if your gathering is on the casual side and you'd rather spend time with your guests.
One of the most convenient reasons to own an outdoor kitchen is that it allows guests to serve themselves easily. Unlike an indoor kitchen where people might feel awkward about getting something out of the fridge or using the stove, an outdoor kitchen can feel like an open invitation to help themselves.
With an outdoor kitchen, you can get the food started and then allow people to serve themselves. With an outdoor kitchen, anyone who knows how to cook can simply put another burger patty on the grill or start another round of vegetables.
Parents can get second helpings for their kids and people can take turns watching the stove or grill. If you get an ice maker or refrigerator as part of your outdoor kitchen, guests may also help themselves to ice and beverages without having to ask what's available or request permission to retrieve something from inside your home.
This is another element of a potentially amazing party, where everyone may pitch in to do a little serving throughout the event.
5. Cooking outdoors feels good
Sometimes the best reason to have an outdoor kitchen is to simply be able to cook outdoors. Cooking outside feels great because you're surrounded by nature. That's part of why it feels so good to cook over a campfire. Building your own fire creates a sense of accomplishment and makes the food taste even better. However, it wouldn't be the same without being out in nature.
You don't need a giant backyard to enjoy cooking outdoors. Even if it's just some grass and a few trees, cooking and dining outdoors can be a welcomed change from being stuck inside.
Make your backyard parties better by cooking outside
Want better parties? Cook outside. Hands down, your backyard parties will be more fun when you can prepare the food with an outdoor kitchen. Better yet, the food will taste even more amazing when you enjoy your environment.