Natural stone remains a classic material for sophisticated bathrooms. The material is timeless, and since the bathroom is a strictly functional space, arrangement and the finish are crucial. Today, many architects and designers acknowledge the value of using natural stone for bathroom floors and wall cladding. Homeowners also love the final product of this material.
Many people concentrate their efforts and funds on foyers, living rooms, entrances, and other common areas when renovating homes. Suppose you are planning to remodel your house, factor in your bathroom. This is because bathroom renovations are smart investments that increase property equity, making it more marketable if you need to sell it.
According to a study, taking a bath boosts your mental state and general health. This makes it more important to pay attention to one of the most functional spaces in your home – the bathroom! Read on to see how using natural stones will give your bathroom timeless beauty.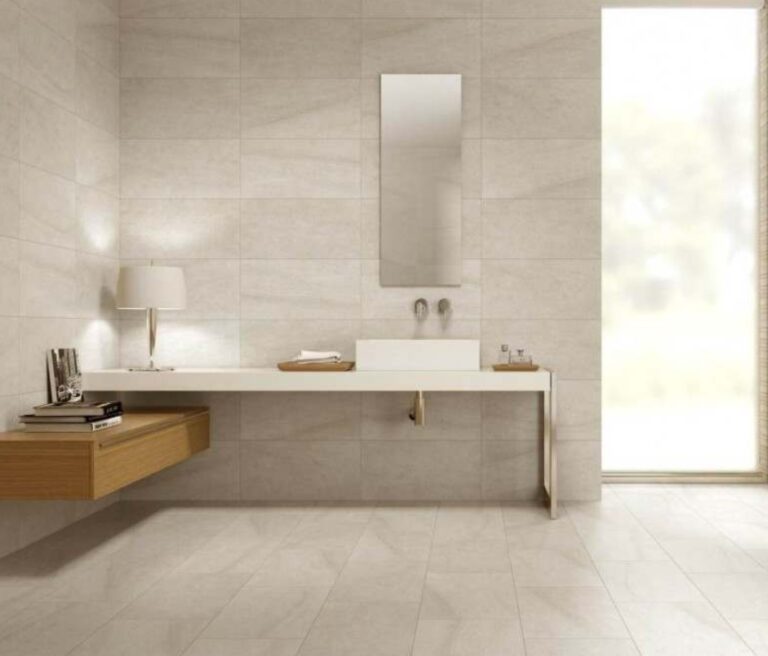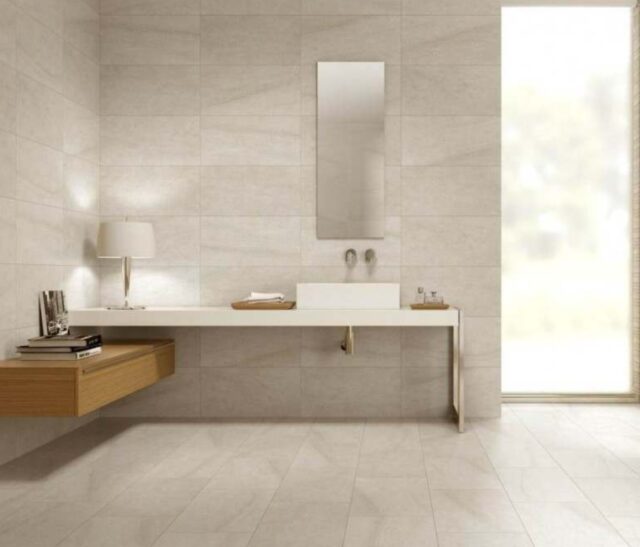 Limestone
Limestone is light and soft in appearance, providing an earthy and warm tone wherever it is place. It is an excellent choice for areas that you want to brighten using natural stone, like your bathroom. Some of the best and magnificent spas in the world feature limestone wall, counters, and floors. This is the material used in Roman Baths in the English country of Somerset, among others.
The cost of limestone is better than soapstone and marble, making it more widespread. Besides the undeniable beauty of limestone, it is distinct. This material's choice will give you a range of different patterns and subtle colors to choose from regardless of your style.
Marble
Marble is most homeowners' first pick and goes beyond aesthetics. Before questioning the seemingly high sales price associated with marble bathrooms, look at corresponding images. Investing in natural marble stone for your bathroom interiors assures you of a luxurious and affluent effect in your bathroom.
Carrara marble is a pricey and popular option, but there are many other affordable options if you are on a budget. A marble extracted from quarries near the Marmara Sea in Turkey features a creamy white look with beautiful line patterns.
White marbles make excellent pieces for the bathroom as they are light in color, and many people prefer it in their bathroom. If marble is your pick, choose a high-grade white marble to ensure inclusions and minimal inclusions and veining, which are susceptible to damage in the shower environment. Get an expert on board to ensure that you pick the best stone for timeless beauty in your bathroom.
You can keep your marble surfaces looking new by using marble formulated sealer when necessary.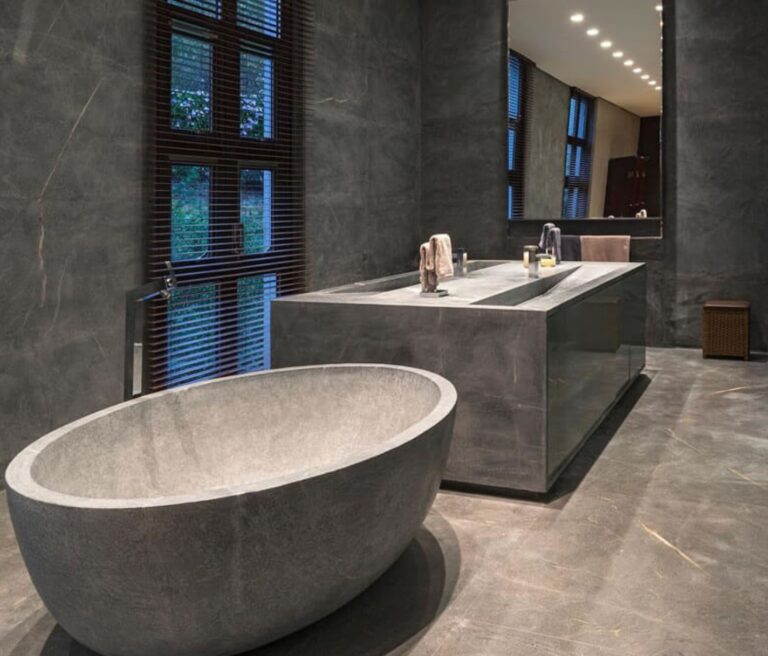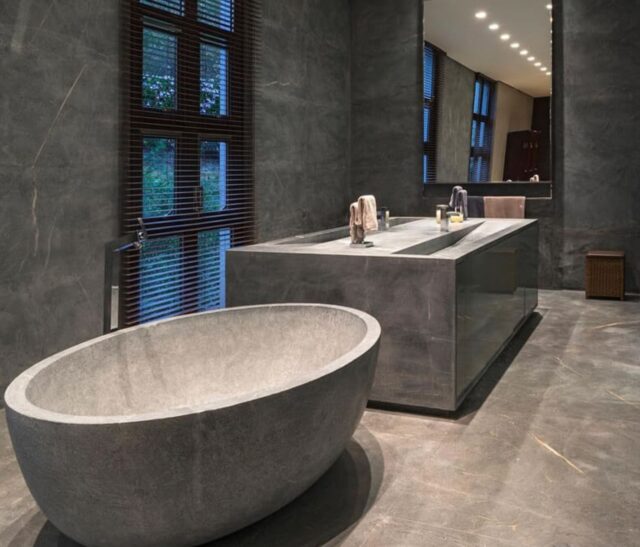 Soapstone
Unlike marble, soapstone requires minimal maintenance and is great for bathrooms. However, the main difference is that you will need to apply heavy coats of mineral oil food-grade every twice a year.
Since the stone is non-porous and naturally antimicrobial, you do not need to worry about germs crawling and spreading diseases. The surfaces are super easy to clean. Because of its non-porous characteristic, the liquid cannot be absorbed to make it more durable for the wet areas.
As a heat resistant surface, this material withstands heat from appliances and even heat of the water.
Onyx
Of all natural stones, onyx is distinct as it has the most ornamental look upon finishing. Onyx slabs as a tub surround, shower stall walls, and countertops are worth buying if you do not have budget constraints, and you want an ultra-luxe look.
Onyx, like marble, is too delicate and needs frequent maintenance to keep it looking elegant. It is easy to clean as a diluted white vinegar solution will work well. This stone also comes in many colors and finishing choices, from gloss to matte effects.
Using onyx for your bathroom creates an in-home spa, which is impressive aesthetically but also durable.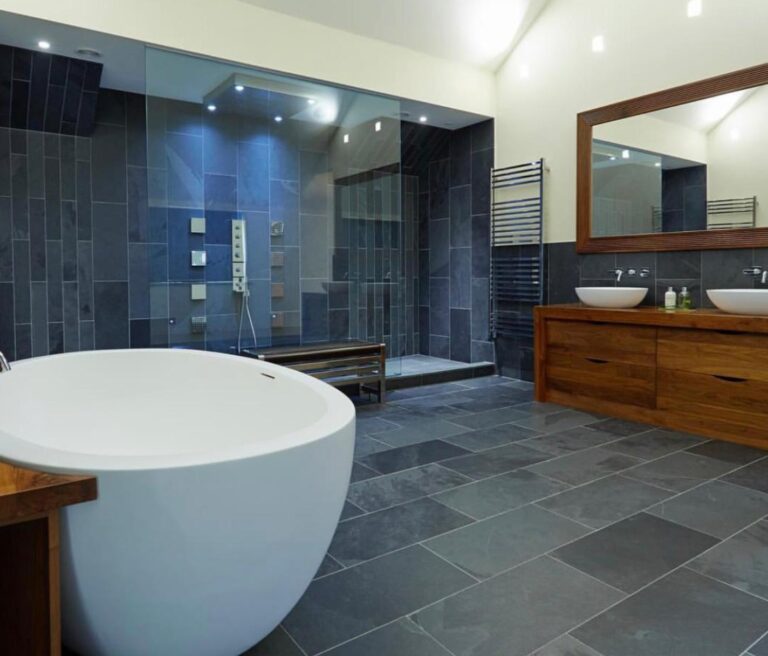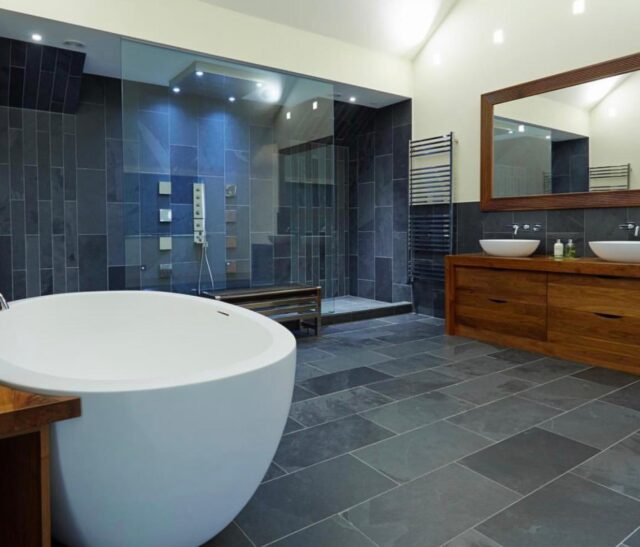 Bluestone
This material looks better as vertical paneling or floor types rather than countertops. The most common finish is honed or brushed, which gives an attractive rustic look. Mosaic installation or mixing bluestone with slate offers a more stylish choice.
Travertine
Travertine is becoming a common choice for the bathroom for many homeowners and designers. The stone comes in attractive color range, patterns, and venations. It is also elegant. According to experts, tumble and hone finished are the best finish options in this range. Tumble finished travertine enhances the appearance of the natural stone color through antiqued appearance. Hone finished travertine, on the other hand, gives a matte finish, which softens the general appearance of the finished product.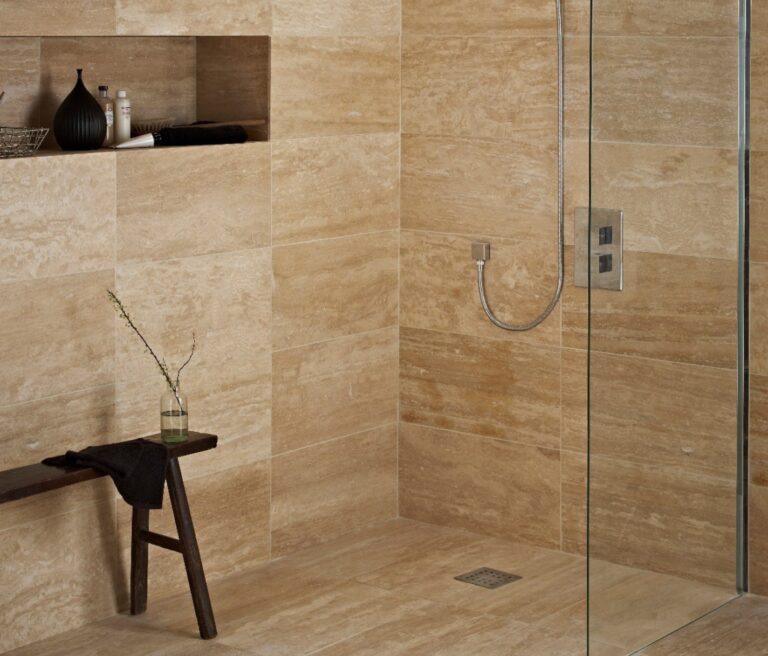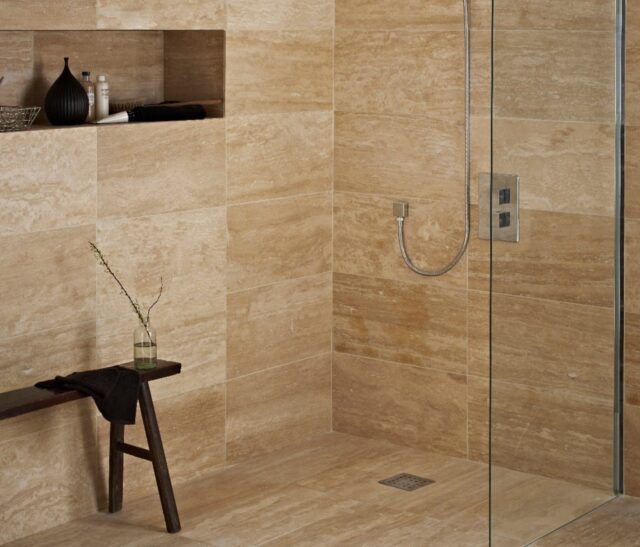 Granite
Because of their lighter colors, granite works well in showers. Granite is also not damaged by alcohol, ammonia, or acid, making it low risk compared to other natural stones. This material also requires low maintenance.
Slate
When cleaned regularly and appropriately sealed, the slate stone is an all-rounder and is suitable for bathroom use. Ensure you choose the right type of these materials for showers as some may flake.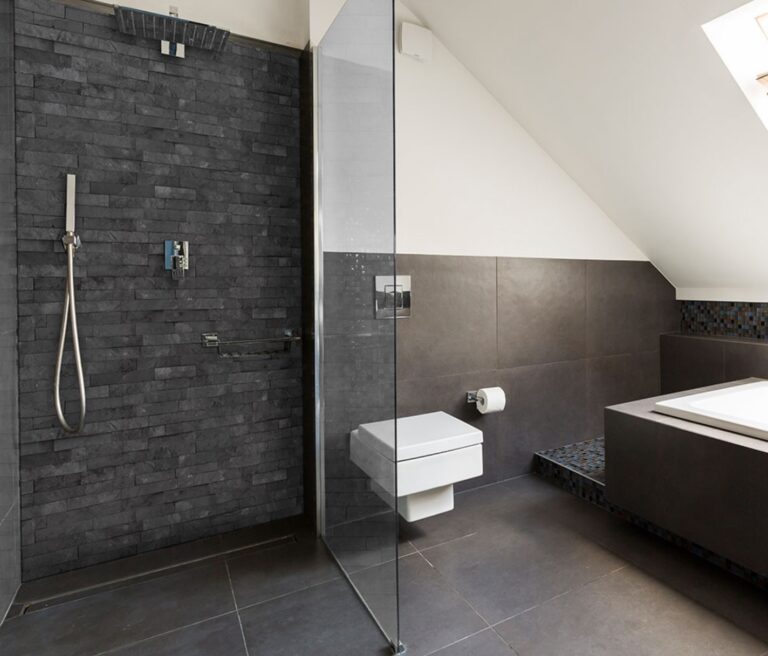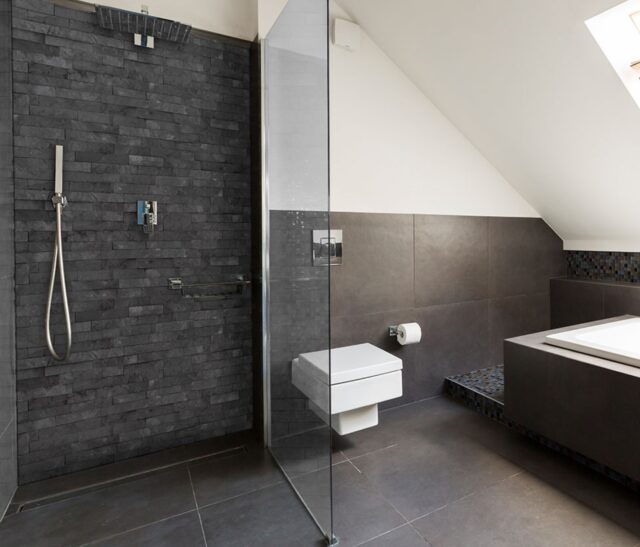 Conclusion
The bathroom and shower area work best with glossy smooth finishes. Keeping grout lines clean and mildew-free is tedious and time-consuming when your wall and surfaces are all grout. To avoid damaging your natural stone bathroom finish when cleaning, use pH-neutral or non-acidic cleaners for any stone.
Shower accidents are common and, most times, fatal. Do not let your aesthetic desire cloud your judgment and compromise safety. As a safety measure, all stones on your shower floor should be anti-slip when wet, scummy, or soapy. It is crucial to engage the expertise of professionals like Saturnia Travertini.
There is hardly any material that can match natural stones when it comes to sophistication and class. Natural stone finishes will add natural beauty to your bathroom. You will also get endless options from the wide range of products to select from accommodating your style.
Since most materials can handle water and heat intervention, natural stone products will serve you longer as a bathroom finish than synthetic ones.