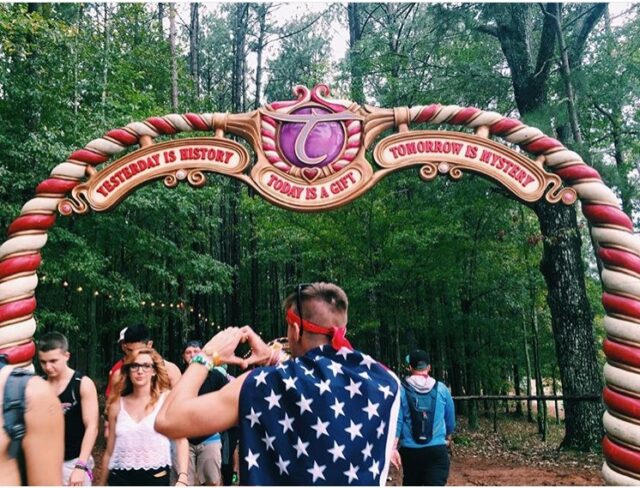 Well my fellow ravers and plur warriors, we are reaching the end of festival season. However, no festival season would be complete without TomorrowWorld. This has been a festival I have been patiently waiting to attend since my beginning in the rave scene. Upon turning twenty-one, I think I was happier I could finally attend TomorrowWorld than be able to legally drink alcohol. I don\'t even know where to begin in describing my journey to TomorrowWorld, so I'll start with our arrival in Dreamville.
It is every raver's dream to walk up and see the giant rainbow announcing, \"Welcome to Dreamville.\" Of course, the walk to this particular festival's entrance is not just a walk- it's more like a hike. With this being my first TomorrowWorld, I had to quickly learn all of the "do\'s" and "don\'ts" to lug all of your belongings to the entrance of Dreamville. Thankfully, everything we packed we were able to be carry to the campsite in one trip. If you do not succeed in carrying all of your belongings in one trip, not only do you have to walk that hike again, but you have to wait in line again as well. The most important pieces of advice I learned in preparation for next year were to bring a wagon and be sure to pack only the necessities.
Once I arrived at the entrance, the reality of me actually being at TomorrowWorld actually sunk in. I looked around and saw flags from different countries flying in the air, totem poles raised high, and of course music from The Gathering stage was already playing. I knew that I was in for the best weekend of my life. The only thing that threw me off, however, was how unorganized entering the festival was. It would have been more helpful if they had event staff welcoming everyone who was walking up so they could help festival goers with their questions. I also think if TomorrowWorld invested in more metal barricades to form lines at the entrance instead of one big cluster of people, entering the festival would have been much more organized.
After going through the ID check, you have yet another line to go through, and this is the final line before you enter the magical Dreamville. This line takes the longest because this is the line where they check your bags and luggage. Again reiterating, TomorrowWorld needs to invest more money (and also space while I'm at it) for check in, because this process will go a lot smoother and quicker if they do. The most event staff I saw checking ID\'s at a time was only about five to six people.
I began to run into ravers I've already been acquainted with and also met new ones while waiting in the check in lines. This is the perfect time to create and find your TomorrowWorld family, because you aren\'t going anywhere anytime soon. Thankfully, the rain did not start until after check in, so that kept us thinking positively.
After check in, it was time for some more walking to find the perfect spot to set up camp. The way that TomorrowWorld organizes the campsites is that the earlier you check in, the closer you are to the actual festival entrance. Thankfully, we checked in fairly early and got to set up camp in the dead center of Dreamville which was close to the marketplace, showers and bathrooms, and of course both entrances to the festival. The feeling when you finally set up your tent and start transforming your campsite into your home is simply the best feeling ever, because you begin to see how all of your work and preparation over the past few months has finally paid off. To celebrate completing the hardest part of the weekend, we cracked open some beers and started meeting people from all over the world.
Our Dreamville neighbors instantly became our family. The nearby tents were full of other ravers from Tampa, Florida who rode a charter bus with us to the festival, so we all decided to camp nearby one another and experience the weekend together. This was the point when I began to fall in love with TomorrowWorld, because I was learning that this festival is not about the music. Instead, this festival is about stepping out your comfort zone and hearing the stories of other individuals from various walks of life. With that being said, the rave outfits quickly started to emerge.
Once everyone finished setting up camp, it was time to go exploring into the marketplace and learn more about the environment that was going to be our home for the next four days. Once my eyes saw the marketplace, I'll admit, at first I freaked out a little because it was so gorgeous. I felt like I had stepped into another world… I guess that's why they call the festival \"TomorrowWorld.\" From vendors, to a hair saloon, and of course food, this marketplace had it all. Then of course, next to the marketplace was the glorious Gathering stage.
With the first steps I took into The Gathering, I had tears falling from my eyes. I began to see a different group of ravers that I have never seen before. For them it wasn't centered about the party aspect of the festival. They were true individuals full of love and respect for one another and their countries. The Gathering was something I was looking forward to just as much as the festival itself because not only was the lineup insane, but The Gathering was only accessible to Dreamville attendees.
Better buckle up readers, because this is where the weekend seriously started. The rain and mud started to loom over Dreamville halfway through The Gathering, but that stopped none of us from raging. Our crew quickly went and changed into warmer clothes, grabbed some ponchos, and went back into the crowd to start shuffling and jumping up and down. We had traveled so far and spent too much to money to miss out on this exclusive pre-show due to a little water. I was so dedicated to the cause, I even raved in my University of South Florida hoodie and sweatpants.
My best memory was the last 30 minutes of Headhunterz. Headhunterz went back to his old roots of Hardstyle and closed out with rain pouring down all over Dreamville. I apologize if you missed this epic scene, because it is a moment that I will never forget. \"Once Again\" and \"Colors\" had me screaming until I could not scream anymore. I also found it incredible that TomorrowWorld invested so much time and creativity in a stage that was only used once over the weekend and then never again.
This festival is different because it teaches you so much about yourself in ways you could never imagine. When I woke up Friday morning, I woke up to my tent filled with water and everything I owned was soaking wet. At first I didn\'t know how to react but then off in the distance I heard someone from my TomorrowWorld family say out loud \"Welcome to TomorrowWorld.\" This comment made me laugh and smile because of how true that statement was. TomorrowWorld is all about living for tomorrow and going with the flow with what you were given.
At that moment, I started getting everything ready to go to the marketplace to grab some breakfast so I would be full and ready to shuffle the day away. This was the first time I went to the marketplace to eat because I ate upon arriving to TomorrowWorld and The Gathering. It didn\'t take me long to realize that the marketplace food is nothing special. The better food was inside the actual festival grounds and not in Dreamville. However, I expected the food in the marketplace to be better than the food inside the festival because we paid more for our ticket in Dreamville.
The other thing you need to keep into consideration is that these meals are not cheap. With someone camping and wanting to eat three square meals a day you need to plan on bringing a lot of money to top up your bracelet with pearls. What are pearls, you say? Pearls are the currency TomorrowWorld used for this year's festival. TomorrowWorld went totally cashless this year, implementing their bracelet system, which worked flawlessly.
The "top-up" process was easily accessible, with plenty of booths flooded across the festival for ravers to keep topping up their bracelets with more Pearls. The TomorrowWorld app also gave you the ability to top-up your bracelet too from your phone. The minimum amount to spend to top-up your bracelet was $20, and that gave you nine pearls. Drinks and food had the lowest cost of about five pearls. This system was very user-friendly and I enjoyed using it.
Friday morning my TomorrowWorld family and I walked towards the festival entrance right before 12:00 p.m. so we could join the rest of Dreamville of being the first people in the festival right when the gates opened up. The first thing I wanted to do was go off and explore the whole festival before it got more crowded as the day went on. TomorrowWorld was about an hour behind their schedule for opening the gates, but apparently that was because they were installing platforms to cover the mud from the rain. Once the gates opened the feels became so real. I finally entered TomorrowWorld.
Walking into the festival, Darksiderz was throwing down at the Q-Dance stage, which surprisingly ended up being one of my favorite stages all weekend. All of the stages had their own unique designs full of detail and art. They were truly stages I have never seen before. Each stage itself told a story through the art and music. My favorite stage from the festival overall would have to be the Key to Happiness.
The Key to Happiness was the main stage at TomorrowWorld. This stage had a multitude of engaging details, from water visuals to interactive art installations. This stage was nothing but beautiful. Again, it felt like I was in a different world while at the main stage. This was a stage that thrived during both the day and the night. In fact, every TomorrowWorld stage thrived on strong day to night stage transitions.
The Hill became our sanctuary at TomorrowWorld. That was the meet-up spot if you were ever alone, and someone from our TomorrowWorld family was always there raging to a set. The middle pillar to be specific was the meeting spot. The hills have a special place in my heart because in my eyes it was the perfect spot to watch all the acts. To overlook the sea of people and then just to hear the bass jump off from all the trees behind you was a feeling like no other.
The other stage that really caught my attention was The Mythical Frames stage. I was really intrigued by this stage when I watched the TomorrowWorld aftermovie from 2014. This stage is just as stunning in person as it is in video. On Friday, the Mythical Frames stage was known as Smash The House, and Tchami blew my mind away with a set full of perfect future house songs to shuffle to.
Kaskade was the perfect artist to have close out the first night of the festival on main stage since his new album \"Automatic\" was released that day. Dimitri Vegas and Like Mike didn\'t even seem real because of how many fireworks went off during their set. They even surprised everyone by having Ne-Yo come out and live sing the lyrics to their song \"Higher,\" which is what the closed their set with. The Chainsmokers also came in strong and went in on their set on Sunday. My favorite set all weekend, however, was Tritonal.
If anyone knows me I am a huge Tritonal fan, and once I found out that Tritonal was booked for main stage, I was even more thrilled. I had my Tritonal tank and Tritonal flag on and ready to wait at the rail 30 minutes before Chad and Dave came on. Once they came on stage, everyone in the crowd entered Tritonia. I met Tritonians from all over the world who carried the best vibes. TomorrowWorld also attracts the most loving and caring individuals in the festival scene.
The people of TomorrowWorld play a big role in your TomorrowWorld experience. These people are from all over the world, and they want to share their stories with you. People filled with love surrounding you was a common norm at this festival. Everyone was high-fiving each other and giving compliments out like kandi. The TomorrowWorld community was the most unifying festival crowd I have ever experienced.
This festival helps you grow as a person and learn to appreciate the small things in life. The fact is, no one can control the weather so it is not fair to completely blame TomorrowWorld for the mud. However, with TomorrowWorld being such a big music festival, I was shocked at how they handled the rain. I thought a better plan of action would have been demonstrated. At least some hay would of made a little difference where the bathrooms were in Dreamville, but instead the walk was like walking in quicksand.
My favorite day of the best weekend of my life ended up being Sunday, which was sadly the last day. It was upsetting that three stages and all the acts on those stages were canceled, but how many people will get to say that their first TomorrowWorld was the TomorrowWorld where the last day was only for Dreamville? TomorrowWorld made a huge call by not allowing access to anyone who was not camping on the last day of the festival due to how bad the mud had gotten over the weekend. The announcement was made via social media and on their website, which included a link to a refund policy. TomorrowWorld became the instant talk in the Electronic Dance Music community.
I was at first a little bothered with the mud and how much TomorrowWorld did not plan for this weather, but I am also glad this happened and I'll tell you why. We all know life is not a walk through the park. Obstacles present themselves to us on a daily basis, and to survive we learn to adapt and make the best of the situation. The rain and the mud forced not only me, but also everyone else at TomorrowWorld to make best of the situation.
This festival makes you realize that sadly we take so many things in life for granted. Things aren\'t always going to go your way, but you have the power to make the most of what you've got. TomorrowWorld opens up your mind in more ways you could imagine. I was so thankful for a hot shower and a bed when I got back home. See it is the little things in life I learned to be thankful for when I returned from TomorrowWorld.
Packing up the wet campsite on Monday morning I once again had tears running down my face. This part of the trip does get emotional because in that weekend you were a part of something so big and so positive. On the bus ride back to Tampa, more tears were forming because the weekend just didn\'t seem real. I kid you not, this music festival is powerful. The real sadness didn\'t kick in until we finally got back to Tampa and everyone from our Music Festival Trips family was saying goodbye to each other.
This was a moment that I really took in, because everyone lives such busy lives now. It is hard to see your friends very often with school and work, so it's times like these that we really look forward to and cherish. So what if there was a little rain. Be fortunate that you were able to attend TomorrowWorld and that you were there. I do pray though that next year TomorrowWorld does have a better plan of action for specialty circumstances.
Yup, you read that right! I will most definitely be purchasing my ticket for next year's TomorrowWorld (with the camping option) the moment they go on sale. Each TomorrowWorld is a new experience. If you attend TomorrowWorld, I challenge you to do the camping and only go with one or two people you know, then go and make a new family for the weekend. Who knows, through your TomorrowWorld family you just might find your soul family like I did.
This TomorrowWorld was in no way my last. The journey has only just begun. \"Yesterday is history. Today is a gift. Tomorrow is mystery.\"
Source: Facebook