Vehicles have become a common part of numerous aspects of our lives. The work of many enterprises is no longer possible without the availability of an appropriate vehicle fleet. This applies, for example, to the fire departments. In our article, we'll talk about fire service vehicles and consider the most interesting and unusual units all around the world.
1. Oshkosh Striker 4500: Designed Especially for Airfields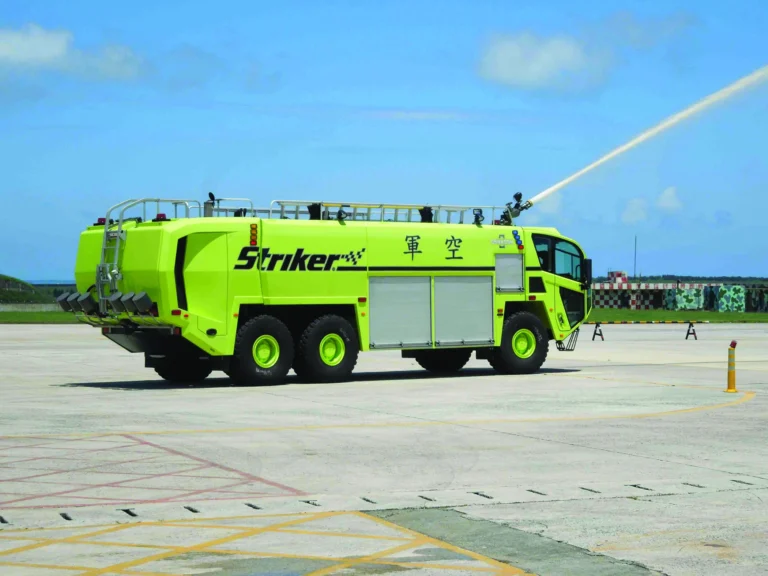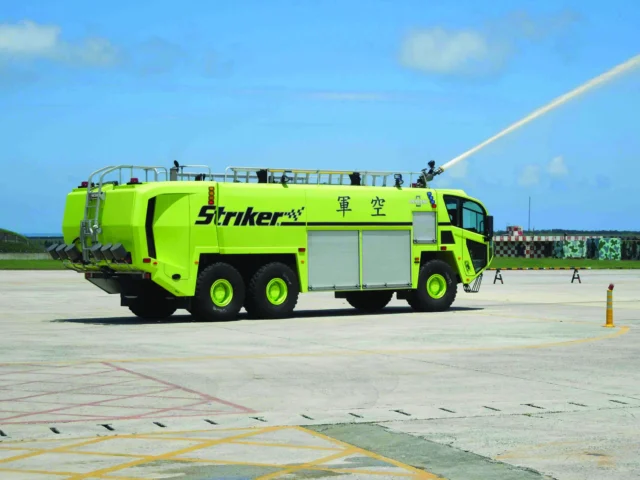 This unique machine was created specifically to operate on the runways of airfields. Since the plane has a huge tank of fuel, great forces are required to cope with the fire and prevent an explosion when it ignites.
The vehicle is manufactured in the USA by Oshkosh Truck Corporation. Its weight is around an impressive 130,000 lbs (60 tons). Inside, it can contain up to 4,500 gals (17,000 l) of water, which is thrown up to a distance of 250 ft (75 meters), under enormous pressure. Thus, the truck makes it possible to effectively fight any fires.
A powerful Caterpillar engine is responsible for the movement of the fire service vehicle, which reaches speeds of up to 70 mph (110 km/h). Besides all that, impressive 4-wheel drive systems make it a real SUV that can handle any surface.
2. Big Wind Fire Tank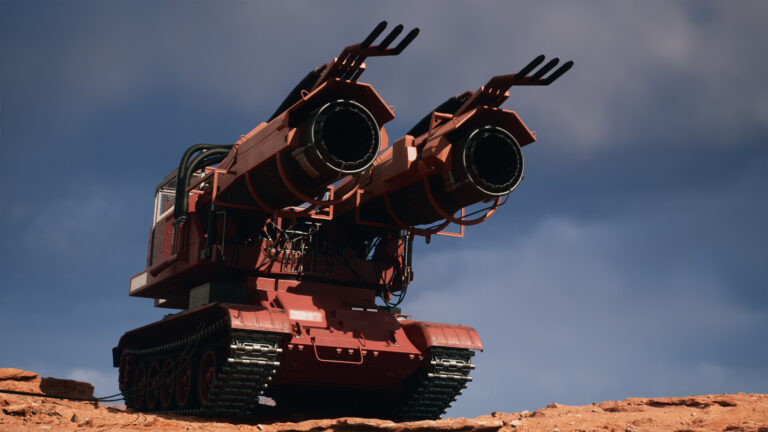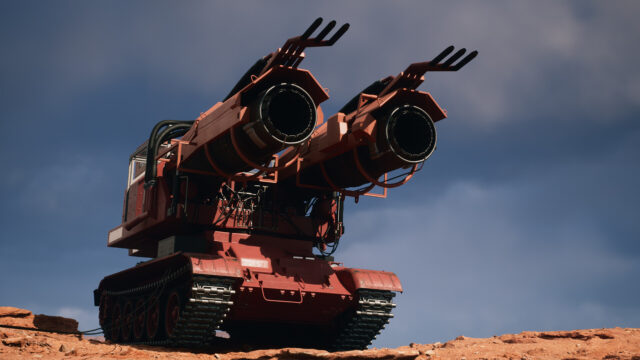 Oil-well ignition forces engineers to come up with unusual solutions over and over again to effectively fight the fire. As a result of such reflections, Hungarian engineers assembled an unusual vehicle called the Big Wind. Surprisingly, it was constructed based on the Soviet T-34 tank.
Two powerful water cannons, which are assembled from the jet engines of the Soviet MiG-29 fighter, are responsible for the water supply in them. They provide water pressure of up to 830 l/s, which makes it possible to throw out about 65,000 lbs (30 tons) of water in less than a minute.
For driving, a diesel engine with a volume of 580 liters was installed. Interestingly, it develops a speed of up to 3 mph (5 km/h). The parameter was limited on purpose due to specific surfaces near oil wells.
3. A Compact Ford F-500 Fire Truck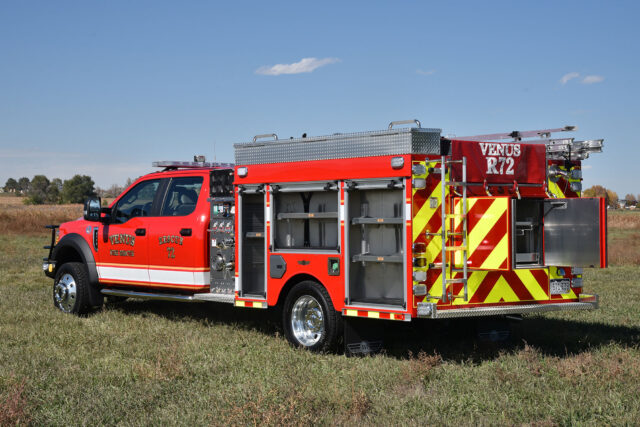 Giant fire trucks aren't always needed to put out fires. Most of the ignitions that occur in private homes and commercial buildings occur in fairly small areas and can be eliminated by much more compact machines. As an example, we can outline a relatively tiny fire service vehicle that was designed by the Skeeter company.
The car is based on the Ford F-550 platform. It's able to easily deliver up to 4,400 lbs (2 tons) of water to the fire site. The truck is also equipped with an automated fire carriage that can be controlled from the cab. In general, the Ford F-500 fire service vehicle is a great solution for small and localized ignitions.
4. Fireproof Truck Rosenbauer Tigon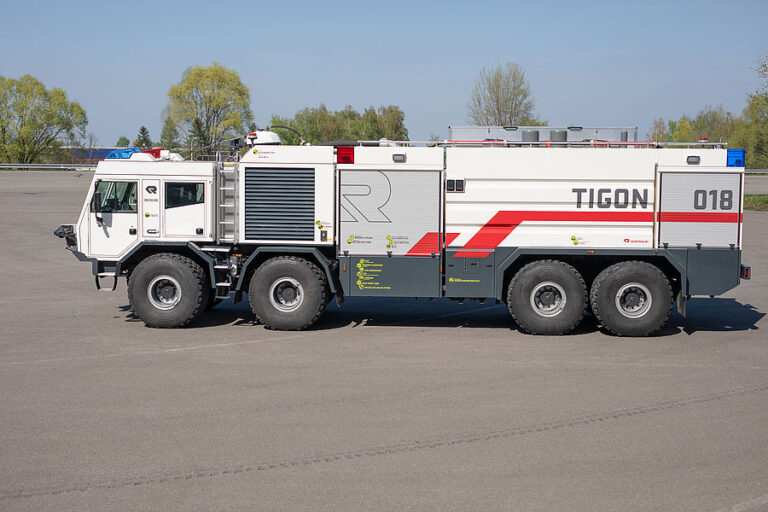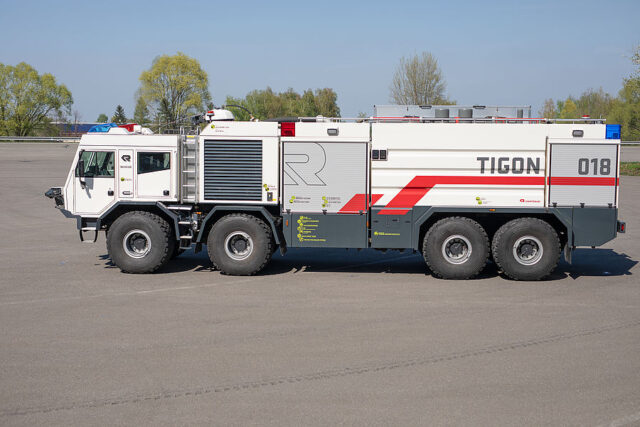 This fire service vehicle is the brainchild of an Austrian manufacturer. It's designed to put out fires in places that a usual car won't reach. To do this, the manufacturer equipped its vehicle with an army chassis system that includes a Tatra Force 8×8 corner cab. The vehicle also has an impressive 700 hp Volvo D16 engine. Due to this, the Tigon configuration can overcome rough terrain, dilapidated industrial zones, and any blockages that an ordinary fire truck will certainly not pass through.
Up to 2,400 gals (9,000 l) of water, 925 gals (3,500 l) of a special foam, and 1,100 lbs (500 kg) of powder are used to fight the fire. All of this is shot at a pressure of 8000 l/s and consumed in about a minute, reaching fires within a 100-meter radius. Additionally, there is a cannon on the bumper that is capable of firing at 230 ft (70 meters) at 2000 l/min.
The Tigon vehicle weighs like a long-range truck—about 95,000 lbs (43 tons) with a length of 40 ft (12 meters). Inside the car, you can find devices with the latest technology. The cabin can accommodate a crew of up to five people.
5. Bronto Skylift F 112 HLA With a Giant Lift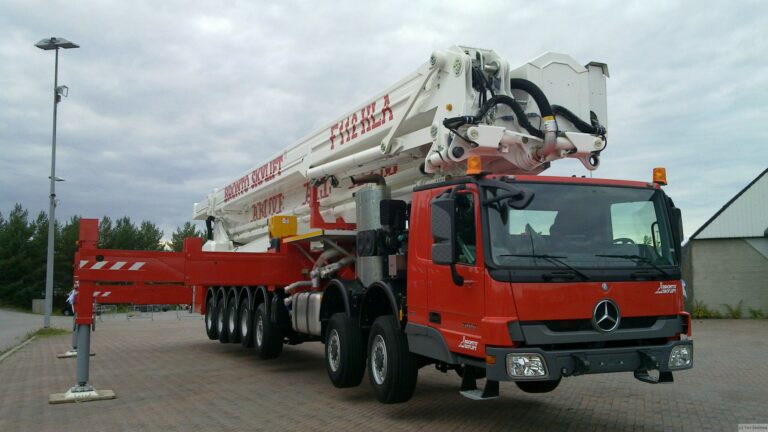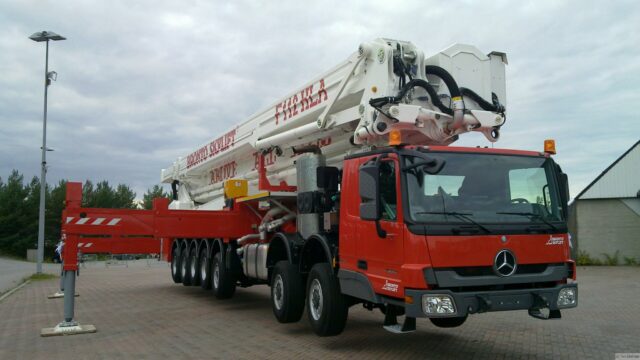 Here, we have a vehicle that boasts a rather impressive lift. This is a development of Finnish specialists, and it was introduced back in 2005. The vehicle immediately won the title of world record holder due to its features.
The telescopic lift installed in this truck is capable of lifting firefighters to a height of around 370 ft (112 meters). This is roughly the height of a 30- to 40-story building!
The vehicle construction is calculated in such a way that even at the highest elevation, the wind isn't an obstacle for firefighters and doesn't pose any danger. In general, such a vehicle configuration makes it easy to get into the most hard-to-reach places.
6. The Iveco Magirus Marconi Duffy Fire Amphibian
The unusual design of this vehicle immediately attracts attention. This is a boat and an SUV at the same time. The amphibian fire service vehicle was developed by an Italian company and released specifically for coastal cities, where boats, catamarans, and other personal watercraft are often parked along the coast.
The vehicle has a three-axle platform, which easily conquers city avenues and rough terrain, as well as sea or ocean waves due to the boat keel. The amphibian's speed on the water's surface is 9 mph (15 km/h), and on land, it can reach up to 50 mph (around 85 km/h).
By the way, the amphibian can carry a crew of up to 12 people and may be outfitted with firefighting or rescue equipment.
Conclusion
Fire service vehicles must meet serious requirements and be ready to work in the most difficult conditions. That's why we can find some unusual machine modifications aimed at fighting the fire. To bring our readers interesting information and fun facts about the auction cars for sale, we have decided to outline the most exciting fire service vehicle configurations you can find all over the world.