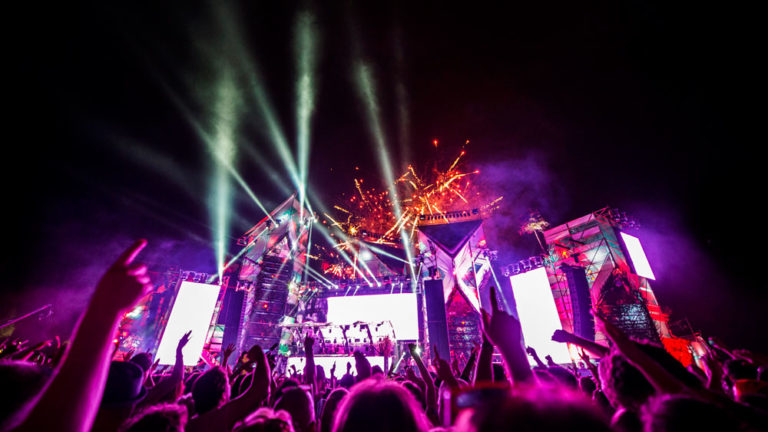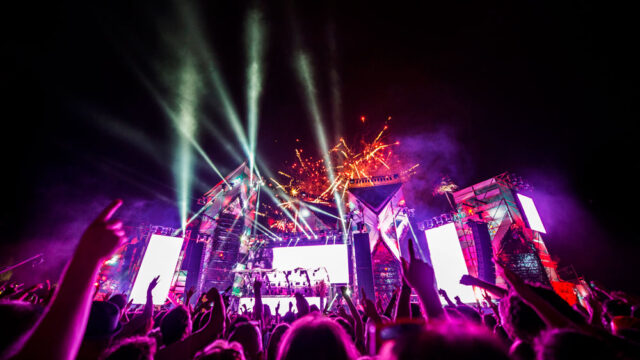 With names like 2ManyDJ's, Madeon, Boys Noize, Jamie Jones, Flosstradamus, Oliver Heldens and WATERMÄT, dance festival Extrema Outdoor has revealed a diverse program. Extrema Outdoor is held Saturday July 11 at recreational beach Aquabest near Eindhoven, Holland.
The Diamond Stage is one of the main stages at Extrema Outdoor and home to shows, performances and other sensations. With the 2ManyDJ's set two Flemish masters have been booked. The brothers Dewaele have been flying around the world for years to enchant audiences with excellent music. From progressive rock and funky r&b to raw German techno, 2ManyDJ's do it their way and get the crowds moving. French boy wonder Madeon and Dutch future house titan Oliver Heldens, among others, will also be treats for the visitors.
Extrema Outdoor has a scoop with the ANTS Stage. The famous Ibiza concept, out of Ibiza's most popular open air club Ushuaïa, visits the Netherlands for the first time. Among the headliners is ANTS resident DJ Andrea Oliva. The Swiss-born artist has his debut album planned for May this year and high-level house is guaranteed. Another big name at the ANTS stage is Jamie Jones, worldwide renowned for being the pioneer of the new house sound. With Nic Fanciulli XO brings one of UK's finest export products in the field of electronic music to Aquabest. Expect the best underground house and techno.
This year again sees the Quartz Arena filled with some qualitative national and international names. Berlin superstar and techno hero Boys Noize among them, who will make the trip to Eindhoven. Flosstradamus brings the best trap from Chicago, and also Joost van Bellen, who can be found everywhere at the festival. He is scheduled to perform at the Quartz Arena, and the new 20 Years Of Love Stage.
The dance festival celebrates its twentieth birthday this summer. As a salute to years gone by the festival will have an extra stage, the 20 Years of Love Stage. Here the DJ heroes of yore will perform. DJ Jean for example, the most-booked Dutch DJ ever, or oldies like Marcello and The Grand Lady of Techno: Lady Aïda. Also big pal Joost van Bellen is present once more. This creative jack-of-all-trades does not need much introduction.
"Back in the day these names were the crème de la crème, and now they're all back on our stage. Even Miss Monica, who is retired, makes a comeback especially for XO. Unbelievable." – Marcel Mingers (Creative Director)
Each year Extrema Outdoor partners with a collective from Eindhoven. This year's choice is La Fête 040, known for intimate parties in the City of Light. Danny Howells and Guy J are on the roster, also expect some heavyweights from the progressive, deep and techhouse scene, completed by the residents from the succesful Ensuite formula.
More info: xofestival.nl/en
DIAMOND
2MANYDJS (DJ set)
MADEON (DJ set)
OLIVER HELDENS
SANDER KLEINENBERG
DEFECTED TAKEOVER FEAT. FRANKY RIZARDO & SIMON DUNMORE
THE MILLION PLAN & DOPPELGANG
WATERMÄT
FERRECK DAWN
QUARTZ
FLOSSTRADAMUS
RL GRIME
BOYS NOIZE
BRODINSKI PRESENTS BRAVA
VITALIC (DJ set)
MIKE MAGO
JOOST VAN BELLEN
STV-VISUALS
ANTS
ANDREA OLIVA
TAPESH
GORGON CITY (DJ set)
LOS SURUBA
JAMIE JONES
NIC FANCIULLI
MICHEL DE HEY
CRYSTAL
ERICK E & ROOG FEAT. MC ROGA
OLIVER DOLLAR
SHERMANOLOGY
LA FUENTE
MR. BELT & WEZOL
LUCAS & STEVE
DAVE LAMBERT
DEEPEND
MC ROBBIE RISE
20 YEARS OF LOVE
REMY
ISIS
DJ MARCELLO
ROOG
MISS MONICA
DJ JEAN
MICHEL DE HEY
JOOST VAN BELLEN
LADY AÏDA
DEXTER G
EDWIN SAASEN
BOY BORN
LA FÊTE 040 PRESENTS ENSUITE
GUY J
DANNY HOWELLS
STVN & BACE
16 BIT LOLITAS
MEES DIERDORP
IVO FOREAL
LEMON AID
MARC CREEMERS
COBALT
DJ STRADA
JAN VAN OTTERDIJK
T.I.A.G.O. FEAT. KATYA
JAY MOCIO FEAT. SAMMY STICKS
MR. GRAMMY
MIKEY BIEMANS
THE TECHTIVES FEAT. ROGÉ
MIDNIGHT OFFICE
TOBIAS CAMMAN
HADDICTS
COLOMBINO