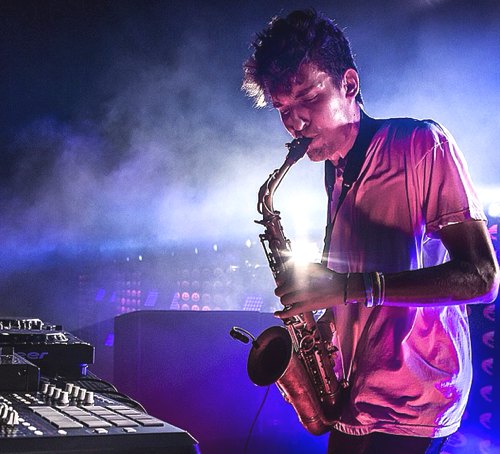 It has been a long wait for Griz\'s windy city fans to have an opportunity to witness Griz perform in Chicago, and nobody in the sold out Aragon ballroom could contain their excitement. That is including the headliner, Griz, who could be spotted by fans dancing in the balconies above the crowd during Exmag\'s opening set.
Griz carried that excitement on stage when he began his set with his single \'Funk Party\' and emphatically danced around while belting out the first of many massive sax solos of the night. The biggest question on everybody\'s mind was how Griz was going to incorporate the music from his newest album \"Say It Loud\" into his live show. Judging by the majority of the crowd that stayed after the show finishing the singalong to Queen\'s \'We Are The Champions\' that Griz started before he left the stage, he has somehow found a way to improve upon his act which was already held in high regard by Electronic Music fans.
Griz played a wide varietey of music. Fans were treated to his remixes of Aerosmith\'s \'Dream On\' and Damien Marley\'s \'Welcome to Jamrock\'. He also played a hefty dose of his \'Rebel Era\' hits, Grizmatik collaborations, and even played Knife Party during his set. His set was paced well between funk and grimey bass, however this was a funk party, and as with most Griz performances, the show that night was dominated by Funk. Griz even brought a disco ball to compliment his stellar lazer show for the occasion. Whether it be \'Staying Alive\' by the Bee Gees, \'Play that Funky Music\' by KC and the Sunshine Band, or even songs from Griz\'s back catalog incuding \'Better Than I\'ve Ever Been\' Griz delivered the funk fast and furious in a set that drove his fans into a frenzy. By the time Griz came on for his encore which began with his fans singing along with the artist to \'Let Me Clear My Throat\' by DJ Kool, and included fan favorite \'Gettin Live\' it was clear that Griz\'s return to Chicago, though long overdue, was worth the wait.
What\'s a funk party without funky friends? Griz\'s opening acts, Artifakts, Muzzy, and Exmag  lived up to Griz and the \'All Good Records\' strong reputation. They all did their part to entertain the crowd before Griz blew the crowd away. Muzzy even came on stage multiple times to accompany Griz with his guitar. This high energy show is a must see for any Griz fan. The best opportunity for Chicago Griz fans to see the new and improved show is Summer Camp Music Festival in Chillicothe Memorial Day weekend, May 22nd, 23rd and 24th.
Check out the shows gallery below:
[foogallery id=\"23630\"]