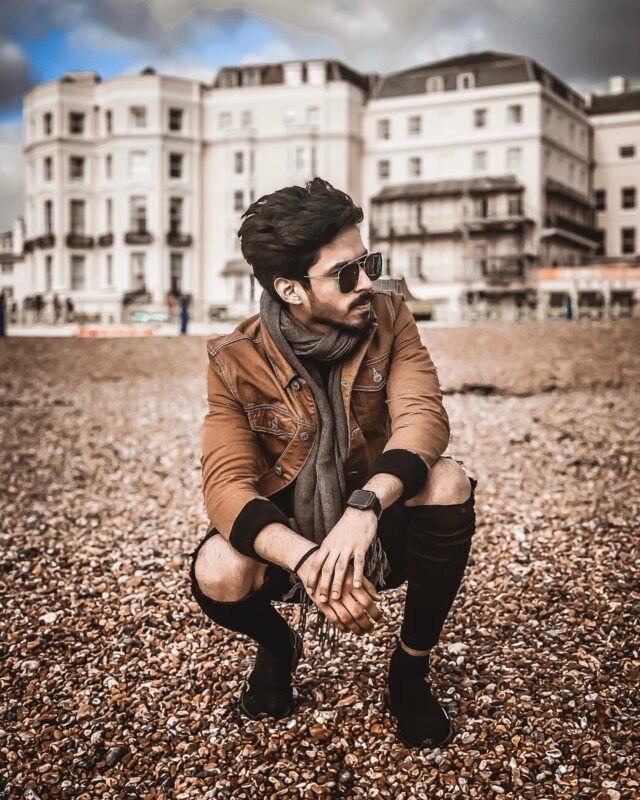 Meet Abhishek Agrawal, a Young Model Making a Name for Himself in the Fashion Industry.
There is no denying there; fitness is the most important aspect of a professional fashion model's career. Physical fitness adds to one's overall aesthetics, which is critical to maintain for all models, actors, and other celebrities who have to appear on screens. There are a plethora of reasons why fitness and model should always be paired together. Reduced body fat can save editors a major amount of work. The primary purpose of modeling is to display fashion accessories flawlessly and body fat or a feeble structure would impress the masses, which would mean the end of a career.
Modeling and fitness work together wonderfully and help create superstars in this industry. Any model who wishes to reach the peaks of success and maintain a stable ground in this industry needs to make fitness a top priority. Abhishek Agrawal, the Indian model who currently resides in London, is an advocate of maintaining a healthy lifestyle. With his photogenic face and exceptionally fit body, this young model is on his way to success in the industry.
A Modeling Superstar Born in Chhattisgarh, India
Abhishek, whom his loved ones call 'Abhi,' is an emerging fashion and fitness model in India. The young model started his career as freelance model in India in 2017 and stepped into the UK modeling world in 2019. He was born in Raigarh, Chhattisgarh, India, on April 13, 1998. Among other young models, his name is on the top, because he not only works on his facial appeal but also on his fitness. While working on establishing a successful career in the fashion industry, Abhishek is serving as an epitome of fitness for all aspiring models. He has a huge fan following on his social media accounts through which he is spreading a message, 'fitness comes first.'
Since his childhood, Abhishek was passionate about performing in front of the camera. He used to participate in dancing competitions, debates and loved playing football. However, his love for modeling outshined all of his other passions, such as debating.
The young boy, who grew up in a loving family, is also loved by the entire nation due to his exceptional modeling skills. From the time he landed on his first opportunity as a freelance model in 2017 in India, until today, he has always focused on his physical fitness. He was an active athlete in his school and also received the badge for sports captain. His athletic activeness brought him closer to fitness, and today it is his top priority.
A Man with Multiple Passions
One factor that makes Abhishek stand out among his competitors is his diverse portfolio. Unlike all other models, he has dedicated his time to his other passions as well. The young and talented model is fond of football and plays it on a national level.
Not only this, but the model-cum-footballer is an exceptional photographer. His social media profiles are bombarded with exotic photography shots that make praise his elite photography skills. Abhishek's love for the camera extends more than just posing in front of it. Instead, he loves to play around with it himself. In addition to being a photography enthusiast, Abhishek is interested deeply in cinematography.
Despite being a 'man with multiple passions,' this emerging Indian fashion model has been able to establish a continuous stream of amazing modeling opportunities for himself. He is working hard to become a successful model for which is dedicated his time to his fitness.
A Business-Minded Individual
Abhishek completed Abhishek got a Bachelor's degree in Entrepreneurship from the University of Westminster, London. He then enrolled in the Business management master's program from the same university. Even though he was passionate about modeling since his childhood and loved playing football, there was another passion that he wanted to pursue. Besides his modeling career, he wants to create a system where he can help struggling, and aspiring fashion models get a grip on their health and fitness. Being in the industry himself, he knows how important fitness is, and he wants to help provide a direction to passionate individuals who wish to establish a career for themselves in this industry.
He is a business-minded individual whose ideal job is CEO in the iron and steel industry, but he is working on a business concept that can help people like him achieve their dream to become a model. There is no fixed date as to when he is going to launch his business, but it can be said that the concept is in the pipeline.
Abhishek Agrawal is an epitome of fitness in the world of fashion modeling. He is a superstar who has been born as a result of modeling and fitness working together. Alongside his fashion modeling gigs, the emerging star, is also working as a watch model. He has just started his career, but his rapid growth is an indication that he will go a long way in the industry.