Decoration of our living space only seems easy in theory. The idea that you currently have probably seems perfect to you. However, when you start turning it into reality, you will see that there are many details you haven't even thought about.
Houses or apartments that have small rooms are probably challenging the most. Putting all the necessary stuff in a small space can make your rooms look a bit messy. Despite that, you will never feel comfortable in a space that is overcrowded with a bunch of different products.
One of the common problems that homeowners have is to fit their large TV in a small room. Of course, the easiest solution of all is to purchase a small TV. But, on the other hand, we do understand your desire to have a big-screen TV in your living room (or any other room) as they often feature the necessary quality.
So, if you do not want to give up on that type of TV, the remaining part of the article is going to be pretty valuable for you. We will provide you with tips on how to fit a large TV in a small room. Fortunately for you, the list of solutions is not short, and there are multiple creative ways to complete this part of the job.
Let's go!
Get a Wall Unit
A Wall unit is an excellent tool that can help you properly fit a large TV in a small room. For starters, the shelves it contains can be an extra space where you can put a bunch of tiny stuff. Despite that, they do not only save your space – they bring a bit of aesthetic look. Logically, that will boost the comfort level within your room and you will feel much more pleasant when spending time there.
But, is every wall unit going to be a perfect choice? Well, the option you have is to match the colors of wall units and the wall itself. If the walls are white, you can purchase a white wall unit and add a black TV there. That way, you will make an aesthetic design with appropriate contrast of black and white color.
Put TV On a Dark Wall
In case the wall unit does not work for you, you can simply attach your TV to a wall. But, there is one additional move that you will have to make. It is recommended that you paint the wall a dark color and ensure there are no extractions whenever you are watching TV.
You don't have to paint the wall in black color. Instead of that, brown and chestnut are going to be a much better solution. However, you can also try to match colors once again. For example, you can match the color of the wall with the sofa you are sitting on when watching TV. That will definitely ensure an appropriate design of a small space.
Add a Hole in A Wall
Okay, this may not be an available solution for everyone. Not all homeowners will manage to create a hole in a wall as some walls are crucial for the stability of the entire apartment or house. However, the hole in the wall should not be too big. Make it big enough so you can add a TV and some small extra space. To design things even better, add shelves around the hole and paint them in a lighter color. Blue color can be an amazing option this way as the hole will be less noticeable!
Put a Large TV on a TV Stand
It is not actually pretty clear why TV stands are not as popular as before. They are not big at all and you will easily place a large TV on them. However, keep in mind that you will need to get those TV stands that are a bit wider. If the stand is not wide enough, you may not manage to get the necessary stability that every large TV requires. However, even those that are wide will not take you a lot of free space. Plus, most of them come with drawers where you can place some home essentials.
Put a TV Between Two Shelves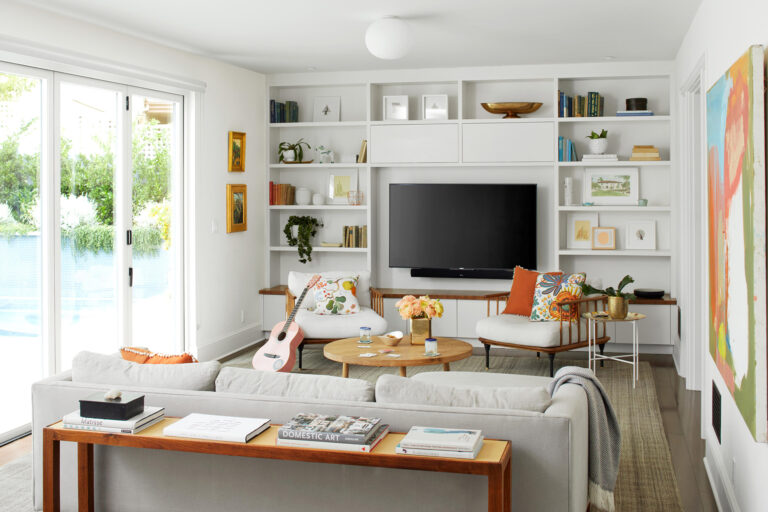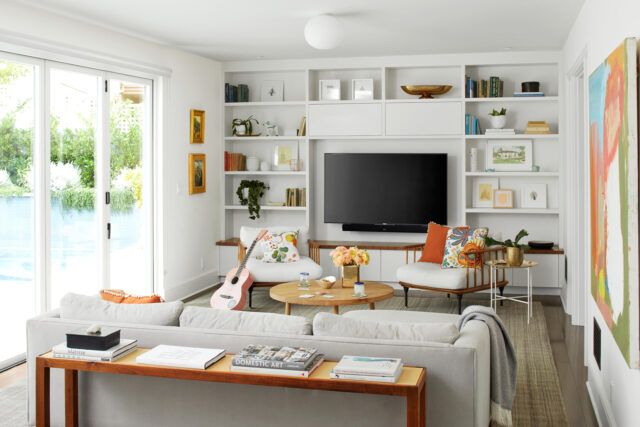 Generally speaking, the most effective option of all is to attach the TV to a wall. But, there are multiple ways you can do that. Another one we would like to highlight here is to place a TV between two shelves. At the top of the room, there should be two shelves where you can place certain images of you, your kids, and your partner. Below a TV, there should be 2 more shelves or you can even use a TV stand. As mentioned, most TV stands come with drawers that will ensure extra space for certain items that you do not know where to place.
Attach TV at an Eye Level
It is worth mentioning that the way you attach a large TV to a wall plays a key role. If you want to ensure a comfortable experience whenever you are watching a football match or your favorite TV show, the TV must be at eye level. Logically, we are talking here about the eye level from the sofa; not the one when you get up!
In a Corner of TV
Putting a large TV in a corner of the small room can be a good option as you will manage to save enough space. But, watching TV from every angle is not going to be comfortable if you do not make some additional steps. Because of that, we suggest you get an adjustable wall stand that will allow you to turn the TV to an appropriate angle whenever you are watching TV. In that case, the problem we mentioned is not going to bother you at all.
Final Thought
All these options can be suitable for different types of small living rooms (or any other room). We suggest you try them out all and check out which one meets your requirements and expectations.
Of course, the ideal solution is also connected with the particular size of the TV that you have. In case you are not sure which TV is going to meet your requirements and expectations, we suggest you visit here. At the website we attached, you can find out more about the features of a TV model that can be perfect for a small living room.