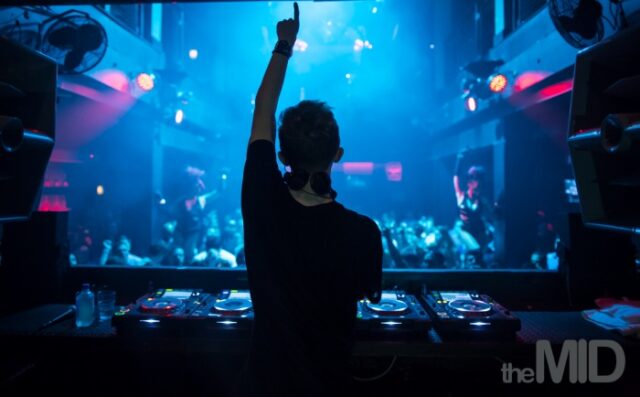 This past week, I had the pleasure of joining Russian producer, Arty prior to his club set at the Mid. Arty's debut album has been highly anticipated for some time now since embarking on a late 2014 tour fueled by his smash single "Up All Night". More recently, his latest single "Stronger" is once again driven by a memorable vocal hook and complimented by a floor filling progressive lead. We sat down with Arty to talk about the upcoming album and what's next for this talented producer.
EDMC: You\'ve just released year your latest single "Stronger" with Ray Dalton. Tell us a little bit about how that collaboration came about.
Arty: We just got in the studio together. The label behind me is Interscope Records; they were setting up the studio sessions while I've been working on my album. I had a bunch of initial ideas, and I was getting into the studio constantly to work with different solo artists. One of the sessions was with Ray. I had heard him sing on Macklemore's track ("Can't Hold Us"), and thought he was outstanding. He's just a really talented kid, and it was a pleasure to work with him in the studio and write something like that.
EDMC: Is there anything more you can tell us about the upcoming album?
Arty: I can tell you a lot of great things. It sounds pretty good right now, and I'm getting to the point right now where I'm feeling this is the shape I want for my debut album. It should come out this year, I cannot tell you the exact date, but as soon as possible. We still need to release one or more singles, and then we'll be ready to go.
EDMC: What's the message you'd like to send to your fans with this upcoming album?
Arty: There are multiple messages. Every track has different lyrics and meaning. I think the main theme of the album, since there isn't one big message I'm taking throughout, is that this is a representation of me as a producer. It's exactly what I want to show to my fans, and it's the music that I love. I love the lyrics and sounds, and I think it's a great piece of work that I hope my fans can appreciate.
EDMC: Going back to your background a bit, I've read that you have a degree in music—
Arty: I finished musical school, yeah.
EDMC: Right, that was more so what I meant. So after having done that, was the plan always to be a producer?
Arty: I had been thinking about it since I was around 15 years old. I had friends around me who showed me some critical stuff about making music. Around 2005, I had a sequencer program where you could play the audio loops and piece together different samples from sample libraries. That's what helped me to understand what ranges and melodies to use. After that, I jumped to FL studio which gives you the whole process of creation with the beats, bass, leads, and keys and stuff like that. I started to take it seriously when I was around eighteen years old. I started thinking that's exactly what I want to do with my life. I was o.k. at that time, but I was trying to improve every day I was at my computer.
EDMC: You've done your fair share of remixes over the years. Your latest ones being "I lived" by One Republic and "Hurricane" by Halsey. What's the thought process behind the songs you've picked to remix?
Arty: I really depends. It's more like when you have an offer to remix something and you have a connection with the songwriter. Obviously "I Lived" by One Republic has a really strong message behind it and the "Hurricane" lyrics are a little provocative in a way, but it's still meaningful. I think if you have a clip of the original song what really matters is what kind of direction you're going to take with it. As you can see, (my remix of) "I Lived" is really light, progressive house, and \"Hurricane\" is more aggressive and up to the lyrics when you're trying to fit the instrumental part to the actual song. It also has to do with your taste in music as well.
EDMC: What's a bit of advice that you would give to up and coming producers?
Arty: Just be passionate about the music; that's the whole thing. If you're making music, you're probably doing it for some purpose, but I'm really hoping that people who try to get into musical literacy that their main purpose is to be heard by as many people as possible. That's a great thing. Being passionate about what you create, and getting creative with what you're making so people who listen to the music get inspired. I think that's the most important thing.
EDMC: We've obviously got your album coming out later this year; what else is in store for you the rest of this year?
Arty: A bunch of remixes, one is for a really cool pop band that just popped up in the U.S. which is going to be super dope. Besides the album and the singles, there's going to be a lot of cool stuff that's coming out.
EDMC: Awesome, thanks for taking the interview with us!
Arty took to the stage and went on to deliver an unforgettable set, impressively lacing between old favorites and new content the fans were dying to dance to for the first time. Check out Arty\'s latest single \"Stronger\" below, and keep up with him as we inch closer to the release of his debut album!