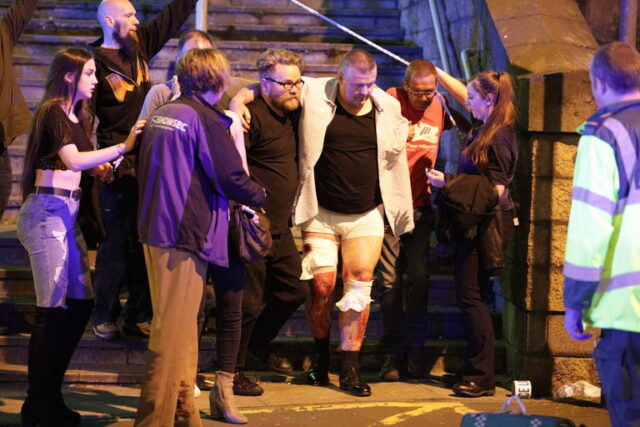 Twenty-two* people are dead and another fifty injured after a reported explosion at the Ariana Grande concert at the Manchester Arena in the UK. As of now, the incident is being considered a "terrorist incident until police know otherwise."
We do not know many details as of yet as to what exactly happened, but there were unconfirmed reports that a suicide bomber had detonated a nail-filled explosive device. Eyewitnesses recount being shocked by a sudden explosion, followed by seeing injured concertgoers on the floor. Representatives of Ariana Grande have confirmed that she has not been harmed.
According to a spokesman for the British Home Office, officials are holding a meeting on the Manchester incident this evening to decide how to proceed. We do not know much about what happened and why, but we pray for the families and friends of those affected by this massive tragedy.
Police statement on incident at Manchester Arena pic.twitter.com/gaKASukx9a

— G M Police (@gmpolice) May 22, 2017
EXPLOSION AT MANCHESTER ARENA AND EVERYONE RAN OUT SO SCARY? pic.twitter.com/pJbUBoELtE

— ♡♡ (@hannawwh) May 22, 2017
More ambulances dispatched to the Manchester Arena pic.twitter.com/y3rGfrHepj

— Sam Ward (@SamWardMCR) May 23, 2017
Praying for everyone at @ArianaGrande's show

— KATY PERRY (@katyperry) May 22, 2017
Sending love to the U.K., @ArianaGrande and all of her supporters who were caught up in this awful attack. Heartbreaking.

— John Legend (@johnlegend) May 23, 2017
*article has been updated to indicate current number of deaths. In addition, the Islamic State has taken responsibility for the suicide bombing that caused the explosion at Manchester Arena last night. Our thoughts are with all affected.