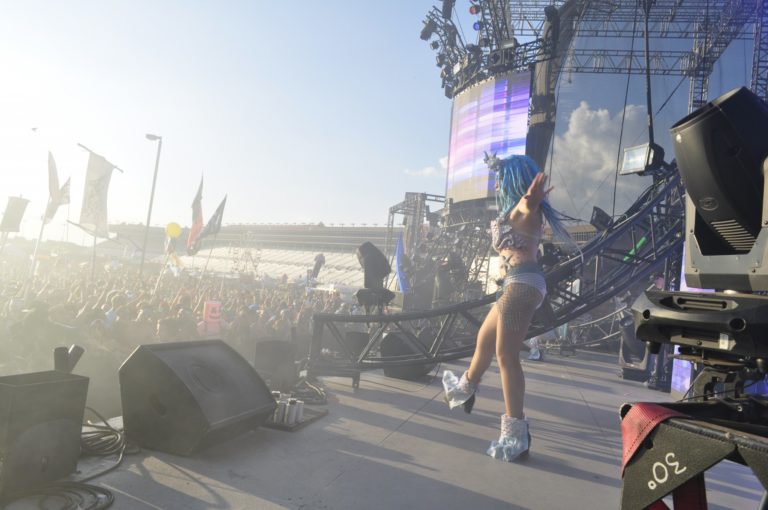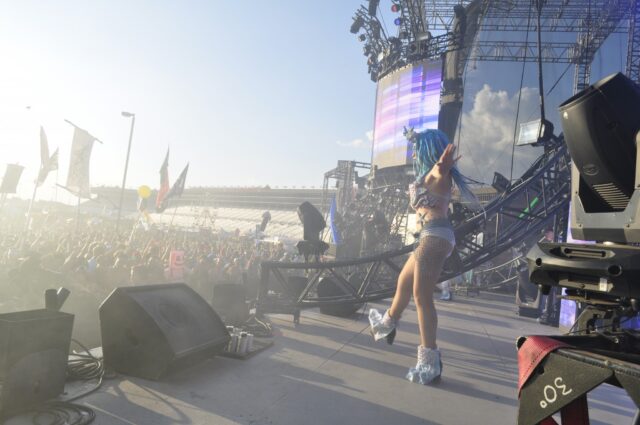 Imagine Music Festival is one of the only independent music festivals left in the United States. This festival has been running for a solid three years. Goodhands' Iris Presents corporation decided to take it up a level by hosting IMF in Atlanta Motor Speedway. The Atlanta Motor Speedway is the sister speedway to the Las Vegas Motor Speedway. Imagine Music Festival had a lot of pressure to live up to the hype of it's brand new location.
The Setting
Last year, IMF was at Historic Fourth Ward Park in Downtown Atlanta. This year, they decided to move to Atlanta Motor Speedway. The positive aspect is that it was more secluded. Another positive aspect is camping. The premises allowed car and tent camping on the site. The only negative aspect was the 20-30 minute drive from the hub of Atlanta. Overall, I think that IMF had the right idea to move to Atlanta Motor Speedway. The location made the location more attractive because it\'s the sister or Las Vegas Motor Speedway, the home of EDC Las Vegas, plus having the perks of camping.
There were 3 types of camping: VIP camping (right near the entrance of the venue), car camping (which you can bring in your car and camp right next to your car), and regular tent camping (you haul in all you stuff, but you camp camp closer). If you are used to the Atlanta heat, it\'s great to camp. If you are not used to humidity and the beaming sun, camping would not be for you.
When it came to the parking situation, people that had daily parking and people who had car camping both had to come within one entrance. This meant that every time a car went in and out of the venue, it had to be checked. This caused a many long lines and aggravation.
IMF vs EDC Las Vegas
When I first came to IMF on Friday, I subconsciously was comparing it to EDC Las Vegas. It came as a shock that both festivals were COMPLETELY different.  There was only one entrance to get into the festival, a tunnel that somewhat felt suffocating due to the influx of people coming in and out; I tried to get out of there as quickly as I could. Before I came in, I was expecting to be taken aback with all the lights and the decorations, but I was hit with more of a shock. There were only two stages open that night, so the venue looked really empty. I was quite disappointed when I first came in. I tried to go on the ferris wheel to see the whole venue, but much of it was dark. I snapped myself out of comparing it to EDC Las Vegas. EDC Las Vegas is hosted by Insomniac, one of the most prestigious companies out there, so they will go over the top with their festivals. IMF is in independent festival, so that meant that they were not on Insomniac's level in experience. Once I stopped comparing the festivals, I saw where IMF shone.
The crowd
The crowd at IMF was very diverse. There were your typical ravers with kandi, but there were also "heady" fans, as well as "wooks", The diversity of the crowd made the experience different in a positive way. You could be in a dubstep set head banging with your bass heads, or be in a deep house set dancing and smiling with your fellow ravers.
Safety at IMF
One of my biggest concerns about IMF was the safety. Atlanta heat was no joke; you can feel your skin sizzling under the Georgia sun. On the map, there was only one medical tent and two water stations in the whole venue. There were no clear sign that said "water station" or "medical tent", so even if someone was dehydrated or needed help, they may have not known where to go. For the future, I feel that there should at least 4-5 water stations and a 2-3 medical tents and clear signs where to find them. It was hard for medical to get from one place to another due to lack of structure for safety.
The Safety at IMF wasn't the worst though, they had volunteer "Imaginary Friends" that walked around all day to give people water and make sure people weren\'t passing out, but of course there should be improvements.
The Stages
Each stage they had brought its own music. The main stage (Oceania) hosted all the main acts. Oceania hosted AQUA\'s fantastic holographic waterfalls, as well as amazing performers. Amazonia hosted the indie artists. This was where the Jam Bands and the funky Artists played.  Disco Inferno hosted the deep house music. Disco Inferno had had the best stage of IMF, which is literally a disco ball spitting flames. Atlantis stage was cool too because it was flaming hemisphere. Atlantis played trap, dubstep, and moombahton. Aria was the hardstyle stage.
The Music
The music selection of IMF was simply amazing. The creators of IMF really put thought into who they booked; they kept their indie vibe while also incorporating some mainstream EDM. When first seeing the line-up, you see many bass heavy artists. When I came into the venue, I saw myself jumping from stage to stage because there was a wide variety of genre\'s of music. Sometimes it was hard to see a few artists because it was very hot during the mid-dat, but it you were a true fan, you\'d make it. I saw Space Jesus at 4PM, and I do not regret it. He made me dance my heart out, I even had to take a 30 minute break after his set. There were very special acts that came to IMF. Many festivals don\'t host DJ Hanzel, but IMF made it happen. Caspa b2b Rusko is a great combination of sound. Benny Bennassi came with full force to IMF, wowing the crowd with their visuals and their musics. 12th Planet always brings great energy to the crowd, and the crowd reciprocates the energy back. This festival gave EDM fans the chance to explore and enjoy different genres, which I think lures people back to this festival.
Overall, I feel Imagine Music Festival has a lot much potential. It\'s very hard to transition from one setting to another, especially that the other setting is HUGE. There were a few hiccups that IMF had, but hopefully they learn from experience and make it more safe for its attendees. If they manage to fix this year\'s problems, they have potential to explode into this massive, independent, awesome music and arts festival. Until next time, IMF!