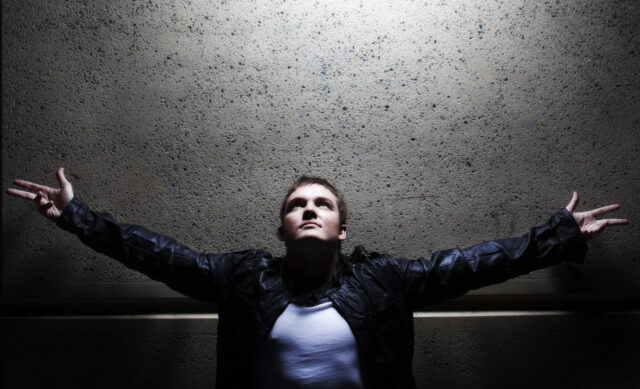 Tyson Illingworth, known to his fans as tyDi, is an internationally known, multi-genre producer already with a notable career. He came out strong onto the scene at age 17, winning the title of Australia's #1 DJ shortly thereafter in 2008 and 2009. Having been involved in music production for ten years now, tyDi has continued to be praised by some of the biggest organizations and names in dance music. However, as I quickly learned from our conversation, the awards and accolades his success has brought him are not what fuel tyDi's passion. Rather, his ambition to connect and create an experience for his fans while pushing himself to work outside the box, both intellectually and artistically, continue to fulfill his drive and push the boundaries of his own achievement.
EDMC: Your recent fourth studio album is titled Redefined.  What's the message you want your fans to take from the title of that album?
tyDi: Songwriting. This whole album has been about songwriting. Basically I have been writing dance music for about ten years now, and this is the first time with an album I've approached making it differently from how I usually do, and a lot of other people do. That is, I would make a beat or track first and then send it to a vocalist or write it with a vocalist. I came from a world where I was in bands and I'm really into bands like Dashboard Confessional and I've got Blink-182 right here.
tyDi shows us his Blink 182 logo tattoo on his inner wrist
EDMC: I was about to comment on that; awesome.
tyDi: Yeah, I came from that world. When I made Redefined it took me three years to make, and it's because I wrote about a 300 songs to get to the twenty that made the final album. Now when I say write, I didn't mean produce 100 songs. I got in the room with around 300 different bands vocalists writers, and we just wrote music. We would sit down with either a guitar or a piano, and we would write a song. It wasn't about whether the track was going to be trance, house, dubstep, or whatever. It was about just writing a good song. So when I had this collection of 300 songs, we narrowed it down to the final 20 that I felt were the best songs to produce, and then produced redefined. So in a sense it's about redefining how I approach music. It's a complete redefine of how I sound. I think my sound is completely different now because of this method, and all of my songs have a story and a concept. The album flows with a story right through it. And it's truthful. Every song on the album is truthful to my life. When you sit with a band in a room and people go 'Well what do you want to write about?' I usually go 'I want to write about an ex girlfriend, or this situation, or this experience', so it makes for a really factual album and an honest record.
EDMC: You covered a lot of things I wanted to talk about further; I had heard that you'd produced hundreds of songs (to make this record) so it seems to me like you're very passionate and take a very aggressive work ethic approach to making dance music. Have you always been like that?
tyDi: Yeah, I have a degree in music that I did when I was younger back in Australia which was a bachelors of music & technology. So studying theory, and also sound engineering was part of it. It made me very disciplined and punctual in my work ethic. I have always been one to finish a tour and go straight into the studio and just write, write write. It's not work to me though, I mean this is the best job I could ever have; its so much fun.
EDMC: All of the tracks on redefined had vocalists on them and obviously you've gotten to take your pick on who you've wanted to work with. Is there anyone you haven't had a release with yet, vocalist wise, that you're dying to work with?
tyDi: Totally, there are a few actually. I would love to work with the lead singer of a band called the Used. His name is Bert, and I'm in contact with him a lot actually about this record. But it's hard, he's living in Australia, which is funny that's where I'm from, and I'm living here in the states. I think his approach to writing music must be very similar to a lot of bands; they want to be in the room with you writing the song together. I'd also like to write with Haley Williams from Paramore, or either Mark Hoppus or Tom Delonge from Blink-182. Really, all of the people you wouldn't expect. I don't think there's a single dance act right now that I could name that I'm dying to write with more than I am with someone from a band.
EDMC: That's funny to me, because I feel like we (co-author Bill Neuson & I) both definitely grew up listening to punk, and pop punk and transitioned to dance music, I'm guessing you came from a similar music background?
tyDi: Totally, I grew up making out with girls in cars to Dashboard Confessional. But I never thought I'd have him on my record, so that's crazy that I wrote a track with the guy. I'm from that world where it was all bands, and it's funny because when I became a DJ it was a natural progression. I started as a drummer in a rock band, and then it was hard to get a band together that was as passionate as I was about trying to make it. Then I heard electronic music, and just fell in love with it. I thought 'wow I can make this all on the computer; I can do this myself. So I fell into it, and started writing electronic music and DJing. DJing is just something that goes with it. You can't play a fully produced electronic song out unless you're in a group or band, and if not, you're faking it. To be honest there's like a hundred different layers to a dance track so DJing is my output of the music I've written in the studio. So it's a weird place to be, because I would've thought these bands these days would've looked down on DJs or be a bit jaded about them, but they're not. The guys I've been working with now, guys like The Ready Set who are headlining Warped Tour, and Ryan Cabrera someone I met 4 days ago who is known for some massive tracks seem stoked to be working with me. All these bands are really pumped on EDM and they're pumped on the idea of working with a DJ, and hopefully it's because they like my music (laughs), but it's a good spot.
EDMC: Speaking to your production approach, like you've said, your music has taken on a variety of forms as far as dance music is concerned. It kind of defies genre. Is that something that has always come natural to you?
tyDi: Yeah, absolutely and it's been a blessing and the worst curse; both good and bad. The worst part about it is branding because when you think about it say you want to like have – let me look at a poster over here.
We turn to face the wall of the green room, which is covered with signed posters from producers across all genres of electronic music.
tyDi: I'm looking at a poster here of Will Sparks. I think immediately of bounce. The bounce genre. I see Joel Fletcher, also bounce. It's very easy to brand yourself and be known for a style of electronic music when you stick to one genre. I've made music in everything from techno, to progressive, to chillout. I have a whole album of 25 tracks on Hotel Rooms to chillout, orchestral, and ambient. Trying to promote that record when you've just chased it with an electronic album is hard from a branding perspective; it seems like I'm very scattered. But it's working out now, I feel like it's falling into place. I've got songs like 'Stay' with Dia Frampton that sound like Avicii, and then songs like 'Redefined' which are pop dance, and then my new one that's about to come out called 'If I Stayed', and that's progressive techno, so it's weird to have all these different styles coming from me, but I'm noticing the more my fan base is growing, they're telling me 'I can tell this is a TyDi track. I can tell you produced it' So somehow I don't even notice it but my sound is getting into these different flavors maybe it's the production technique, I'm not sure.
EDMC: Speaking to that end, are you more of a hardware guy, or a VST guy? What's a 'go to' tool of yours?
tyDi: You'd be surprised, I mostly go to acoustic. Everything I produce electronically is with synths and software, but everything I start with is acoustic. When I go to the studio the first thing I touch is a piano or a guitar. I'm a terrible guitarist, I'm the worst, I could never claim to do that. But when I sit down with somebody who is a good guitarist I'll be talking like 'ok I want these chords', and we'll have a great vocalist there, and we'll write a song with the guitar, or I'll play piano, which I've don't for a few years. Someone will sing, and we'll just vibe out a track like that. Those elements always end up being in the track. Often, my records are quite minimalist in their production. There's a kick, a bassline, some percussion – what makes up the bulk of my tracks, especially on Redefined, is the acoustic elements like the guitars. Big fat layers of guitars pan left and right chugging to the bass line, and sidechain the kick. A lot of the time, you don't even hear them because they fill up all of the space that a synth would. So there's a lot of acoustic in my records that you won't notice. A perfect example of that would be the one with Dashboard Confessional called 'The Closer I Get'. You listen to that track and it's so acoustic heavy, but it sounds synthy as well. Also in 'Apollo' there's massive acoustic parts going on behind that record that fill it. The synth part is about 20%, and the rest of it is acoustic, so a lot of live recording. I record on so many live instruments when I make a record.
EDMC: With all the accomplishments you've had in the last several years from being the number one DJ in Australia to producing this album what are some accomplishments or goals you're looking forward to hitting in the near future?
tyDi: That's a great question; this is an absolute honest answer, and I truly mean it. My goal for the future for me is to lose all the bullshit of 'I've had this award, or I'm the #1 DJ in this country' that is complete narcissism at its absolute worst. I need to lose that in order to be a great artist. My goal is to be known by my fans for having songs that are intellectually challenging, and that are beautiful creations that people will look back on 20 years from now and go 'those changed my life'. When I hear songs by Dashboard, the Used, or Taking Back Sunday, they remind me of when I was 16, and in love. I want my records to have that effect on new generations. In order to get that way, I think I need to lose, and will lose, all sense of chasing a false sense of fame. I don't want to be known as 'this guy who is super famous'. I want to be known as 'this guy is making incredible records, and that's how he got well known'.
EDMC: I respect that, and we thank you for joining us here today!
tyDi: Thank you.
With co-headliner BT's late cancellation in lieu of finishing his latest project, Electronic Opus, tyDi treated his Chicago fan base to an invigorating extended set. Additionally, he has since released his new single "If I Stayed" which is out now, and can be previewed and purchased below!