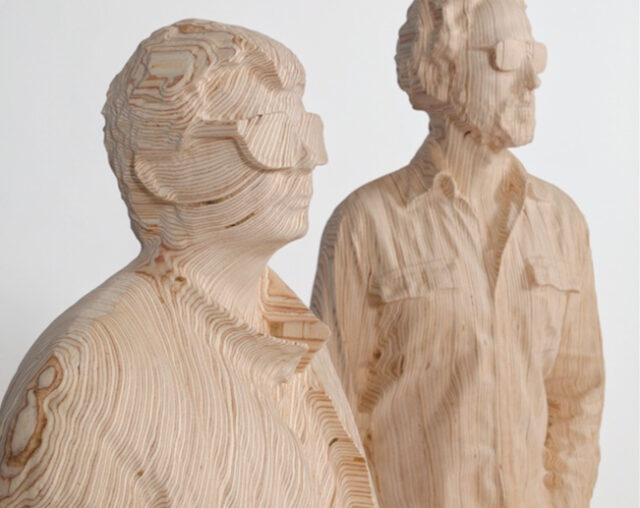 The famous electronic duo Daft Punk never performs without their iconic and signature \"robotic\" headgear.  And now, the day has finally come for them to reveal their faces once and for all to the world.  Well, sort of.
Thomas Bangalter and Guy-Manuel de Homem-Christo, the two who make up Daft Punk, have agreed to pose mask-less for a French sculptor named Xavier Veilhan.  The sculpting artist decided to carve 3-D versions of the duo using birch plywood for his new exhibition series in New York titled Music.  Surprisingly, it was Daft Punk who came up with the idea of having the wooden sculptures be unmasked versions of themselves.  Veilhan explains this in his own words:
\"The funny thing is I didn't even ask them [to pose without their masks]. It was a very logical response to my proposal: I proposed to introduce them as producers, not as musicians, and so after talking to them, we decided that they should appear with their civilian names. They proposed to me: 'Okay, we should make the sculpture the non-existing image of us. So if somebody wants to see how we are like in real [life] they'll have to look at the sculpture.\"
The Music exhibition is set to run until April 11th.  You can find out more information here.
---
Source: The Creators Project