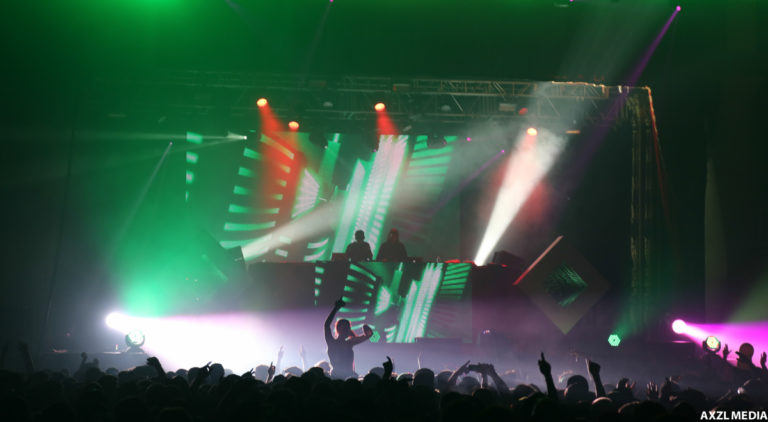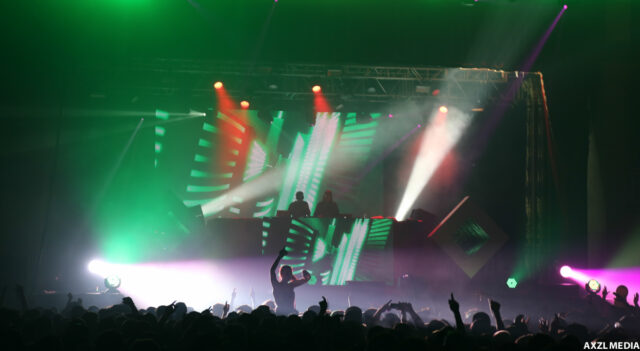 The annual React Presents New Year's Eve run at Aragon Ballroom started off with a bang on Tuesday, December 30th. The back-to-back NYE run has become somewhat of a tradition; the last three years have featured Rusko in 2011, Porter Robinson in 2012, Zedd in 2013, and this year, EDM giants Zeds Dead. Although Zeds Dead has played several shows in the Midwest region during the summer and the past months, fans packed the sold out Aragon Ballroom both nights for the end of the year celebration.
Although a ticket for the 31st was almost double the price of that for the 30th, there was arguably better supporting acts on the first night. Starting the concert was Loudpvck, popular trap DJs known for their creative remixes and exciting tracks such as "Tony" featuring gLAdiator. By the time Loudpvck took the stage after hometown favorites Milk N Cookies, the Aragon was packed with fans excited to be back for another NYE run. Loudpvck impressed the crowd with a wide range of genres, not just trap. Their DJ style often had a Big Room feel to it. Many DJs that were once considered "Trap" DJs now play a wide range of crowd pleasing music that doesn't focus on a genre and simply shows everyone a great time; Loudpvck did exactly that.
Next came progressive house staple Seven Lions. Known for his beautiful songs and addicting melodies, Seven Lions was a great change of pace from Loudpvck and threw down an amazing hour of music. The set consisted of his well-known tracks such as "Worlds Apart" and "Strangers,\" and other crowd pleasers like Audien's "Pompei" remix and "I Can't Take It" by Dillon Francis. Often standing in front of a lion on the video screen behind him, DJ Jeff Montalvo took the crowd though a chill and pleasant-sounding set in preparation for the headliners.
The headliners, Zeds Dead (consisting of DJs DC & Hooks), took the stage at 11:30. Combined with awesome visuals, impressive lasers, confetti, and a great crowd, Zeds Dead brought the Aragon Ballroom on a unique 90 minute musical trip. Two of the first tracks they played were "Hadouken," one of the best songs on their new album and "Survivors," the stellar dubstep track by Must Die and Zomboy. Their set was dominated by dubstep; however, that was far from the only thing the superstar DJs played that night. Along with their jaw rattling bass music, Zeds Dead played rap (Hot N*gga), drum n bass (Nobody to Love), techno (Pursuit), and other well-known tracks (Aerodynamic). The performance was on par with their Thursday night closing show at Electric Forest; it had a similar feel to it and the selection was just as impressive. Zeds Dead finished up their encore and first night at the Aragon with "Where is My Mind" by the Pixies, a 90s classic and a change of pace from the rest of the show. It was a night full of great music, good vibes, and happy people. If you attended one of the Zeds Dead shows at the Aragon, you finished 2014 the right way.
Photo Credit: InYourSpeakers