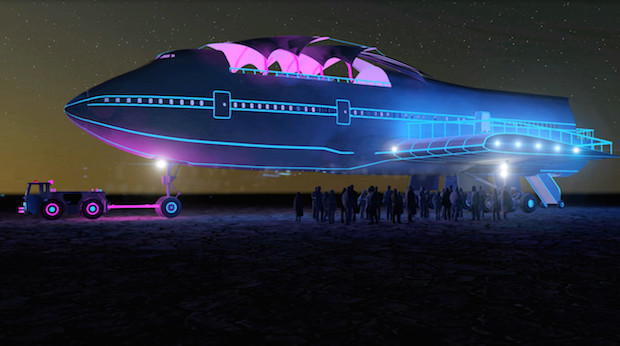 It's no secret that the installations at Burning Man are highly innovative and creative. The festival in Black Rock, Nevada, which is happening right now, promises to offer an escape from the regular constraints of society. This year, the festival is bigger than ever, featuring high-profile producers like Skrillex and Diplo and an all-new live stream to capture moments of the event. One creative group is taking it one step further by converting an airplane into a nightclub.
The Big Imagination Foundation spent several months turning this Boeing 747 into what has been described as the "largest moving art experience ever made". The project will stand on the Playa close to other art installations. The inside of the airplane will feature music and art. It will also travel around Black Rock City, pulled by an aircraft tug car.
Inside the airplane, the experience begins once the participants answer the question "What baggage do you need to lose?". An "Emotional Baggage Tag" is then created along with the boarding pass and passengers are later asked "Where are you going?" The answers to this question are displayed on the walls inside the airplane. The immersive installation is sure to be a psychological and liberating experience for attendants.
For those of us that are wishing we were there, the Big Imagination Foundation is looking to develop a virtual reality experience for all. They are currently crowd-funding through their IndieGogo campaign.