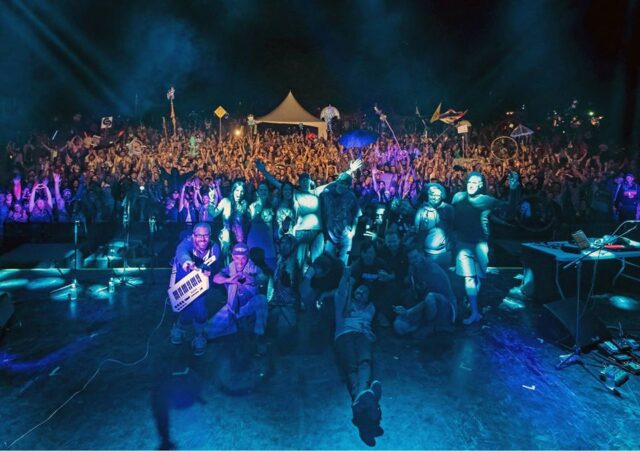 Lasers piercing through twisting aerialists, fire spinners heating up the crowd, dreads swaying in the wind, chilling in creeks, stacking rocks, dropping bass, gazing at spinning poi, hugs replacing handshakes, meditating in glowing chakra tents, babies dancing, attendees casually yielding didgeridoos, walking through art gallery forests, assembling bouquets on stage, testing your flexibility in the Yoga D'OM, hula hoops twirling through the sky, meeting artists in line for water, forming hammock armies in the trees, entering different dimensions in gong spaceships, giving live painters the double take, lovers loving, friends gathering, mountain staring, life enjoying. This is Sonic Bloom.
Sonic Bloom: The Unified Field just celebrated its 10-year family reunion at the gorgeous Hummingbird Ranch in Colorado this past weekend, marking a monumental milestone for Colorado's Premier Electronic Music Festival. Over the last ten years, this gathering has set itself apart by cultivating a festival-wide focus on the unity of the human race and how our vibrations resonate on one mutual field, a unified field. This was Jamie Janover's mission 10 years ago when he conceived Sonic Bloom although, he doesn\'t see himself as the creator of the festival, but rather, as a conduit who is simply connecting people who want to get the most out of life and bloom together as the petals of life\'s flower.  And that is exactly what happened this year at Sonic Bloom 2015, it was a unified celebration of life that filled everyone in attendance with an intoxicating joy.
THE VIBES
You could feel the vibrations of this electrifying celebration right as you began driving along the dirt road that leads to the Hummingbird Ranch, the new home to Sonic Bloom. It was as if you were entering a different dimension, a place where all of your inhibitions and problems seemed to fade away, a place where it felt safe to fully express yourself, a place where happiness reigned. The people at Sonic Bloom picked up on these vibes very quickly and an overwhelming sense of connectedness spread throughout the festival grounds. It was almost impossible to feel alone at Sonic Bloom because greeting passersby with a smile was the norm and hugs were the primary mode of introduction, handshakes were scarce. This gathering cultivated a high level of intimacy and community that could really only be described as a family reunion. I can attest to this personally because I came to Sonic Bloom in solitude but I left in the company of best friends. The vibrant, familial environment of Sonic Bloom was obvious to everyone, including the artists, who channeled these vibrations through their performances to create a weekend of spectacular art.
THE MUSIC
Hundreds of artists including STS9, Phutureprimitve, Caspa and  Manic Focus occupied Sonic Bloom's three stages this year to perform on a beautifully intimate level to a supportive, loving crowd. Many of the artists responded to this friendly environment by putting on their "musical sweatpants", thus allowing themselves to explore their musical talents and innovate freely without having any fear of being rejected. This atmosphere allowed artists to showcase hidden talents to crowds of loving Sonic Bloomers. For example, Miss Jaedha performed a rap tribute to her deceased brother for the first time during her set  and the passion that poured through her song moved the whole crowd on an emotional level. Another example comes from Ill-esha who flexed her smooth pipes in her live set on Saturday night at the forested Hummingbird Stage. Then there was Talib Kweli who showed everyone his spinning skills in a surprise DJ set before he started spitting bars on the Bloom Stage. And if artists weren't trying something new, they were doing what they knew best, which made for a weekend of unforgettable sets from a plethora of talented artists. It was very difficult to walk by any stage without busting a move or forgetting your previous plans to stay and watch the show for a while.
Many of the performances generated a sense of rarity by bringing different artists together in one collaborative act or by allowing artists who usually play in groups to perform by themselves. For instance, Saturday night was headlined by The Sonic Bloom Orchestra which was composed of assorted members of The String Cheese Incident, Emancipator, Shpongle, Beats Antique, Vibesquad, The Fungineers, Zilla, and somehow even more artists! Other collaborative acts at Sonic Bloom this year included The Trancident, Dirtwire, Kayla Scintilla and Eve Olution, Unlimited Aspect, and Pega5u5. While these acts brought musicians together, there were others that allowed artists to perform by themselves. Rob Garza of Thievery Corporation, Treavor Moontribe and Amani of Desert Dwellers, and Michael Travis all performed solo sets at this year\'s Sonic Bloom. All of these acts and more were ingredients to this year\'s unique blend of quality music that helped make this weekend great, but the music wasn\'t the only art to appreciate at Sonic Bloom.
THE ART
Sonic Bloom seemed to be brimming with beautiful art, whether you were walking through the Cava Art Gallery or to another stage, the art was everywhere. It was scattered all over the festival grounds in the form of tiny rocks lining the roots of a massive trees, or through bottle caps outlining a life-sized man in the dirt, or silverware acting as spokes of tire rims planted in the ground. The art was inherently simple although, the obvious attention to detail and creative use of ordinary items made it quite remarkable.
This form of innovative art was accompanied by normal art galleries and hundreds of artists, which made it seem like there was art in all lines of sight at Sonic Bloom. In one direction you would see a live painter sliding his brush across a canvas, in another you would see someone receiving tribal face paint, and in another you would see people relaxing under an ornately constructed dome splashed with bright colors.  This wide variety of art throughout Sonic Bloom inspired an appreciation of all artistic endeavors and made one realize how much beauty there truly is in our world, even in stacking rocks! This idea was also emphasized through the majestic, natural surroundings of the Hummingbird Ranch.
THE SCENERY
Need I say more?
THE FUTURE
Although the 10-year family reunion of Sonic Bloom: The Unified Field will go down in history as a massive success, the creators still see room for improvement. Besides intending on having a fossil fuel-free festival in the next ten years, the producers of this special gathering have even bigger plans. The future of Sonic Bloom is spreading the idea of the unified field throughout the world and creating a \"Festival Earth\" where amazing is everyday and beautiful is in every corner, a place where humans can set aside their differences to live in unity.  Sonic Bloom has been planting the seeds for this movement for the last ten years by bringing people together through the appreciation of art and highlighting the creativity, inspiration that resides in all of us. This acknowledgment of the beauty that lies in every person is a stepping stone to the establishment of a peaceful, unified world where life is always blooming. Thank You, Sonic Bloom.  See you in 2016! Check out the photos from this year\'s Sonic Bloom below.