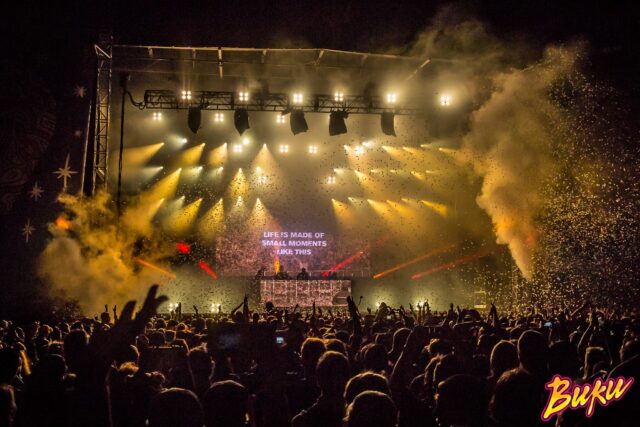 I sit here writing this festival review and the only thing is distracting me is my Buku bracelet on my right hand. I keep finding myself looking down and remembering something different from that weekend in New Orleans. Let me just say, that both the city of New Orleans and Buku Music + Art Project have my heart. I began my journey with a backpack and that was it and got on the bus from Orlando, Fla. to New Orleans with my BUKrewe. We sat there on that bus in anticipation for 13 hours questioning what to expect from this music and arts festival; now, have real appreciation with city-based festivals because I feel like it brings in the culture
Arriving around at 8:00 a.m. on Friday, well-rested from the long bus ride, it was time to find our hostel. Walking from the bus station around New Orleans was really eye-opening to the culture of that city. Beads were EVERYWHERE! From beads on the houses, to beads all in the trees. On another note, this weekend was full of a lot of new discoveries about myself. For instance, I have never stayed at a hostel before and I wanted to try something new. I felt like this festival was perfect for that. Walking the streets I could also feel the cold numbness in the air, like a haunting chill still lingering from Katrina. It really makes you start to appreciate everything you have because in a blink of an eye, it could be all gone.
My BUKrewe and I then found our hostel that was going to be our home for the next two days. We checked in and threw our stuff in our rooms, and then we went out to the city to go grab breakfast and refuel before the first day of Buku. The food in New Orleans- no matter if you get breakfast, lunch, or dinner- is so appetizing and delicious. After, the checks were paid, we were off back to the hostel to change– that\'s when the pre-festival jitters really started to kick in as I was getting ready for the festival. My BUKrewe and I then all piled into an Uber and we were off to go hang out with another BUKrewe before heading to the festival grounds.
This other BUKrewe was full of nothing but the best vibes and had just as much excitement for this festival as we did. I actually got to make kandi and we discussed who we were and what we were most excited for. Then off to the festival we were, and on the way there I got like a sneak peek of the city of New Orleans and it was BEAUTIFUL. I saw the skyline and the Mercedes-Benz Superdome, and that in itself was a site to see. We arrived at the festival, and the press check-in was organized and easy.
The one thing I will say, though, is I have never been to a festival with more strict security than at Buku Music + Art Project. There were metal detectors that each attendee had to go through and I even had to remove everything from my pockets including my belt. However, I was not offended by this, and actually enjoyed this because at the end of the day our safety is the number one concern. I felt safe my whole time during this festival.
The weather of Buku, however, was our primary concern, because during the weekend of the festival there was a flash flood warning due to a chance of a storm that would roll in. Continuously, Buku did update everyone via social media. The storm thankfully avoided the venue where Buku was held, so the weather ended up being a little drizzle of rain at first, and then the sun came out and was perfect. I honestly could not picture Buku anywhere else than the on riverfront at Mardi Gras World.
After my bracelet was scanned, I entered the festival fascinated by the art and culture that surrounds this festival. At one side, you have tracks where trains are lively running; to a boat for VIP named the S.S. BUKU that was docked on the Mississippi River facing the Power Plant stage. You also witness one of the rawest views you will ever capture in your life– the Crescent City Connection bridge in the background of Back Alley stage.
The art at this festival was definitely New Orleans inspired and caught my attention real quick. Fort BUKU was my favorite piece of art all weekend, and I loved how it was at the entrance of the festival. It was made out of large carts that you could walk in, and there were stairs that led up to an elevated viewing area of the Power Plant stage. Then in the middle of the left or right of Fort BUKU was a huge net where people could sit on and relax. This was made available to everyone, and I thought that was thoughtful and considerate of Buku to do.
There was also a live graffiti gallery where spray paint artists were actually creating live art right in front of the festival goers. This was something worth watching because watching graffiti art from start to finish was mesmerizing. The spacing from each stage was aldo great because it allowed for fast and easy walking from stage to stage. The concept of turning a warehouse into a stage with plenty of lights, visuals, and sound system is brilliant. There were two warehouse stages: one named Float Den, and then the other was the Ballroom. My favorite stage all weekend was, hands-down, Float Den.
The Float Den stage had lights all over the warehouse. With small and big screens on the center of the stage, and also to the left and right that were bright and vivid. There was so much space in the warehouses too, which honestly quite shocked me because I thought it would be a tight squeeze, but it was quite the exact opposite. Mija B2B with Anna Lunoe was at the Float Den, and with that, I entered another world. The bass echoed off the walls of the warehouse and it amplified the sound.
The Power Plant stage was in the perfect location to see the beautiful New Orleans sunset in the background. I discovered CHVRCHES for the first time at this stage during the sunset of the first day, and words could not describe the beauty of that moment. Above and Beyond played on the Power Plant stage as well at night, and trance lovers united under that breezy New Orleans night sky. My favorite of all day Friday– hands down–was no other than Tchami at the Float Den stage. The crowd was amped, the lights were on time, and the sound was perfect. Needless to say, Tchami\'s set is what I dreamed about while sleeping that Friday night.
Saturday I instantly recognized that the vibes were a lot different from the first day. It seemed like people were engaging more in conversation and stepping out of their comfort zone. I also used this day to explore the rest of the festival grounds. I enjoyed the Front Yard during the day of Saturday. I saw dancing of all styles going around. Buku in my opinion, has one of the best logos and sells the best merch. The vendors that they include in the festival also carry beautiful artifacts.
Buku Music + Art Project also treats their press, media, and artists appropriately. On Saturday from 3:00 p.m. till 5:30 p.m. there was a happy hour going on in the Grand Oaks Mansion and all the press, media and anyone working in the industry were all invited. This happy hour even included free drinks, for those of age to drink of course. The mansion was gorgeous, and for Buku to put this on really shows they care about everyone who comes and attends their festival. I met so many new people who worked in the industry through this, and I thought this was tremendous to add to my overall experience of the festival.
Sam Feldt played in the Back Alley at night with the Crescent City Connection bridge all lit up behind the stage that was tiny, but very artistic. During Sam Feldt, there was not a worry going through my mind. My friend Katie Chapman and I met the sweetest, and coolest rave couple who attend FSU named Miranda and Michael. In the middle of the set, we were sharing past festival experiences while jamming out to deep and tropical house. That was a moment I will cherish forever because they are now a part of our festival family for life.
Sitting on top of the net at Fort BUKU watching Pretty Lights and the lasers going off the Power Plant stage was dazzling. On the way to the Float Den to end our Buku experience at Nero, the live art graffiti gallery was finished, and spotlights were shining brightly on the art. It honestly was hard saying goodbye to this festival and to the new friends that we made, but I knew it would not be the last time we would see them.
This was the fifth installment of Buku Music + Arts project, and now that I have attended it I can now see why it was a sold out festival. I honestly think having the festival on a Friday and Saturday is smart because it gives festival goers the ability to use Sunday to explore the city. That is what my BUKrewe did all of the Sunday, and that is when my heart fell for the city of New Orleans.
Buku Music + Arts Project needs to be on your festival bucket list– and high up there at that– because this festival is one-of-a-kind. The festival production was top notch, the location was superb, and including New Orleans culture throughout the festival is luminous. I have already started a countdown until I am back at this festival surrounded by the people, art, and music. This was one weekend that I will for sure remember for the rest of my life.
Photo Credit: Facebook