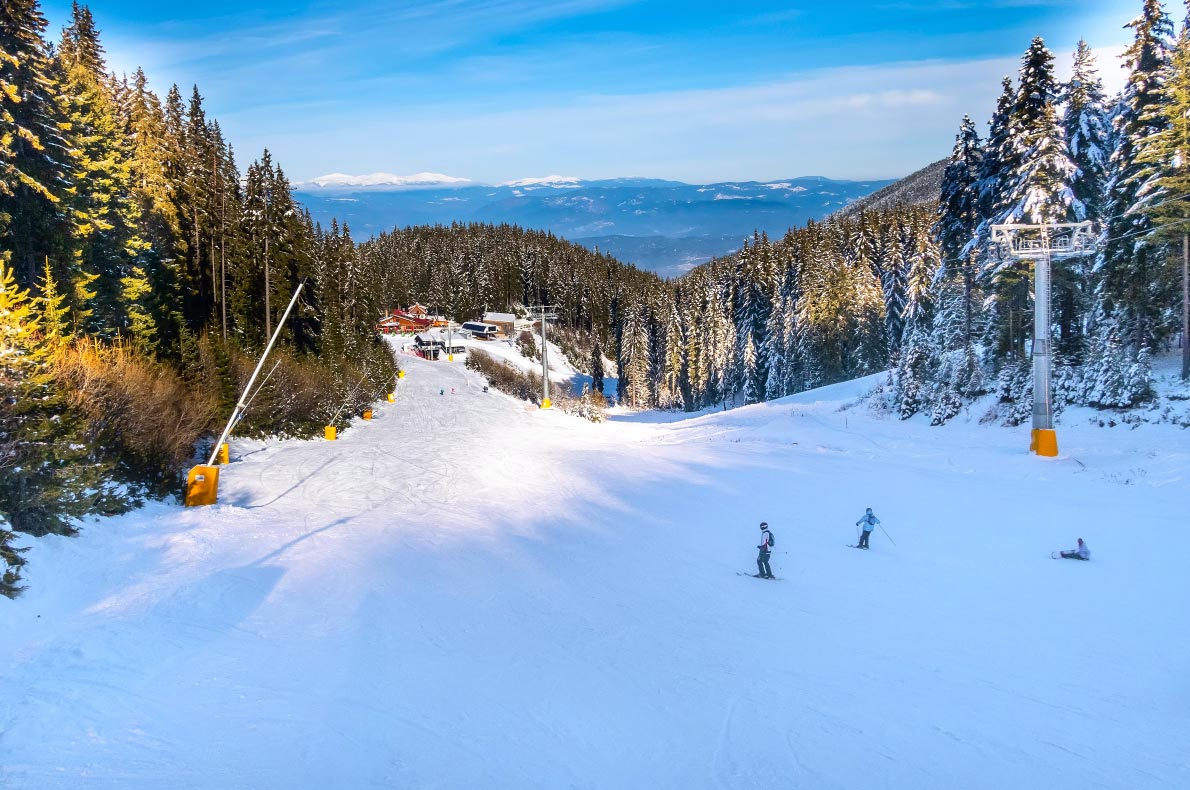 Bulgaria is a small country in Eastern Europe but rich in mountains. There are 39 mountains in the state, all with unique nature and spirit. In Bulgaria, winter is three months a year, accompanied by snow and low temperatures, suitable for winter sports. In the mountains, the snow lingers much longer at high altitudes. All these factors make Bulgaria one of the most attractive destinations for winter tourism. What are the most preferred destinations by tourists?
What are the TOP Bulgarian ski resorts?
If you are looking for places with extreme ski slopes and lots of fun, we suggest you visit the big Bulgarian Ski Resorts:
1. Bansko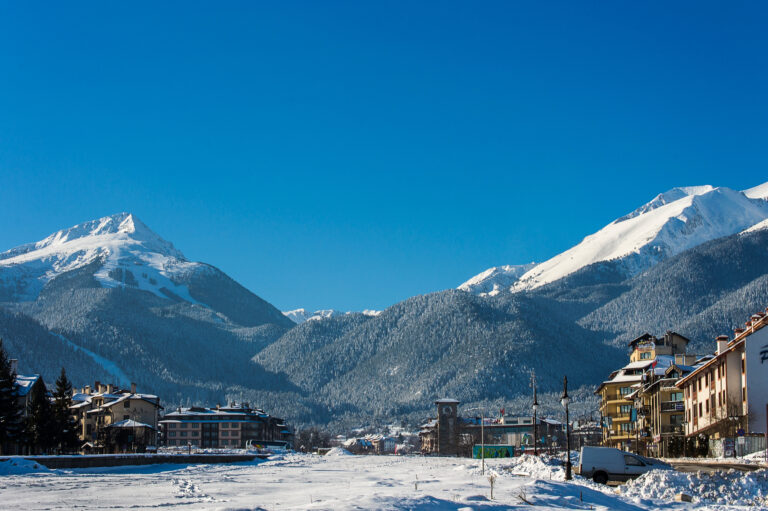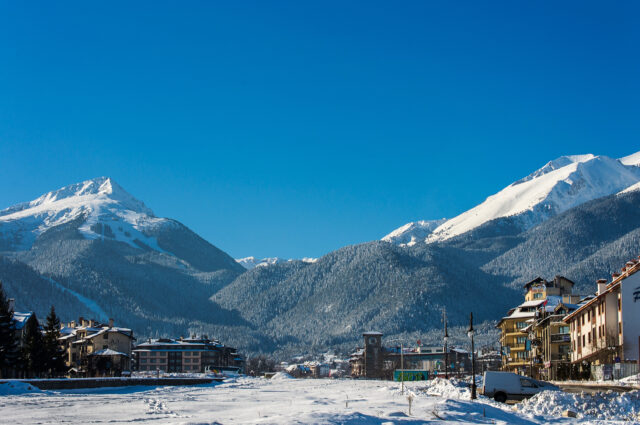 This is the most famous Bulgarian winter resort. It is visited by tens of thousands of tourists every year. The resort has a bed base with over 16,000 beds. A variety of shops offering everything you could need during your holiday – sports or formal wear and goods, household goods, and souvenirs. For your pleasant stay, nightclubs and restaurants offer Bulgarian national cuisine and all kinds of food for all tastes. In the bars and discos, you can dance with your company. And when it's time to ski or snowboard, you can take advantage of the lift. Bansko is a city with an ancient history and has many museums and architectural monuments.
National and international alpine skiing competitions are held in the town. Excellent conditions and facilities are also provided for beginner skiers and athletes. Since there are tourists in this Balar town throughout the year, mountain treks, sightseeing of historical sights and cultural activities, local and foreign programs, and attractions for children are organized for them. Almost every hotel also offers SPA procedures for the complete relaxation of its customers. In addition to holidays, large hotels have facilities for holding business meetings, seminars, and training.
The availability of conference rooms with the necessary equipment satisfies all training and business meeting needs. In addition to vacation and team building, there are suitable conditions for business meetings.
2. Borovets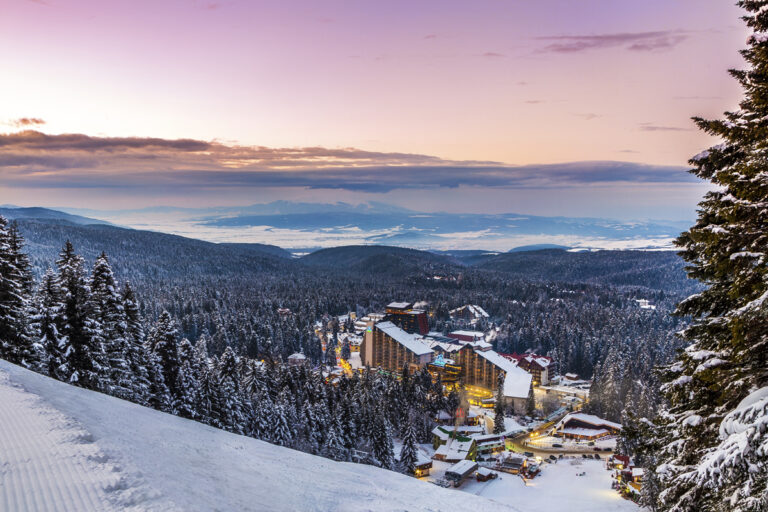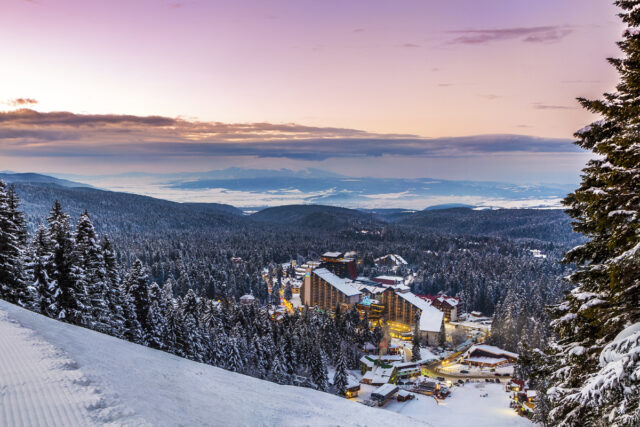 A tourist destination where the modern spirit and nature intertwine. The resort offers, in addition to typical winter entertainment and sports, motorsports, horse riding, mountain treks with experienced guides, and cycling. The city municipality has also taken care of modern and comfortable bike lanes.
3. Pamporovo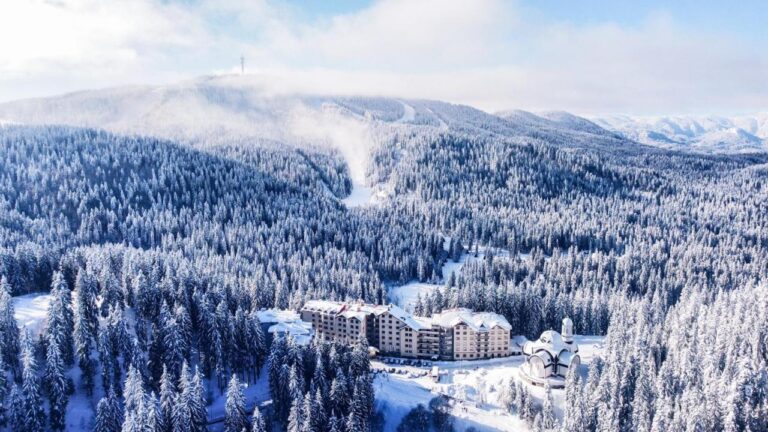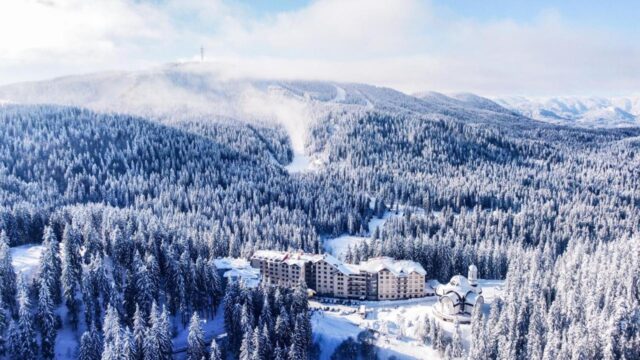 Located in one of the most picturesque mountains in Bulgaria. With its mild climate, sunshine, fresh air, attractions, and beautiful nature, the city has become a top destination for winter and summer. There are ski schools in Pamporovo where experienced instructors teach. Adding the variety of pistes, the town becomes an excellent choice for beginner skiers. Some of the most attractive sights of Bulgaria are located around the Pamporovo-Chudni rock bridges, Devil's Throat cave, Yagodinska cave, and Trigradsko gorge.
What are the Bulgarian budget ski resorts?
Dobrinishte. This Bulgarian city is located in Southwestern Bulgaria. Dobrinishte is famous for its mineral pool, situated along the course of the local river. The town was founded in the Stone Age, and vast deposits of Roman and Thracian pottery have been found.

Source: visit-dobrinishte.bg

Tsigov chark. The town is located in the western part of the Rhodopes near the Batak dam. This Bulgarian complex is visited by tourists all year round. In the winter, they entertain themselves with winter sports, and during the warm weather of the year, they enjoy peace and coolness by the dam.
Chepelare. It is located 10 km North of the Pamporovo complex. It is known for the Mechi Chal ski area, where one of the longest and best ski slopes in Bulgaria is ridden. The unique Museum of Speleology and Bulgarian Karst is located in the city.

Source: morisettiassociates.com

Razlog. With its unique location, nestled between three mountains – Pirin, Rila, and Rhodope, the city offers fantastic views, historical and cultural attractions, and conditions for snow sports for professionals and beginners. Razlog is a mandatory stop for all tourists from neighboring Bulgarian resorts. It offers tranquillity, a natural idyll, and a vacation without the dynamics of large and noisy resorts. Loved and visited by many Bulgarians looking for relaxation after a busy work week.
In the budget ski resorts, proudly located in the mountains of Bulgaria, you can choose from guest houses, where there is a feeling of coziness, warmth, and home, but this does not exclude the possibility of a large hotel with more space for children.
Boiana MG is a travel agency that can organize unforgettable winter experiences for you in some of the best Bulgarian winter resorts. You don't need maps, GPS, or other navigation aids, and the agency will take care of taking you, taking care of you, and providing you with the peace of mind you need to enjoy your winter vacation.