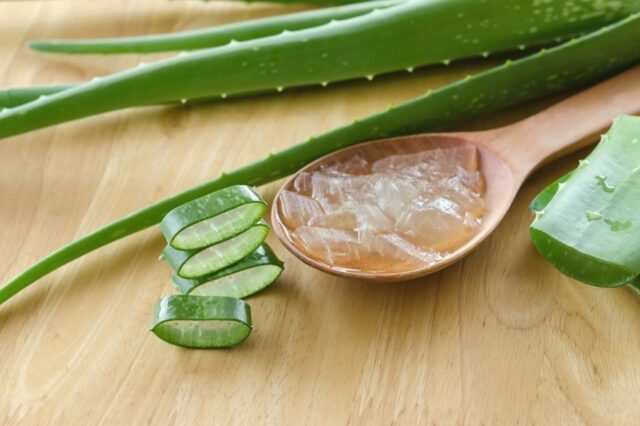 Aloe Vera beauty products have been on the rise in the beauty world for some time now. The hydrating properties of the plant are a cure for dry skin and hair breakage. Of course, the most popular Aloe Vera item has to be the face masks! They're proven to make your skin glow, apply a soothing effect on your face, all while getting rid of those pimples in no time whatsoever!
There are a plethora of Aloe Vera products to choose from, so finding the right one can be a bit overwhelming for a newbie. That's why, in this article, we'll help you out by listing our favorite products that will make Aloe Vera your favorite, one face mask at the time!
So without further ado, here we go!
1. Joanna Vargas Euphoria Face Mask
We all want that perfect glowy skin our favorite celebrities seem to have, don't we? Well, what if we told you it was possible? Yes, really! Thanks to Joanna Vargas, who's a famous celebrity facialist, we now have a glimpse of celebrity skincare! Actresses such as Constance Wu, Julianne Moore, and many other big Hollywood names have all been Joanna's clients! Her "Euphoria" face mask is everything you've hoped for and more. It soothes, cleans, and it's irritation-free even for the most sensitive skin types.
Yes, it's quite pricey, but still completely worth the money in our opinion. It really exceeds all of your expectations as it delivers more than you could hope for in a face mask.
2. Innisfree Aloe Revital Sleeping Pack
If you're looking for a way to enhance your beauty sleep one of these nights, this is the facemask for you! It's incredibly hydrating, so it works extremely well on dry skin. You can just put it overnight, and see the results in the morning: it's as simple as that. The mask is made from Korean Aloe Vera grown on Jeju Island, which makes it extremely effective. Still, it does contain some silicones in small doses, so beware if you're trying to avoid those.
These facemasks are extremely well-reviewed, as there are no reports of additional irritation anywhere. They are extraordinarily moisturizing, and they work well even if you have an acne problem.
3. Holika Holika Aloe 99% Soothing Gel
If you're all about those natural, organic beauty products, then this face mask is exactly what you've been looking for. It soothes and calms the skin giving it the necessary hydration to strive. It's quite cheap, and it comes in Aloe Vera shaped packs, which makes it even cooler!
Some people do report issues when it comes to overly oily skins, but it's otherwise effective. As you can already guess, it's almost entirely made of Aloe Vera, so it's as natural as it can be. Its effects are close to those of luxury aloe vera face masks, but the price is astronomically lower.
4. Safisa Aloe Vera eye-patches
While this is not a full-blown face mask, we still felt like it belongs in this list simply by being one of the best Aloe Vera beauty products out there. If you suffer from dark circles and puffiness, these eye patches might be the solution!
As you already know, the Aloe Vera ingredient helps in reducing skin inflammation, all while keeping your pores squeaky clean from any impurities. We suggest you use these before going to bed for maximum effect. Besides that, try storing them in the fridge for some enhanced eye-bag removal and improved coolness.
5. The Crème Shop Aloe Vera mask
What if we told you that you could get an Aloe facemask that rejuvenates, brightens, and enriches the skin for only about $5? Yes, this one is all of that! Aloe Vera mixed with Vitamin A and C does wonders for your skin, cooling it off and giving it a lively glow.
Of course, it's not nearly as good as those "luxurious" facemasks that have a long list of ingredients on their labels, but it's still a worthy consideration.
6. Kiehl's Calendula & Aloe Soothing Hydration Mask
Even though it's a bit on the pricier side, we can't ignore its stellar reviews and a proven record of making people's skin glow. No matter how irritated your skin is, this product is here to help. It will never irritate your acne further: it will calm the breakout down, all while enriching your skin to make it more elastic and glowy.
So, overall, the quality certainly makes the price seem insignificant. If you're looking to treat your skin and provide it with the hydration it so desperately needs, then you have to consider getting this wonderful product as soon as possible!
7. Seven Minerals Aloe Vera Gel
Making your home-made face mask can be quite the task, especially if you're using Aloe as a base ingredient. Most local supermarkets don't have these plants laying about waiting for you to buy them. So, instead of walking every corner of your town to find some Aloe for your new facemask, we suggest you simply buy a gel instead! It's made to act as a base for any type of facemask you're planning on making. Add some vitamins, honey, or perhaps greens: it's your choice to make!
You can find many DIY facemask tutorials online, so get your gel and start getting creative! There are no better ways to get what works best for you than simply making your own solution at home. So, get some gel and build the face mask of your dreams in a couple of minutes!
The bottom line
Aloe Vera face masks are the future of skincare! They had been proven to work on all skin types, providing your face with a shiny glow that keeps you looking young and beautiful. In this article, we've listed some of our favorite picks to help you make your search easier. It doesn't matter which one you end up choosing: they all work great!
Still, we suggest you consult with your dermatologist to ensure these masks are truly what your skin needs.