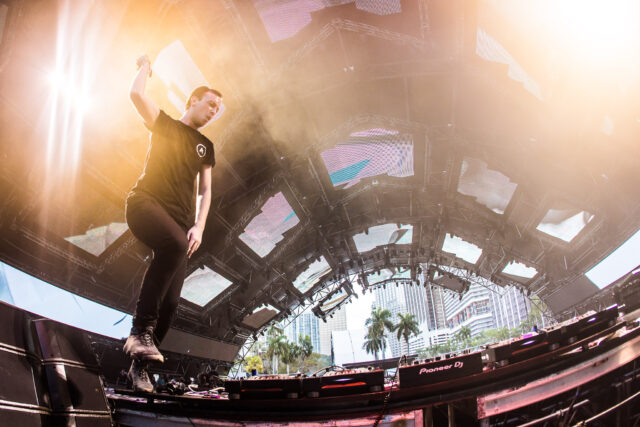 Andrew Rayel, a household name in all things trance, has some pretty huge plans for 2017. In just a few short weeks, Rayel will be releasing his album 'Moments'. Accompanying his album release will be a massive world tour.
I was lucky enough to catch the first stop of Rayel's 'Moments' tour at Ultra Music Festival. His Sunday set at A State of Trance (ASOT) stage was one for the books. If his first 'Moments' set was any indication of what the rest of his tour will be like, then it is safe to say that this tour is a must-see event.
Andrew took a few moments (ha) out of his busy day to sit down and chat with me about his early beginnings in dance music, classical music and of course, what he has in store for his 'Moments' tour. Check out our interview below, and be on the look out for Andrew's album 'Moments' dropping May 5th.
How did you first get your start in dance music?
Andrew: It happened in a very early stage, when I was about 9 years old. That's when my parents realized that I had an attraction to music — they were the ones who decided that I needed to join a musical school. During that, I was studying piano. I used to create a lot of my own melodies, and at the same time they used to play a lot of ATB or Armin Van Buuren and old Tiesto on the radio. I really fell in love with trance music.
At some point, producing trance music just came naturally. After six or seven years of practicing everything, I sent one of my tracks to Armin, and he loved it. The rest is history — I joined Armada, started touring with Armin, and then I started touring on my own. Now, I just released my second album and I'm doing shows in 4,000 person venues.
What specifically brought you to trance music?
Andrew: I was always creating classically based melodies. As you know, classical music is very close to trace music. They use a lot of strings and piano, and those specific classical harmonies. The difference is that classical music uses only live instruments, whereas I use electronic ones to make people dance.
You played at Tomorrowland, you played EDC, you've played Ultra, is there anywhere else you would still like to play?
Andrew: I have pretty much played every big festival, except maybe Coachella. Coachella is one of those big ones that you need to play at that perfect moment. Hopefully soon, I'll be ready to play Coachella.
What went into your most recent release, "I'll Be There"?
Andrew: It's a part of my forthcoming album. I always wanted to do a collaboration with Eric Lumiere, ever since I heard his tracks with Cosmic Gate. I like his voice, I like his way of writing lyrics and melodies, so I knew I had to write something with him. We first started on a different track and were unhappy with it, but suddenly Eric came up with "I'll Be There", and we changed everything and that track was born.
You're releasing "Moments" on May 5th. What went into making the album? Are there any specific tracks that mean something specific to you? 
Andrew: The album is called "Moments" because the concept is due to those amazing moments in life like where you meet your first love, when you go to your first Ultra Music Festival, when you hear a certain song on the radio…it is to remember all of those moments we had in our lives. Most importantly, I want to create one of those moments during my shows for people to remember later in their lives.
You've been referred to as the modern day Mozart. How do you feel about that? Do you have a different favorite classical pianist?
Andrew: I do! It's Chopin. Of course, it is a huge honor to be called the modern day Mozart. I mean, he was one of the biggest and most inspiring classical pianists of all time. It is such an honor, and I cannot even imagine if he would hear me being called that…he's a genius! I'm just doing my best to make people happy.
Who are your must listen to up-and-coming trance artists?
Andrew: For sure guys like David Gravell, Ruben de Ronde, Mark Sixma…those guys are killing it at the moment. They always send me new music, and I always play it in my sets.
What do you have in store for the rest of this year, besides releasing "Moments"?
Andrew: I'm doing a big tour related to the album "Moments", which will start April 7. We'll be doing a lot of clubs around the US, but also big venues, like Hollywood Palladium, Civic Center, Webster Hall, Commodore Ballroom…So yes, a lot of big venues, but of course, smaller shows too. For anyone who wants to join the moments tour, go to my website and grab your tickets. I cannot wait to create these special moments with my fans.
Andrew, thank you so much for taking time out of your day to chat. I cannot wait to hear 'Moments' and see where your tour takes you!
Check out Andrew's Ultra set below.