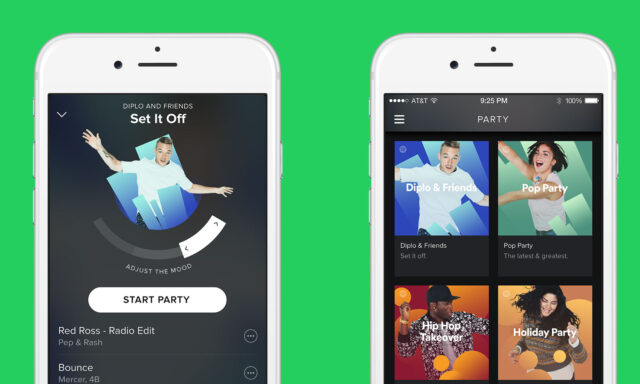 As most of us know, Spotify is a great app to keep music flowing at a party. Well, it just got better. The app now contains a new Party feature in its iOS and Android apps. Users can choose from 12 pre-made playlists and the app mixes the songs into one another like a DJ would. Users can also choose from three different settings or \"moods\" which set the energy level.
The playlists vary in genres from classic party hits to EDM. Some users have reported that certain playlists aren\'t as smooth as others. However, electronic music and playlists that are programmed by actual DJs are doing well. One of the playlists that was specifically mentioned to be successful is by Diplo & Friends and contains 120 curated tracks. Also, with the new Play Queue feature, you can add, remove or rearrange tracks without interruption.
You can find Spotify Party in the Genre & Moods section of the app. For more info, click here.
Photo via The Next Web.