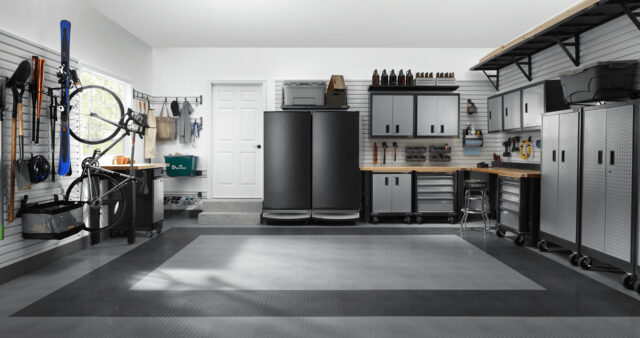 You should never leave the car, which is a five-figure investment, outdoors for UV exposure, birds dropping, and tree sap! Storing it in a garage will prolong its life and also provide you with enough space to store sports equipment, tools, and garden supplies. An effective garage storage system coupled with some cleaning hacks are needed to transform your messy garage into a safe, spacious, and clean one.
Do you know, organizing pros estimate only 30 percent keep the car and essential in the garage! Why? Too much stuff! Here we have compiled some insane storage ideas that will help a lot in maximizing the space in the garage.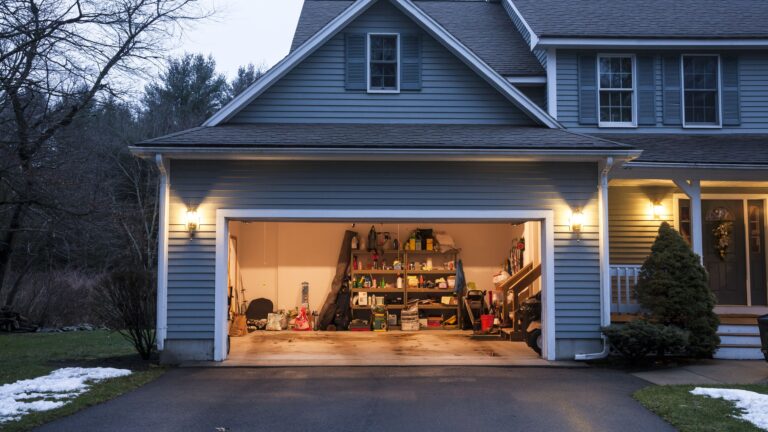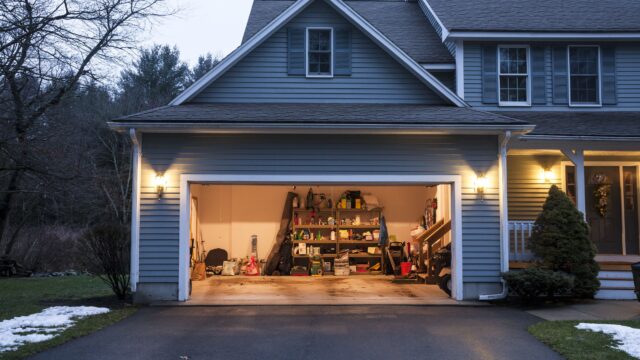 How to begin cleaning out the garage
Let's begin cleaning out and getting rid of things you don't need.
First thing first, you need to set aside a day or a week to get the job done.
Invite a few friends to pitch in or involve the entire family in the decluttering process. This way, you can do it a lot faster.
Sort things into three piles; donate, sell or toss. Better mark off the areas of your driveway with chalk and start placing items over there.
Things That You Should Never Place in Garage
For safety concerns, be sure that none of the items is in your garage.
Extreme cold or heat tends to ruin the paints. Hence, make sure to store them in a temperate space. The same goes for the refrigerator. It is a huge energy waste in areas that are not air-conditioned.
Avoid putting paper goods into the garage as they are magnets for roaches and bugs. Better place them in the pantry.
Refrain putting pet foods in the garage as animals can sniff and get in. Better keep them in a sealed pack and other places.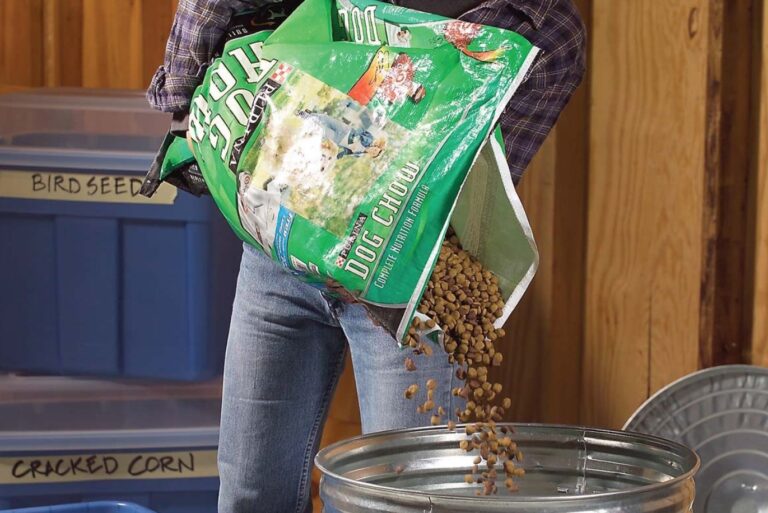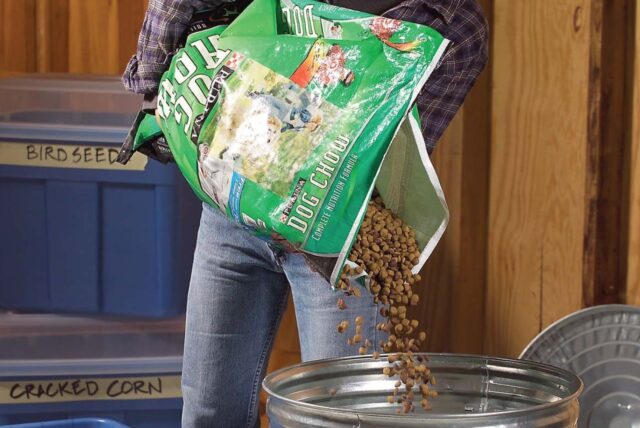 10 ways to maximize the garage space from top to bottom
Here comes the ten easy-to-follow ideas that help you make the most of the space you already have and organize everything like a pro.
1. Get a set of garage cabinets
A set of cabinets that are inexpensive and offer plenty of storage space are sufficient to store all sorts of your garage essentials. They can accommodate tools and equipment that are meant to be kept in the garage. Garage cabinets don't need to be beautiful but must contain height adjustable shelves with a weight capacity of at least 363kg. Again, don't rush for expensive items, rather go for cabinets that come with strong built-in quality so they can bear the weight of some bulky garage equipment.  It will be more appropriate if you get them built as per your needs.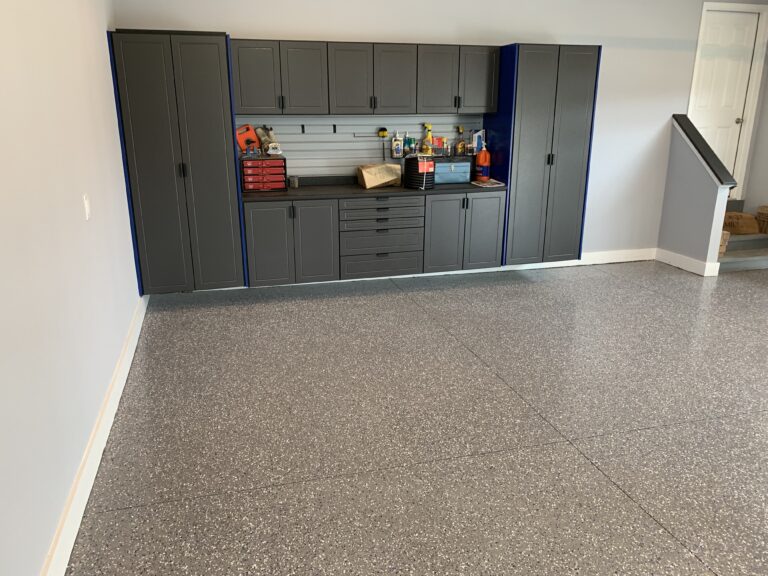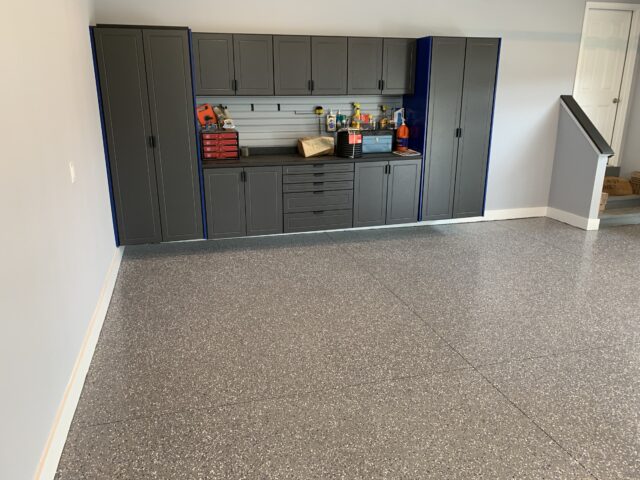 2. Hang some floating shelves
Floating shelves are not necessarily hung on the kitchen, living area to showcase your rare find or artwork. Hang these shelves on some empty corners of the garage to exude stylish and practical vibes.  Remember one important thing about the floating shelf, every stud the bracket is attached to, elevates the weight capacity of the floating shelf to even 50 lbs. Hence, more the studs, the greater the weight can be held by the shelf. Also, bear in mind to have shelves in a water-resistant material so it can withstand all weather changes.
3. Ceiling garage racks
Overhead garage racks are handy as they help to keep your floor empty, giving you plenty of space to park the car and keep your contents secure and assist in avoiding water damage if possible. The best part is all the items will be out of reach and easily accessible at the same time. you can buy one for your garage to add a lot of storage to your garage. This type of storage however is useful for seasonal or unused items. Adjustable ceiling racks will not break the bank and will play a vital role in keeping the garage clutter-free.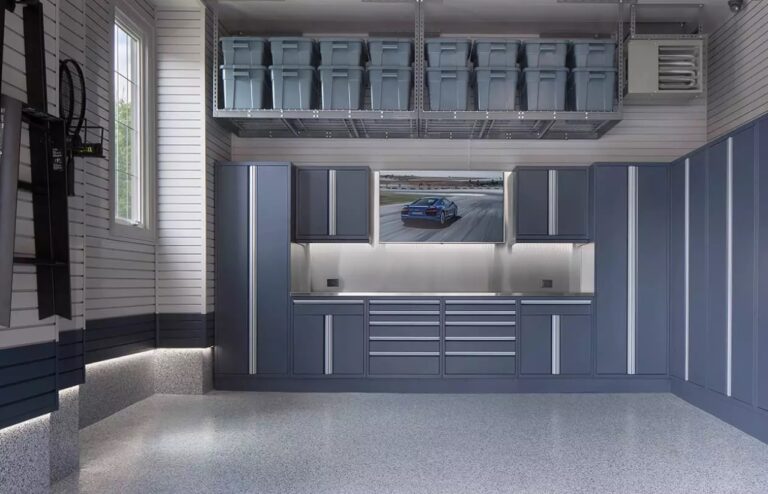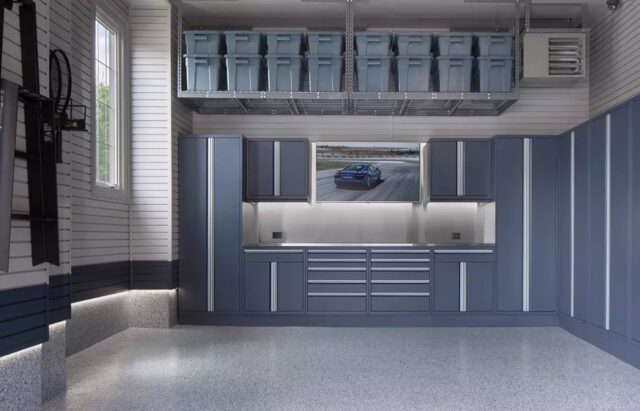 4. Steel wire shelving with wheels
The four to five-tier steel wire shelving is a must-have item for the garage. The item is super versatile and can easily bear the weight of some bulky items. Make sure it comes with wheels so you can conveniently move things around. The smooth-rolling casters with a locking mechanism can adjust the height of shelves and assist in building a well-suited bespoke shelving system for the garage. You can buy such items from amazon or any nearby store to make all the essentials in one place.
5. Track system for awkwardly shaped items
Since the garage is the hub for a variety of items, we often come across things that can't sit well on shelves. More so, we also want to get off as much from the floor as possible so that things can look tidier. A storage track system can be perfect in this regard. Just purchase a track system and there are tons of hooks and attachments that hold and store everything you want. It's not difficult to put items on a track system; it is relatively easy and helps a lot in putting everything in their designated place.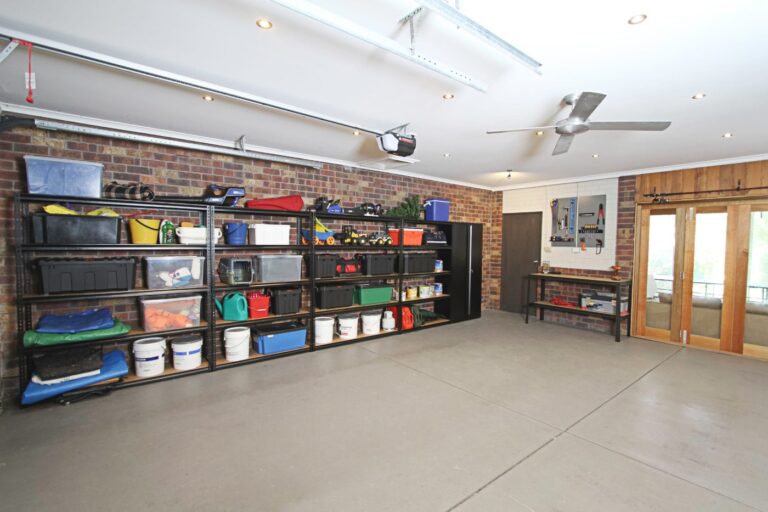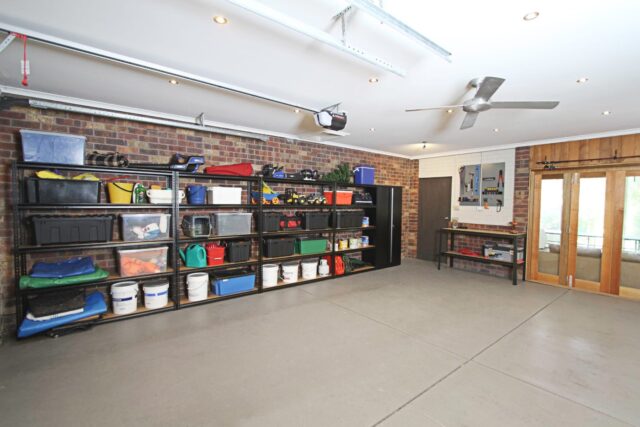 6. Utilize bins for frequently used items
As we know, a garage can become super dusty so it is not wise to use tons of open storage items! But there can be certain things in the garage that you may need more often. For such items, open bins and baskets are super handy. In contrast to this, to make an organizational garage more functional, opt for wire shelves on a blank wall. However, for such a storage system, make sure to utilize the lower bins for the frequently used items.
7. Mount pegboard to garage walls
It is up to you whether you go for some rustic shelves from HandCraftedShelves.com or mount pegboard to garage walls to have some of most used tools at arm's length. Pegboard is however a space-efficient storage method that is relatively easy to build and install. Premade pegboards can be bought from the hardware stores and cut to fit the space you already have on the wall. Be sure to take careful measurements of the intended installation spot. It is also better to paint and seal the pegboard before the installation.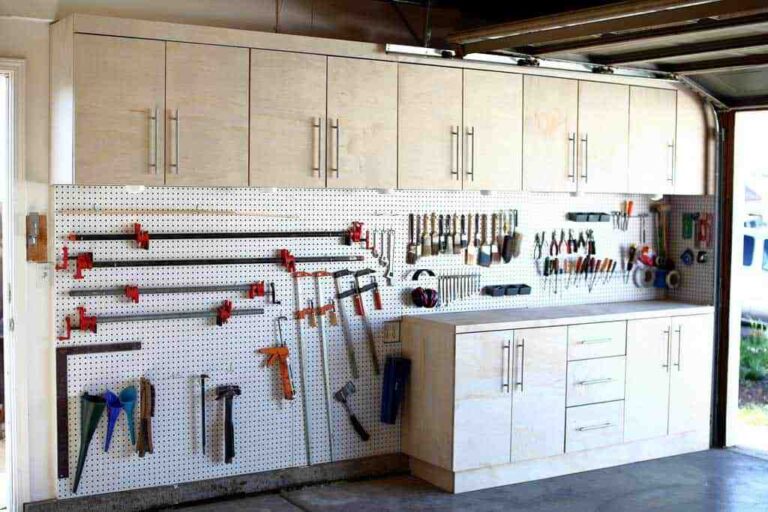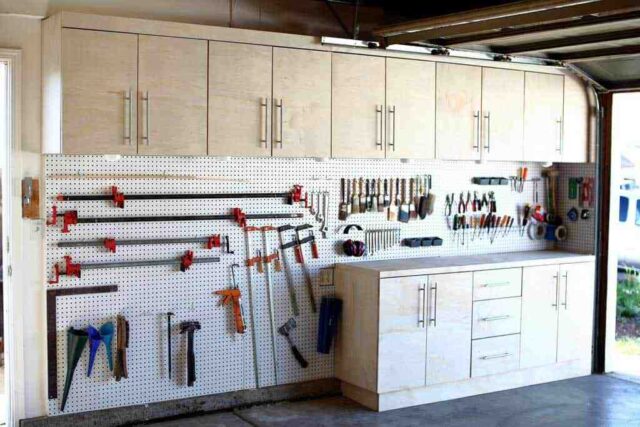 8. Get heavy items off the floor
There is no denying that the garage serves a lot of purposes, the primary function however has always been to keep housing cars. But you may be surprised to know that almost 1 in 4 Americans say their garage is too cluttered to fit their car. When it comes to organizing the garage, the ultimate priority should be getting as much off the floor as you possibly can. The simple trick helps things tidier. Apart from shelving, a wall track system, and a pegboard, you can install some hooks directly into the wall to get bulky items off the floor – like a hockey item.
9. Add labels to help find items quickly
Labeling is super practical and fun that saves the time that gets wasted by searching high and low every time we need any item. It also makes it convenient for people to put things back when they are done using them, even if they are not the ones who created the system. Use precut paper strips, permanent Markle, heavy-duty clear tape, scissors to label various bins. Before you apply the label, make sure the surface is clean. If you are unsure whether it will stick over the long haul or not, cover the label with clear packing tape.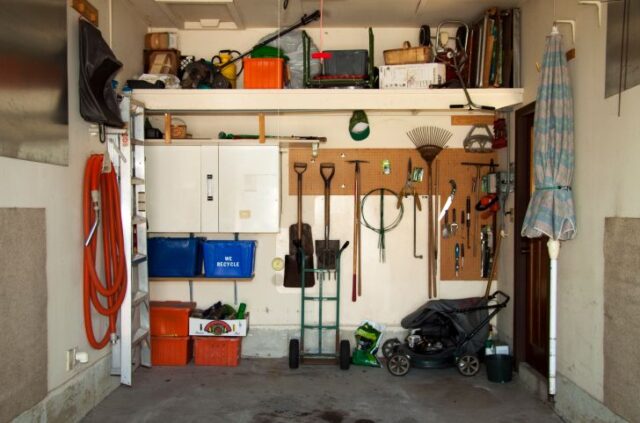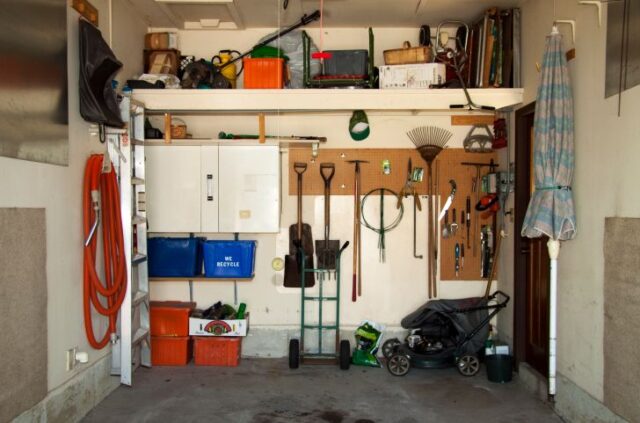 10. Place everyday items lower and seasonal items higher
We want everything within arm's reach but technically it is impossible as we have to store tons of items in the garage. To cope up with the issue, you need to be strategic, put items you or the children use often on the lower shelves so that you can easily grab them without a stool or ladder. Things that you don't use often like fishing gear or anything that we don't need to access that frequently.