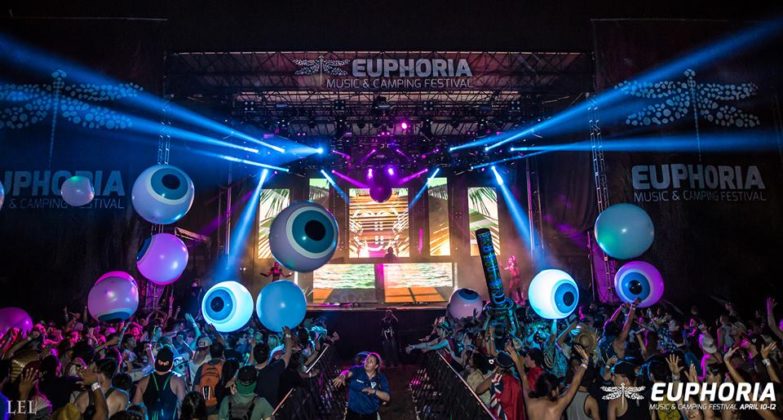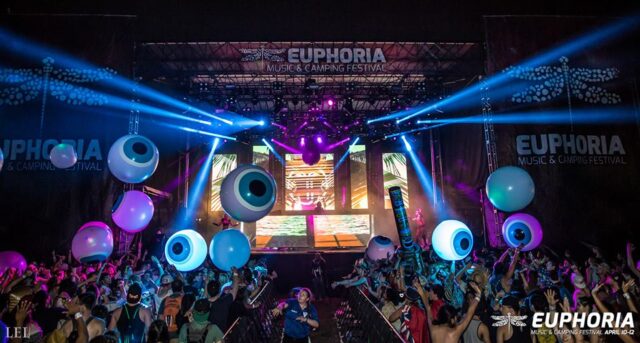 With the sheer amount of music festivals popping up year after year, it can be extremely overbearing to decide which ones to attend (without breaking the bank). Usually, its the line-up that plays a huge role in which festivals we decide to attend, or maybe the kind of crowd each festival draws to its sacred grounds. We always expect to see the Kandi Kids at EDC and the heady hippies roaming EForest. And it seems that every line-up release these days is so stacked and jam-packed with amazing headliners and stunning production, that artist overlap and over-saturation comes into play as well. So we\'ve comprised a list of other reasons you\'ve got to head down to Austin, Texas for the 5th anniversary of EMF — straight from a Euphoria veteran. If these qualities are something you look for in a festival, then you definitely need to check this festival off the list!
(1) The Art Installments & Vendors
Because Austin is home to countless eccentric artists, it\'s not surprising that Euphoria boasts some visually stunning art installments all over the festival grounds. From colorful lighting in the trees and trippy structures to electricity and pyro-inspired interactive displays, being at the stages is not the only thing you\'ll want to do. Roaming the grounds, setting up your hammocks and swinging from the trees are also a great way to meet the Euphoria Tribe.
Also, be sure to save up because Euphoria attracts some top notch vendors to its grounds as well. Hippie attire, blacklight artwork, and rare festie pins saturate the stockpile of souvenirs. Not to mention, there is LIVING ART taking place — from custom/live glass blowing demonstrations to a range of individual artists who feature their own paintings on easels throughout the grounds (not sure how they bypass the vendor fees, but it certainly makes for a grassroots appeal). If that\'s not enough, you can tie dye your arms in body paint for a small fee.
The food is also amazing and set up all across the grounds, complete with Austin favorite like Amy\'s Ice Cream. Euphoria even had a sponsored beer for last year\'s fest, for the 21+ beer connoisseurs out there. This year, the rumor is that Mike's Hard Lemonade will be bringing their "Mike's Harder\" Tasting Station. Euphoria will also have an expanded food truck park featuring some of Austin's most diverse offerings, including: Buddha's Brew Kombucha, DFG Noodles, Mission Dogs, PickAChili, Revenge of the Pork BBQ, Southside Flying Pizza, Texas Ice Queens and more.
For fans looking to kickback, Austin's Alamo Drafthouse will be bringing the cinema to Euphoria with a collection of off-kilter flicks and surprise appearances. And just like last year, festival goers can begin each day with free yoga classes led by Austin's own Sukha Yoga at the Dragonfly Stage overlooking the Colorado River.
(2) The Euphoria Tribe\'s Vibes, MAAAN!
In my experience, Euphoria is EDM\'s best kept secret because it\'s small and intimate and cultivates a community of overwhelming happiness, acceptance, and caring. You will meet people and run into them throughout the weekend time and again, which is something you don\'t get at those big, expensive festivals. I would even go as far as to argue that Euphoria has all the vibes of Electric Forest before it became oversized and out of hand. I hope the festival organizers can maintain this appeal over time, because the vibes are the biggest strength. It\'s not everywhere you can stand front and center at Pretty Lights or STS9 with plenty of room to dance and get weird.
Last year, I made a good decision to skip out on Coachella with it\'s expensive, commercial BoHo appeal in favor of the more communal hippie vibes that Euphoria has come to cultivate over time. It\'s not uncommon to see the Kandi Kids spreading PLUR trades with the festival hippies, and brace yourself for the sheer amount of unique totems! Not to mention, you will continually run into some of the most talented flow artists you\'ve seen in your life. Euphoria attendees are experienced festie-heads, through and through.
(3) Proximity of Stages
With the main stage location halfway between the smallest (and most visually unique) \"Dragonfly\" stage and the mid-sized tent stage, I have never been to a festival with so much accessibility between stages. One might think this would effect the sets in terms of competing sound quality, but there\'s was never any noise interference from stage to stage. This set up makes it extremely easy to catch multiple sets, which virtually eliminates the issue we usually run into of \"conflict slots.\"
(4) The Camping Grounds
The camp grounds are covered in beautiful Texas blue bonnets and not so massive that you get easily lost: Plots are also organized by light up generators that not only provide a numbered landmark to your camp site but also provide electricity for charging up those phones. Daily showers are also available for a small fee and grill/water stations scattered throughout. Forgot some supplies or toiletries? There\'s a General Store for all your grocery needs. There are also plenty of tree along the creek (which separates the festival grounds form the camp grounds) for those hammokers to convene and cocoon up together for the night. Additionally, I took notice of just how relaxed and friendly the security is, all of whom give off a genuine ethos that they just want you to have fun and be safe. No heavy policing going on at this fest — after all, we come to festivals escape the constant surveillance in our everyday lives!
Euphoria also featured two after-hours stages, a more chill and vibey Jager Stage and the bass heavy Lunar Lounge, especially for campers to get rowdy until 4am with Austin local DJs, throughout the weekend. The Lunar Lounge was a white inflatable infrastructure that looked like a gigantic marshmallow, complete with a neon light-up dance floor and bubble machine. One of my favorite experience at last year\'s gathering was stumbling onto the thousands of smoke bubbles that over take the sense; not to mention, grab photo op moment!
This year, Euphoria has also revealed that it will present its first-ever Silent Disco at the fifth anniversary festival in an effort to keep the party going well after the main stages end.  Created exclusively for Euphoria's overnight campers, the stage will be presented by San Francisco's famed HUSHconcerts, formerly Silent Frisco. The late night experience will feature enhanced headphones to showcase an array of local performers, including: silent disco pioneer Motion Potion, spinning a three-hour Radiohead set; The Peligrosa Crew, featuring DJ Manny, Orion and Manolo Black; DJ Mancub, of the Space Cowboys; Madhatter; and many more.
Hope you bought your camping add ons this year, though, because it\'s already sold out!
(5) The Cost is Unbeatable!!
When you factor in cost per set at around $10-15, Euphoria boasts one of the country\'s most affordable and impressive line-ups. Where else (outside of EDC) will you see big names like Eric Prydz and Bassnectar on the same day? Single day passes are now available starting $54 (plus fees) if you are local and want to stop by. General Admission passes are available now for $159 (plus fees). Be sure to use coupon code PLURIZARD to save an additional $10. Although  GA Camping is now Sold Out, you can still pay a little more to grab a camping pass via a Tentsile purchase, EnlighTENTment Rental, or RV Spot lease. Multiple VIP packages with preferred viewing areas, private bars, VIP restrooms and showers, concierge service, luggage drop off and bell-hop services, and express entrance are available starting at $249 (without camping). Euphoria also offers clear, simple financing to split your Eventbrite order into 3 or 6 monthly payments. Tickets are available online at www.euphoriafest.com. Euphoria is an 18+ event.
Euphoria Music Festival is produced by Vivid Sound Entertainment. Visit www.euphoriafest.com for the most up-to-date information. Stay connected on Twitter at www.twitter.com/EuphoriaMusFest and on Facebook at www.facebook.com/EuphoriaFest.