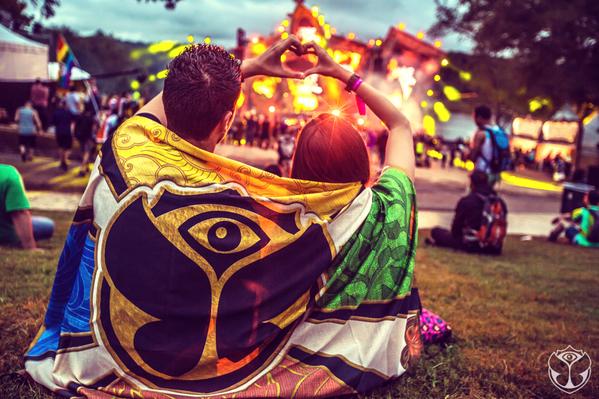 After a weekend of pouring rain in Chattahoochee Hills, Georgia, thousands of TomorrowWorld attendees were left stranded at the festival grounds. Following Hardwell\'s Saturday night set, guests who attempted to leave the venue were stranded overnight on muddy roads and grass surrounding the festival.
Late Saturday night, non-campers were left without shelter, food, and water. Festival organizers ceased to allow all types of transportation to reach pick-up spots, leaving thousands to stand in the cold rain for hours on end. The muddy mess was so bad that various bus shuttles and cars onsite got stuck in the mud upon exiting, leaving the riders to push the vehicles out of the muck. TomorrowWorld attendees were forced between two hard decisions: sleep on the wet grass and mud, or walk up to ten miles to find shelter and alternative transportation options.
Due to the unfortunate weather circumstances, TomorrowWorld festival organizers were forced to cancel day three of the event for the commuters. This decision would cost attendance to drop from 190,000 guests to 40,000. The 40,000 campers in Dreamville were the only festival-goers allowed to attend day three of the event.
TomorrowWorld released the following statement:
\"Mother nature has decided otherwise: TomorrowWorld will only be accessible to visitors currently camping at DreamVille. Continuous rainfall over the last three days has severely limited capacity of the parking lots, entrance roads and drop off locations in and around the festival site,\" organizers announced early Sunday. \"The experience of the TomorrowWorld visitors is always number one priority, so TomorrowWorld was forced to close all daily parking lots and drop off locations. TomorrowWorld regrets that festivalgoers with day tickets, guest list tickets, and anyone not already camping at DreamVille will unfortunately not be able to access the festival. The last day of the festival will go on for the 40,000 visitors already situated in DreamVille, with David Guetta, Armin Van Buuren, and Martin Garrix all on deck. More information and refund policy will be available soon.\"
Angry attendees took to Twitter and Facebook to voice their opinions on the situation.
@TomorrowWorld congrats on being the biggest fail in history

— ❁ Jess ❁ (@JessicaMarais_) September 27, 2015
People of @TomorrowWorld stranded sitting for hours waiting for shuttles/uber some even sleeping in the mud. pic.twitter.com/VDj84Y9jlU

— Media Marin (@MarinCPhoto) September 27, 2015
@TomorrowWorld all the people like these girls that literally slept in the cold mud pic.twitter.com/SPiu8uWGoH

— pocahontas (@EDMPocahontas) September 27, 2015
I would be so pissed. I don't need another concert eight months from now, I need my cash back INCLUDING ticket fees. #TomorrowWorld2015

— TRADE WHISPERER (@joshhottness) September 27, 2015