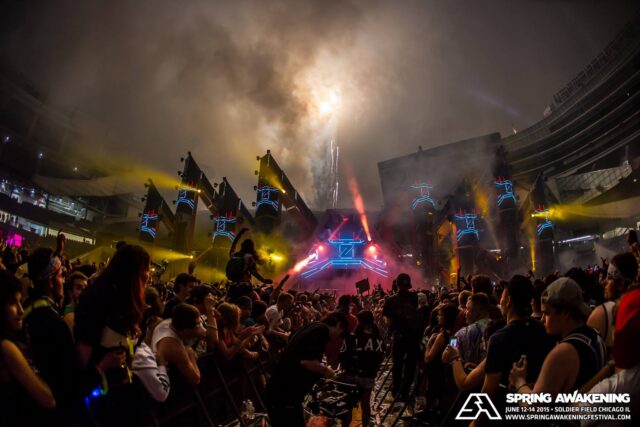 Spring Awakening Music Festival is just five days away, and while we\'re getting extremely amped up, we\'ve unfortunately learned that the festival will be over by 10 pm on all three days, and most folks won\'t be ready to end the night so soon. Thankfully, React Presents has finally revealed the list of the official Spring Awakening afterparties that will be taking place all over the city, so be sure to write these down.
Starting the festivities on Thursday, head over to theMID to catch the official Spring Awakening pre-party. Tommy Trash will be headlining the event, and Kittens, Rome Fortune and Shash\'U will be performing throughout the night. It\'ll be taking place from 10pm \'til 4am, with Spring Awakening commencing at 1:30 the following day. The event is 21+.
Friday night, you\'ll have a lot more to choose from. Jamie XX will be holding down theMID, alongside Zebo, Intel and Bangfang. The event, 21+, will be starting at 10 pm, and tickets are only $25, available here. Steve Aoki will be taking over Concord Music Hall just after his headlining set that same night. Surprise guests are also slated to be there as well, and tickets for the event, 18+, are $35 available here. Last but certainly not least, Flux Pavilion will runnin\' shit over at the House of Blues, alongside Bear Grillz and Attak. Unfortunately, tickets are (obviously) sold out online, but it\'s possible you can find some if you know where to look.
Saturday night will be packed as well with Carnage, Gordo and Howie Doin taking over theMID from 10pm \'til 5am, and tickets are available for $35 here. Hippie Sabotage will be taking their talents to evilOlive near Wicker Park, with tickets available here. Unfortunately, Zeds Dead will be taking over Concord but tickets for that are also (obviously) sold out, but it\'s likely tickets are out there so don\'t lose hope.
Sunday night, RL Grime will be performing at the Concord, alongside Rezz and Andrew Luce. That\'s definitely going to be a fun one, and the 2nd wave of tickets are still currently available for $25. Also on Sunday night, Moon Boots will be making an appearance at Smart Bar, tickets are $10 here.
Monday night will denote the official wind-down of all Spring Awakening festivities, with Ghastly and Porn and Chicken shutting it down over at the evilOlive. Tickets for that are $10, but are going fast as the event will definitely one you won\'t want to miss.
Just Announced: Another Monday night closing party has been announced at the MID featuring Borgeous. Tickets are only $10 here.
There you have it! All of the official afterparties for Spring Awakening have been announced, and it seems like a pretty good group of artists to carry the night away following the festival festivities. Also, the official day-by-day schedules, as well as times, have been released over on Spring Awakening\'s website, so if you wanted to start creating a custom schedule, you can now here.
We\'ll be at Spring Awakening Music Festival all weekend, so be sure to show your EDM Chicago love by grabbing one of our snapbacks, and if you see us around with these on, be sure to say hey!