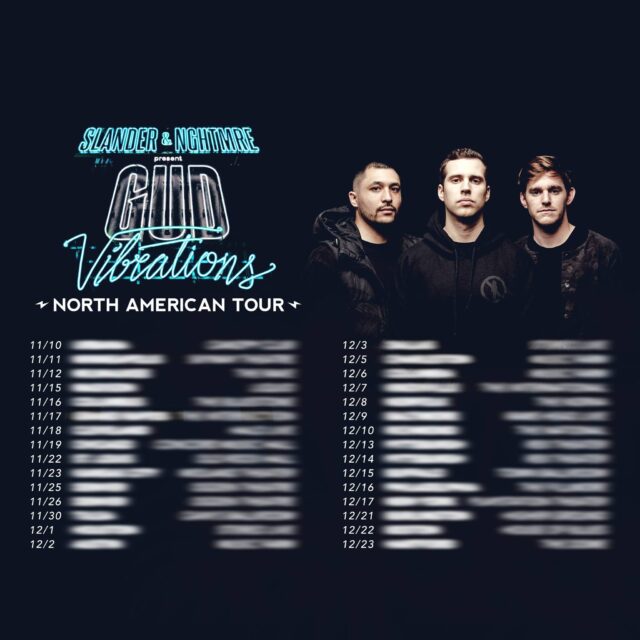 Trap music has been evolving over the past years since its birth into the dance music community a couple years ago. DJ trap duo Slander really took the sound of trap to the next level with their creation of heaven trap. At the time trap djs were just sticking to the same sound and were really not producing anything new to stick out like a sore thumb. Heaven trap was like a breath of fresh air for trap lovers and ever since then Derek Andersen and Scott Land knew they made a statement for themselves and their music.
Slander went on selling out shows left and right. TomorrowWorld, Ultra Music Festival, Sunset Music Festival, Electric Forest, and now soon to be Tomorrowland are just a couple of festivals they have blessed ravers ears with their music. The Slander takeover has become the real deal and fans were not the only ones noticing this. NGHTMRE has recently started to grow a close relationship to Slander with the creation of Gud Vibrations. Tyler Marenyi rose to the top of the trap food chain rather quickly just as Slander did with his unique street trap style and sound. It was only a matter of time before these two artists found each other and formed a super group of their own.
Both artists have been traveling the world with each other playing at huge venues and showing up at each other\'s sets as surprise guests. It did not take long before a North American tour would soon be announced. The Rave Gods have finally answered our prayers with the huge announcement that Slander was warning the public about all over social media on Tuesday. Early Wednesday afternoon both Slander and NGHTMRE both posted on their Facebook pages a photo of several dates for an upcoming Gud Vibrations North American tour with only the dates showing while the cities that they will be playing at are all blurred out.
If you actively follow Slander or NGHTMRE on social media then you know these two put on quite the show that will have you off your feet and wanting more. They have also had special guests such as Dillon Francis show up at their recent Gud Vibrations show in Los Angeles the other night, so I think it is safe to say we can pretty much expect the unexpected from this tour.
Tickets are not on sale yet for this tour but make sure to stick with EDM Chicago for the latest information about this North American tour.
Follow Slander:
Snapchat: slanderofficial
Follow NGHTMRE:
Snapchat: NGHTMRE
Take a listen to some of their latest music down below.
Photo Credit: Facebook