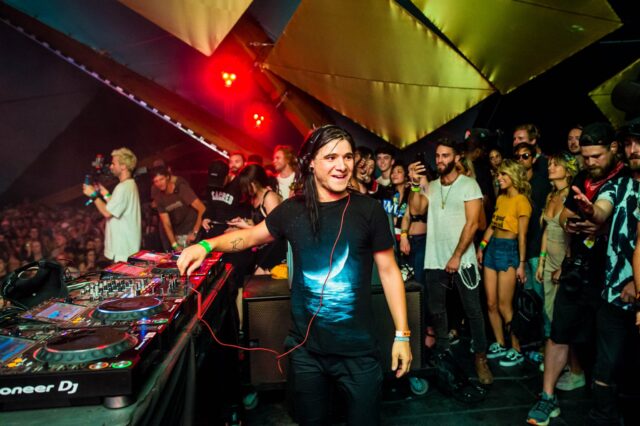 It's been a little over 5 months since we've heard a new release from Skrillex, but lucky for us, it seems his first single of 2017 is right around the corner.
Coming out on the upcoming HOWSLA compilation, Skrillex is set to release a new single with French producer Habstrakt, entitled "Chicken Soup". The track is slightly different from anything we've seen Skrillex do recently, but carries some of the ideas we saw in "VIPs" with MUST DIE!, and we can tell Habstrakt's usual synths were a main focus during the drop.
Skrillex formally debuted the single during his surprise set at Coachella this past weekend, but has been dropping it for some time now, even posting teasers on his Instagram & Snapchat stories – and no one even noticed.
The HOWSLA compilation, that contains "Chicken Soup", will be available May 5th, but until then, check out a fan's short video of the single down below.
Okay "Chicken Soup" – @habstrakt x @Skrillex is the most hype track ever what the fuck 😭👏🏻🔥💃🏻🤤🤤🤤 pic.twitter.com/qy7vIn1QmB

— 🐈🛌 (@ChrisRecinoss) April 26, 2017
Image: Watchara Phomicinda, The Press-Enterprise/SCNG