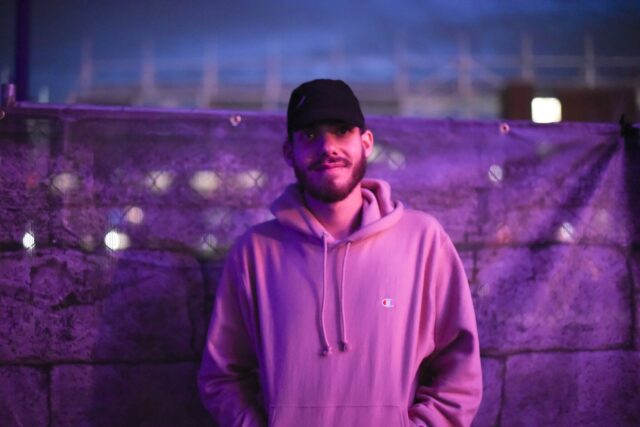 Sander van Dijck, better known by his stage name, San Holo, is quite the all-around artist. Between touring both in the US and overseas and maintaining his own label, the Dutch DJ really does it all. I had the absolute pleasure of meeting him last weekend at Chicago\'s Freaky Deaky music festival. We took a few minutes to chat under the ferris wheel about life, touring and his label, bitbird. The Holland native known for his incredible sounds is truly a class act and one of the kindest artists around. Check out our interview below.
Well first off Sander, welcome to Chicago, I'm super happy you're here because I've never had the chance to see you before! So you just came off of a pretty crazy tour in September, and it was your third installment?…tell me a little bit about that.
Sander: We started this tour in Asia. We did five shows there, and then we went straight to Denver. We've been touring America for two months now, and [Freaky Deaky] was the second to last show. I\'m going back home in a week, and I'm excited to go home to Holland for a while.
Anything memorable stick out with you from your September run?
Sander: I played at Red Rocks and it was amazing. It was my first time being there and my first time standing in front of that many people. It was beautiful. Touring is an interesting thing, it changes you. Every tour I do, I change as a person. You meet so many people and gain so many new perspectives and ideas.
Your recent collaboration with Jauz is first off, amazing. How was working with Sam? What went into making "OK"?
Sander: I played a couple of shows as an opener for Sam, twice actually. We got along really well. One day we were both in LA and I asked him if he wanted to hang out. He came over to my place and I happened to have an idea for a melody. He turned it into the \"OK\" track that exists now. I was stuck on this melody for so long and I didn't feel it anymore, but then Sam came and made something of it. He totally changed everything, and we ended up releasing it on Monstercat two weeks ago. It's way heavier than my normal work, and I love it.
What kind of music do you classify yourself as playing then?
Sander: I just like making music that gives you a pleasantly sad feeling. My music is never super happy, it's always a little melancholic and nostalgic. I don't want to classify it as a genre. It's very melodic and feely…is that a word? I don't want to make people jump and dance, I want to make them feel something.
Tell me about your label, bitbird. What's it all about?
Sander: bitbird is my label. It's a platform and label where I just support people I love and people who are doing something unique. Basically, we're here to show you music that we think should be heard. We believe in the artists that we release. We think they should be on the main stage. It's never about a party banger at bitbird, it's about an artistic club of people pushing boundaries.
What made you want to start your own label?
Sander: I never signed myself to a label, I only signed singles to a label. I was always able to be free to do whatever I wanted. I always wanted my own label because it gives you so much freedom. I can make up the rules and curate all the music myself. We want to build a group of people that are open to all kinds of music, and not just EDM. We've even released classical piano music.
What are your tour plans for the rest of 2016?
Sander: I'm going home for three weeks, and then I'm joining the Porter Robinson and Madeon tour. I think that'll be about 20 west coast dates…all sold out venues. I'm super excited.
Last question before I leave you alone: what's the music scene like in the Netherlands compared to here in the US?
Sander: Well, in America, everything is way more over the top. The same goes for the music industry. Holland is a very small country, so if 1% of the people there like bass music, it's extremely different than 1% here. There's not a big underground scene in Holland. The scene is the US is way bigger, and my fan base is here.
I definitely like playing here way more. People get into your sets so much here; it\'s different in Holland. People that go to concerts in Holland just drink their beer and stand in circles with their friends. They just watch the show like they're in a pub, they don't really pay attention to you. It's a totally different culture. Here, when you play your electronic music live, people watch you like you're a band. Don\'t get me wrong, it is starting to get bigger in Holland, it's getting there.
Again, Sander, thank you so much for taking the time to chat. Have a great time back home in Holland.