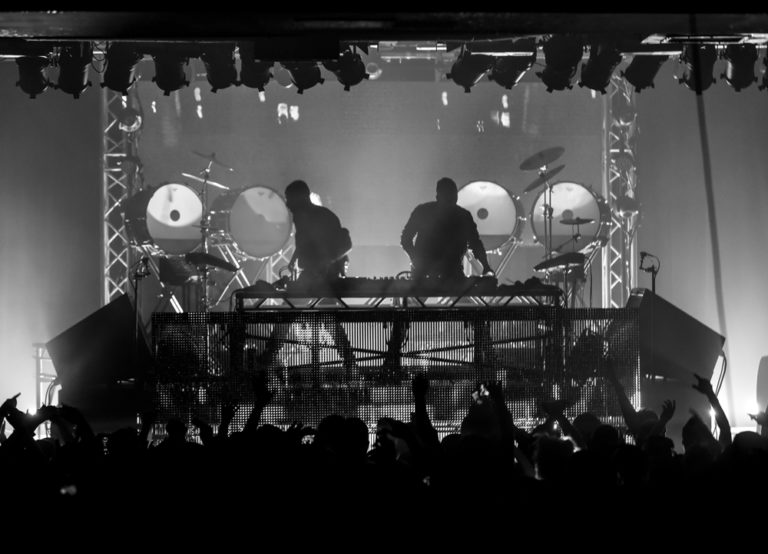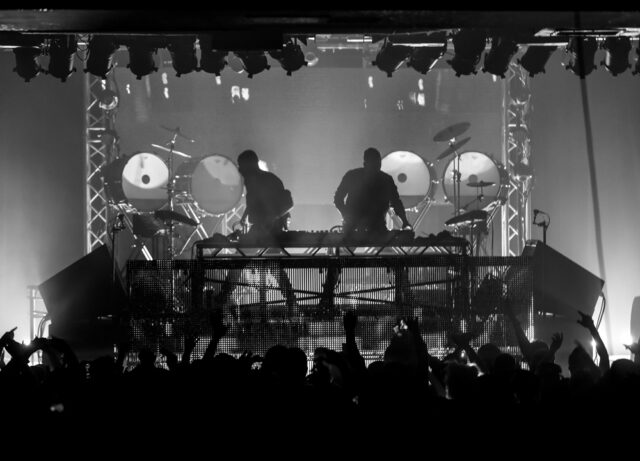 Louder.  Harder.  Better.
These exact words are what come to mind when I think back to the Galantis show that took place at the Concord Music Hall in Chicago just this past Wednesday.  I attended this show as a first time reviewer on behalf of EDM Chicago, which terrified me because I knew that meant having to attend a concert by myself for the very first time.  Would it be awkward?  Would I have fun?  Would I feel comfortable?  All of these thoughts swirled inside my head as I accepted the challenge, and to my surprise, these thoughts were no longer a concern by the end of the night.
The evening started off with CID, who got the crowd\'s approval with his deep house mix that was perfect for a Chicago setting, as we know a thing or two about worthy house music.  He continued to play his latest hits such as \"Love Is Blind\" and \"No!\" as the crowd poured into the venue for the sold out show.
Next up: Galantis.
Penetrating red lights flooded the stage as an image of the well-known Seafox (the mystical and mysterious Galantis mascot) appeared on a split screen that demanded the crowd\'s attention, while the chorus from duo\'s first single, \"Smile,\" blared throughout the venue.  They officially opened their set with their hit track, \"Runaway (You & I),\" which proved to be a fan favorite as the crowd sang along at the top of their lungs and confetti poured down from the sky.  The entire night quickly became a giant dance party for all who attended with its pulsating basslines, strategically placed cryo jets and lights so wild that even the production crew wore sunglasses in the control booth (no, I\'m not kidding).
The duo went on to perform other hit singles such as my personal favorite, \"You,\" which the crowd went wild for when the Seafox herself made a live appearance and danced around on stage with Galantis.  During \"In My Head,\" Linus and Christian played on several percussion instruments to add to the intensity of the track\'s beats, which actually ended up being one of my favorite effects of the show.  It was a feeling as if you were in the studio alongside the two during their creative music process as opposed to just witnessing them \"press play\" on a soundboard.  I thoroughly enjoyed watching the duo as they jumped around on stage displaying so much energy and synchronicity that made you question if it\'s at all choreographed.
After the constant high energy hits, Galantis allowed fans to catch their breath after yelling, \"Chicago, are you ready for some house music?!\"  They even showed off their fun and playful side by surprising the crowd with some hip-hop mashups of Snoop Dogg\'s \"Drop It Like It\'s Hot\" and Drake\'s \"Hotline Bling,\" which fans gladly accepted as they sang along.
As the set was coming to a close, it was only appropriate that the two play their latest single from their album Pharmacy titled, \"Peanut Butter Jelly\" while waving their branded flags in the air, acting as ringleaders to a memorable musical movement.  The group then introduced one of their latest remixes of Florence + The Machine\'s \"Delilah,\" an awesome rendition that you need to check out if you haven\'t done so already.
The night sadly came to an end with a surprise encore of \"Runaway (You & I)\" once again, which transformed into the sped up trap version of Dillon Francis\'s remix, giving fans one last chance to go all out.  The infamous Seafox also joined Galantis onstage once again for the finale as confetti poured from the skies yet again.
As the lights came on, I was all of a sudden brought back to the reality that I was there alone.  However during the show, I can honestly say that I never felt \"alone\" at all.  I felt in unity with all the fans, people who shared my same love and interest for the music.  Galantis made that possible.  Their show was so mesmerizing that I was fully engaged and entertained the entire time despite being there alone.  I smiled, danced and sang along to every song without caring about who was watching and I think that should be the main objective of every show for every artist.
Thank you Galantis for exceeding my expectations and letting me experience one of the most fun and memorable shows of my life.  Even if it was by myself.
For more information on Galantis and their \'Louder Harder Better\' Tour, click here and check out some pictures from their Chicago show below.
[foogallery id=\"35213\"]
Photo Credit: Ryan Pergola