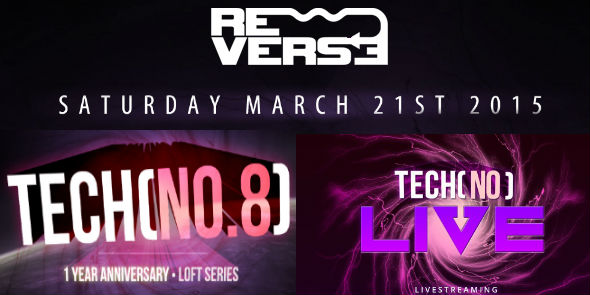 It\'s hard to believe that it has already been a year. I remember walking into the first Tech(no) event after receiving an invitation through a friend who was promoting it. To be honest, I didn\'t know what to think. I wasn\'t familiar with Reverse Events. When I tried researching them, I couldn\'t find much information, either. New underground promoters are not always the best at throwing events. There is a lot of work that takes place behind the scenes to ensure the event is a success. It isn\'t easy for me to say no to a loft party, however, especially one that is dedicated to techno, so I decided I would give it a shot. Making the decision easier was the line up which included headlining performances from Daniele Petronelli and Gaty Lopez along with support from Twitchin Skratch, M. Sylvia (of NORDJs), Miester, Zookie Tunes, and Gino Dinella.
It didn\'t take long to decide I had made the right choice. Reverse Events not only presented the event attendees with undeniable proof that they could throw a party, they assured them they could do the techno genre justice. The event had top tier production and enough talent under one roof to keep the party going until the early morning. Tech(no) and Reverse Events have come a long way since their more humble origins, with each event attempting to out do the previous one, all the way through the recent Tech(no.7) and the Masquerade Ball (hosted in partnership with Paradox Chicago). Reverse Events has found it\'s way towards being a permanent go-to for planning my nightlife.
When I say that the events have come a long way, I am not stretching the truth. Since the first event I have been in attendance of every Tech(no) party with the exception of one and I have never left with anything but a smile (and maybe some soreness from dancing). The Tech(no) series has been a reliable offering for a proper taste of Chicago\'s underground. While the series has been increasingly ambitious in their talent offerings, from the international bookings to the carefully chosen Chicago talent (even welcoming local club owners and scene giants, Dino G. and Derek Specs), they have been equally as ambitious with their sound and production. From an increased effort behind the presentation of visuals and lighting to an actively monitored sound system filling the loft space with enough of a driving techno sound to end world conflict, I always look forward to seeing how they will outdo themselves at their upcoming parties.
The most recent party was no exception. Among the improvements was the impressive stage design brought to you by Yegor, one of the loft party masterminds behind Reverse Events (and also a performing artist at the events as Miester). What I could only describe as some sort of space craft, the circular installation was an impressive sight that was met with a verbal reaction from nearly everyone that walked in the door that night. Accompanied by multiple screens presenting beat synced visuals and an impressive assortment of  lasers and lighting, the production value rivaled many permanent installations. While my words may not do it justice, the recap video presented by Invisual Media Pro does it quite well.
While mentally recapping the numerous Tech(no) events I have attended brings back a lot of memories, Reverse Events is continuing the trend of moving forward with the announcement of Tech(no.8) on March 21st, their one year anniversary party. In homage to the party that started it all, welcomed back to headline the event will be Daniele Petronelli and Gaty Lopez joined by a line up of Chicago favorites, Bucky Fargo, Jason Patrick, Miester, Twitchin Skratch, Zander, and Ken Sheldon. As if the reputation of the Tech(no) series along side the impressive line up of Techno-head performers wasn\'t justice enough for out-doing their prior offerings, Reverse Events decided to step up once again by inviting the rest of the world to catch the action.
Teaming up with Jaime Black and Mikul Wing of Dynasty Podcast and Future Factory, the team that has been bringing a party to your home through their recently started #PublicTV podcast, Tech(no8) will be the first event in the series to be available online via a live stream. While I would highly suggest attending the event in person, if you are unable to, you can tune in to the live stream and bring the dance floor to your living room.
It seems just yesterday that I walked into the doors of the loft for my first Tech(no) party, but as the saying goes, \'time flies when you are having fun.\' From both a music writer who has interviewed artists featured in the series and a techno-head who looks forward to every tech(no) event with enthusiasm, I would like to extend a Happy Birthday to the team at Reverse Events. It has been a big year for your team and Chicago thanks you for it.
Tickets to the event are available on Resident Advisor. More information is available on the Reverse Events Website. See you all there!