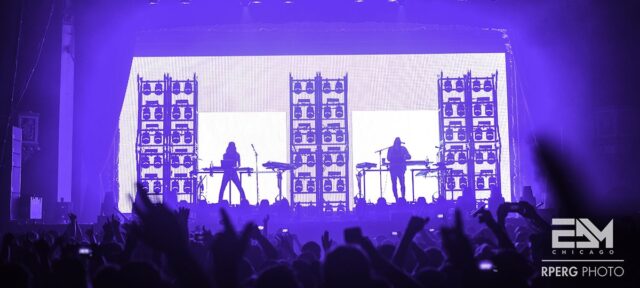 Goosebumps. That's the effect Porter Robinson and Madeon had on many of us Wednesday evening at the Aragon Ballroom as the artists brought their Shelter Live Tour to Chicago. To be completely honest, I'm more of a fan of Porter, and was really looking forward to mainly hearing his songs. But the Porter/Madeon combo was so unique in that their musical styles meshed so well together, that the artists brought their own twist to each other's songs and enhanced the overall experience. It also goes without saying that both Porter Robinson and Madeon are incredibly talented musicians, playing drums, cymbals, keyboard, and even singing on quite a few tracks (with quite impressive live voices). The whole event was an incredible showcase of their unique musical abilities and an energy at the venue that was entirely palpable throughout the night.
Madeon and Porter began with their collaboration and title track of their tour, "Shelter" using a slow and melodic build up until the all-too-recognizable synth-y vocal repetition in the beginning of the song kicks in. The song was high energy and a perfect way to kick off the night and introduce this tone of melodic, blissful vocals mixed with hard-hitting bass, with a little hint of "Divinity" towards the end. Another moment that had the whole crowd singing was "Sad Machine". While the song was perfectly executed and was an anthem to the crowd, perhaps the best moment was when Madeon kicked it up a notch by injecting "You're On" into it, much like the Shelter Live Tour trailer below.
last day of shelter live rehearsals before the first show

Posted by Porter Robinson on Wednesday, September 28, 2016
Another goosebump-inducing moment was "Divinity", performed with a melodic build up and bass that really made you want to jump up and down hard (there were a lot of those moments throughout the night). Other delights included a stripped down version of mega-hit "Easy" by Porter Robinson featuring Mat Zo mixed with Madeon and Passion Pit\'s "Pay No Mind" . The artists weren't afraid to experiment with new styles as they brought a harder, "Fresh Static Snow"-like introduction to Madeon's "Ok" and even brought some Daft Punk "Around The World" to the set. Perhaps one of my favorite moments was when they played the slow, instrumental build up of Porter's "Fellow Feeling" mixed with high-energy "Icarus" by Madeon. This truly got the crowd up and running to start to close out the show.
The artists began to finalize the show with "Goodbye To A World" as letters spelled out the lyrics behind them in both English and Porter's cryptic language from Worlds. The song was a great way to end the show on a high note – and it absolutely did. Usually when a show ends the crowd usually chants "one more song", or something of that nature. But what happened here was truly an iconic moment of the show. I don't know if this is common or not, but a large portion of the crowd started stomping their feet wanting more. I have never actually felt a rumble and shake on the ground from the sheer amount of people stomping their feet demanding more. In good-natured fashion, Porter and Madeon came back on stage to play one last song. I only had one track in mind: "Language". This is probably the song that got me absolutely hooked on electronic music. I think it\'s so iconic and timeless that it\'ll be up there with the classics in years to come. Madeon began singing "Shelter" and hinted at "Language" by singing the hook – "I'll be ok". Immediately the "Language" chords came in and the crowd went insane. It was a beautiful, high-energy and fulfilling moment for the end of the show. Goosebumps filled my spine as I thought back to 2011 and how much that song meant to me.
If their debut collaboration is about the beauty of making music and sharing it with their fans, Porter Robinson and Madeon have truly embraced that in their Shelter Live Tour. Throughout the show, they incessantly thanked the crowd and their fans for their support, and we could truly feel that they cared about making good music for us. As their "Shelter" lyrics suggest, "It's a long way forward, trust in me", Madeon and Porter Robinson have long careers ahead of them, and we can be sure that they'll keep producing and performing incredible music.
Check out our photo gallery from the show below:
[foogallery id=\"42690\"]
Photos by: RPerg