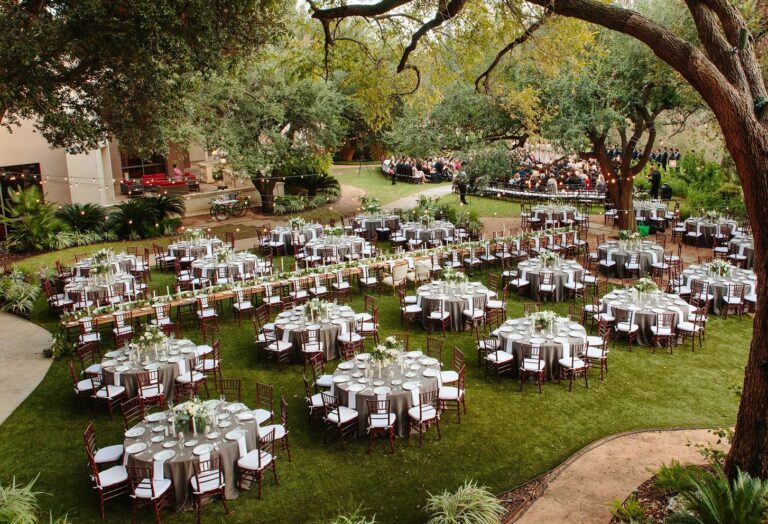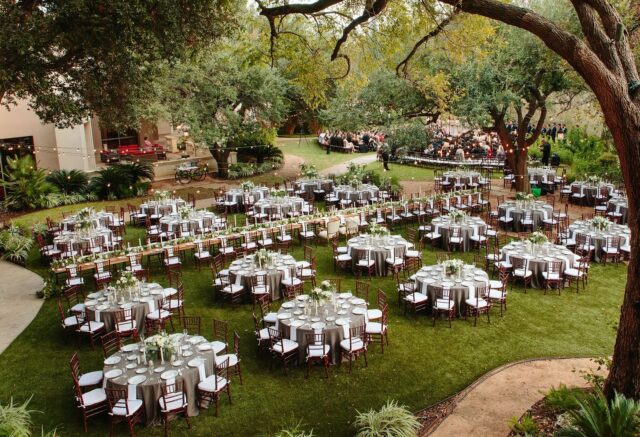 Many women dream of one-day arriving at the altar and saying: "Yes, I accept" the person we love the most in this world. It is incredible the emotion that invades our body to see that very soon we will be with that person with whom we will build our home. But the moment the marriage proposal is made to us, the journey of preparing for the wedding begins. And this is often a cause of stress and sleeplessness because each woman wants to have the most incredible and unforgettable wedding.
One of the main points of the wedding preparations is to choose the ideal place where the magical celebration will take place. The place always takes a long time to choose, because it depends a lot on the date, if the place is available or if it fits our budget. But something that has become increasingly common is to perform the wedding outdoors. Where the nature of these places is magical and gives an air of simplicity and tenderness that surrounds the beautiful moment. Many times less is more and at an outdoor wedding, it allows you to do something beautiful but with very little where details are important to make a difference. That is why we propose two types of outdoor places that you will surely like to decorate to your choice and taste.
Beach wedding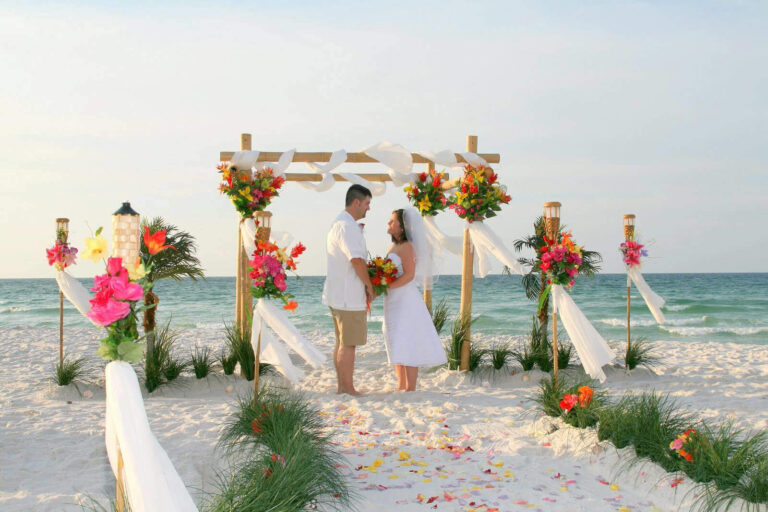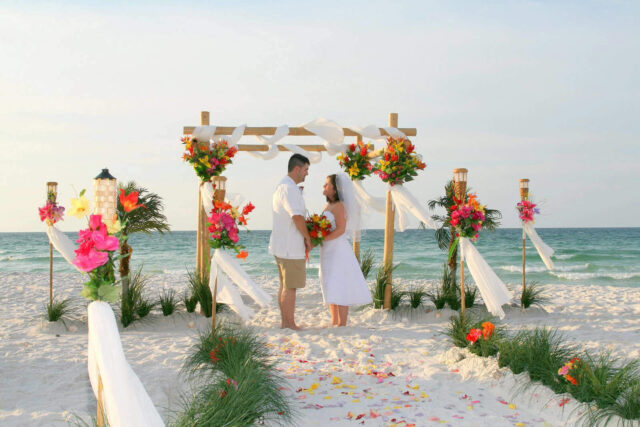 A very original and unique celebration is perfect for the beach, apart from giving your guests the comfort of living your wedding experience in such a quiet and peaceful place. You can choose a beach that brings back fond memories, or where you first vacationed with your partner or the beach that is close to where you live. But to choose the ideal place, you must know if permits are needed to be able to occupy the place, each place is under the legislation and you have to know the previous procedures.
Do not forget that the guests must feel comfortable and if the guests do not live near the sea, you should take into account that there is accommodation near the celebration to accommodate your guests, apart from celebrating your wedding you can provide them with the opportunity to take advantage of the vacation trip. It is important to know that, at the time when your wedding is going to take place, it must have the magical sunset, it is essential if you have the sea in front of you to be able to see such a wonderful view. Also in the place of the celebration, you must place tents to give shadows where the tables of your guests will be located, because you must make sure to protect them from the sun.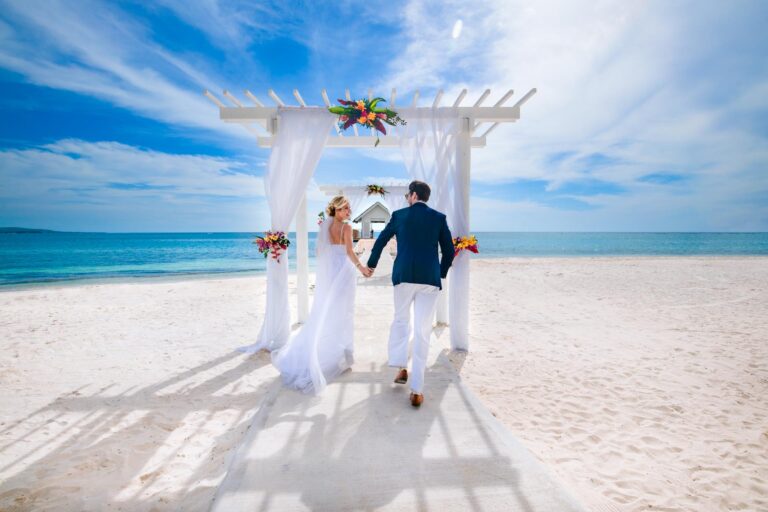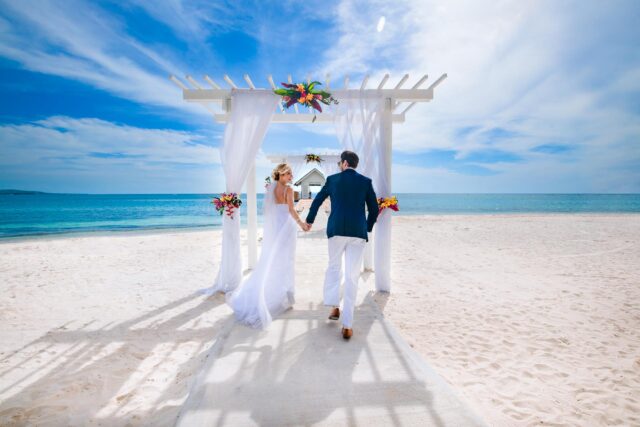 In planning the decoration, it is important to focus on something romantic, with flowers in pastel tones and very warm colors that contrast with the sand, the sea, and the sun. Remember that a beach is a place of quiet relaxation where good energy flows and everything is very beautiful. So everything you plan for decorating should evoke that message of peace. The turquoise, light green, beige, coral, and light yellow tones are perfect, look for the one that is closest to your taste. For the night after sunset, lighting your party with some candles will add to a harmonious celebration.
The dress, something that must combine with the place, you should choose something simple, soft and light fabrics, a simple dress that allows you to move around the sand and look very sweet. The perfect fabrics are organized and silk. To add to our original wedding, you should consider implementing a straw hat for your stunning dress. In recent years, the use of the Panama Hat or Toquilla Straw Hat has become popular, a handmade hat
made of natural fiber, which can be worn at your wedding to mark style and confidence. What do you think if you use it with your court of honor? It would look fabulous. You could also encourage your guests to wear hats according to the occasion and look very cool. You could make that proposal. Now that you have these tips for an unforgettable beach wedding, maybe you can put it to your partner's consideration. For more information about the Panama Hats products visit >> Ecuadorianhands
Country wedding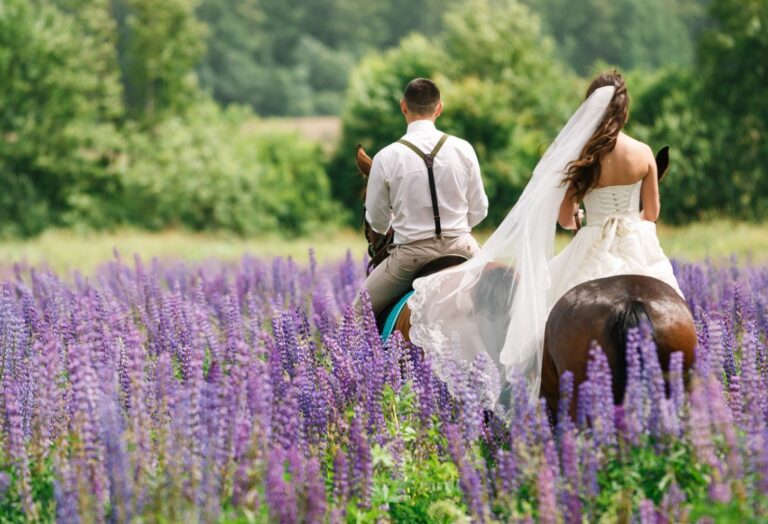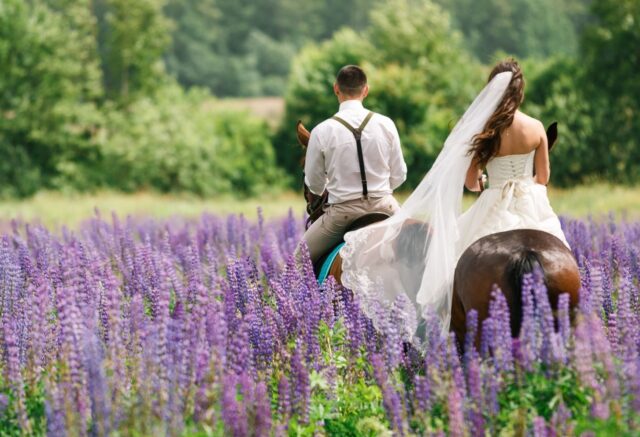 A wedding in the countryside is very beautiful, nature, trees, and flowers everywhere make it a stage like a fairy tale. It is simple, a country wedding is life and harmony, perfect for couples who enjoy fullness and want to perpetuate their love in the tranquility of the naturalness of the country. But the details that you should take into account are the following. First the ideal site, there are places in the field that are offered for this type of celebration, you must research and find which one is best for your tastes. If you want to do it in a specific forest you must know the permissions and plan in advance.
According to MILK Books, country wedding venues are one of the greatest backdrops for photography because of the aforementioned details.
The weather is also essential, it is reasonable not to know exactly if your wedding day will be very hot, it will rain or there will be wind, but surely those who know the place know what dates are the best to do your wedding, and can predict almost exactly if it will rain or be hot depending on the season. You must find out exactly which day is the right one so that everything turns out perfect as you dream. An alternative is to set up tents or protection to avoid any incident.
You must take into account the quality of the floor since you must inform your guests so that they use footwear according to the place. And consider setting up a dance floor to avoid slipping or tripping of your guests. Remember that you must also create a safe atmosphere, therefore, if your wedding lasts until nightfall, the lighting should look great, but above all, it should evoke the rustic of the place, some lamps will be wonderful and light such as lampposts or light curtains will they will give a nice atmosphere. You can also consider using candles to romanticize the place.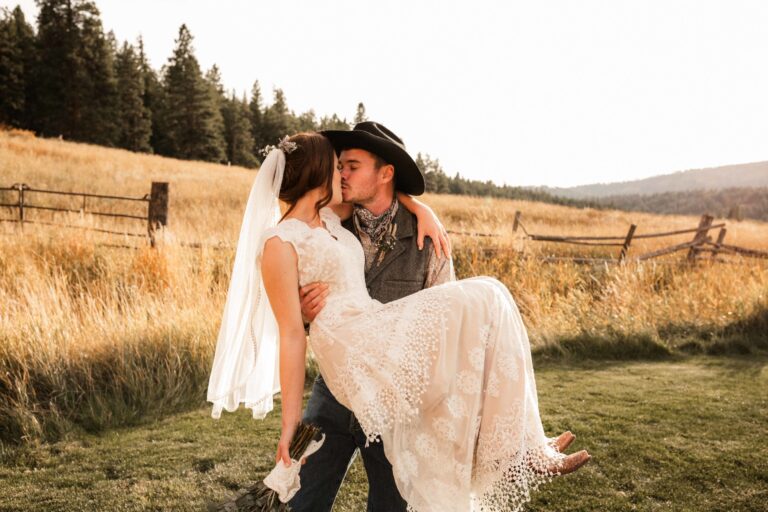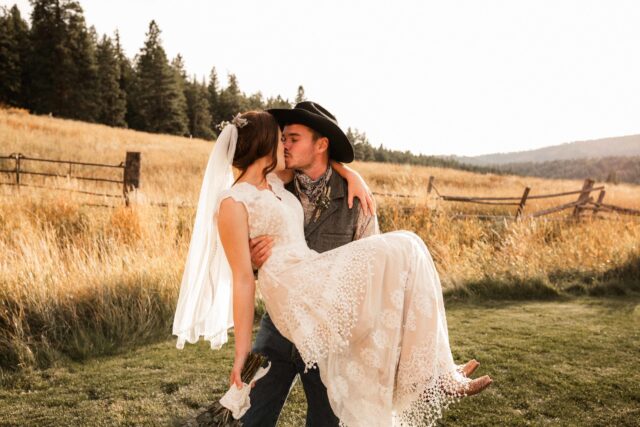 Use local plants, shrubs and decorate them with flowers in the decoration. Remember that the colors for country weddings are lilac, beige, white, coffee, pink or pastel tones. They must contrast with the tones of the environment you have chosen. The decoration is essential in the use of many flowers or plants that enhance the green environment of the place. You can give your life an ecological sense and use native flowers from the place and elaborate the centerpieces, giving an ecological air that will surely stand out at your wedding.
Your dress has to be very simple because you must look like something out of a fairy tale, tulle is a very appreciated fabric, silk is also a very good, simple lace. You may want to check out these gorgeous rustic wedding dresses from Avery Austin and see the perfect match for your outdoor wedding. And you can add a flower crown to your style to look very natural and simple. Your court of honor can also wear matching flower crowns and look fabulous.
Do not forget that you are the protagonist of your wedding and that everything must be very beautiful for that great day, do not stress and enjoy the whole trip that means preparing your marriage, remember that everything beautiful should denote the love between you and your partner.