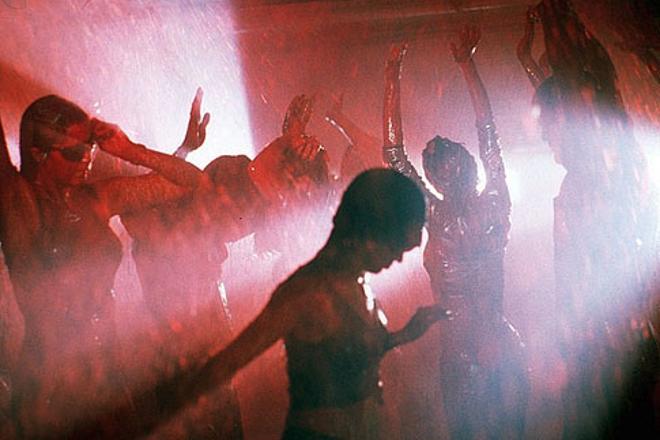 Yes, it\'s exactly what you\'re thinking. Blood spraying you from the ceiling as you dance. This \"blood rave\" (better known as a \"Blade Rave\", based off of Blade, a 1998 action movie about a vampire hunter named Blade. He\'s a half-vampire, half-human), is an event that showers the crowd in blood as they dance away to music. Weird, right?
Though the event itself has the means to be called weird, the weirder part is this \"rave\" doesn\'t necessarily have any basis in EDM. Instead of bringing this blood rave to the EDM community, it was brought to a selective group of people. The rave was put on by BBQ Films, an "event production company that creates immersive cinematic experiences in extraordinary locations", whose "passionate Film Crew brings our favorite movies to life via interactive installations—whether that's Back to the Future's Enchantment Under the Sea Dance, or The Fifth Element's Fhloston Paradise."
The problem with this novelty blood rave is that it\'s specific to one group of people. This specific group voluntarily attends based on their feelings towards the \"Blade Rave\" movie. The question now lies in this: why isn\'t this blood rave going to true electronic music events?
Imagine this: you\'re dancing, jamming out to one of your favorite artists, and all of a sudden, 1,500 liters of \"blood\" begins spraying the crowd. What would you think? Would you keep dancing or audibly freak out and become concerned?
It\'s possible that there could be a huge market for this. Life In Color throws paint at the crowd, and multiple other festivals utilize items such as confetti cannons and smoke machines.
What do you think about the idea of a \"blood rave\" being brought into the EDM scene? Would you want smoke cannons replaced with blood cannons? Let us know in the comments below.