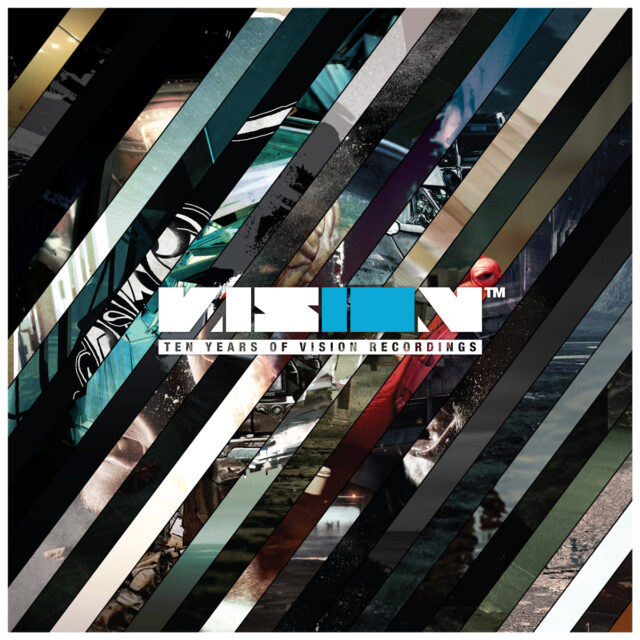 Next week, Noisia will be releasing their compilation 'Ten Years Of Vision Recordings' on the trio's Vision Recordings imprint.
The album includes 22 remastered tracks from the label's back catalogue, and two new unreleased songs (bundle only) – Noisia's 'Incessant', and a collaboration between Noisia, Mefjus & Hybris called 'Reptilians'.
'Ten Years Of Vision Recordings' is available on all digital platforms, and as a double CD accompanied by a limited edition forty page book showcasing ten years of Vision artwork, featuring all vinyl, CD and digital covers, booklets and sleeves. You can pre-order it now.
This compilation coincides with the launch of the 2015 Noisia Invites tour, featuring 10 European shows across Austria, Hungary, Czech Republic, Denmark, UK, The Netherlands (x2), Italy and France (x2). The concept sees Noisia host, curate and play each event, alongside a handpicked selection of leading and emerging talent.
Fun fact of the day: The name \'NOISIA\' was found by reading an upside down VHS tape with the word 'VISION' on it. (Hence also \'Vision Recordings\')
Noisia Invites Tour Dates:
21.02 Akvarium/Budapest (Hungary)
27.02 Let It Roll Festival/Prague (Czech Republic)
28.02 Pumpehuset/Copenhagen (Denmark)
13.03 Canal Mills/ Leeds (United Kingdom)
27.03 Melkweg/Amsterdam (The Netherlands)
28.03 Link/Bologna (Italy)
17.04 Le Bikini/Toulouse (France)
18.04 Insane Festival/Avignon (France)
26.04 De Oosterpoort/Groningen (The Netherlands)
Buy tickets >
Tracklist:
Disk 1
01. Noisia – The Tide
02. Noisia – Concussion
03. Noisia – Bad Dreams
04. Noisia & Mayhem – Exodus (feat. KRS-One)
05. Noisia & Phace – Cannonball
06. Noisia & Black Sun Empire – Infusion
07. Noisia – Stigma
08. Noisia – Thursday
09. Noisia – Hand Gestures (feat. Joe Seven)
10. Noisia – Shellshock (feat. Foreign Beggars)
11. Noisia – Diplodocus
12. Noisia & Spor – Falling Through
13. Noisia – Friendly Intentions
Disk 2
01. Noisia & Phace – Program
02. Noisia – Could This Be
03. Noisia & Phace – Imperial
04. Noisia & The Upbeats – Dustup
05. The Upbeats – Undertaker
06. The Upbeats – Beyond Reality
07. Noisia & Calyx & TeeBee – Hyenas
08. Noisia – Oh Oh
09. Noisia – Running Blind
10. Noisia & Mefjus & Hybris – Reptilians
11. Noisia – Incessant