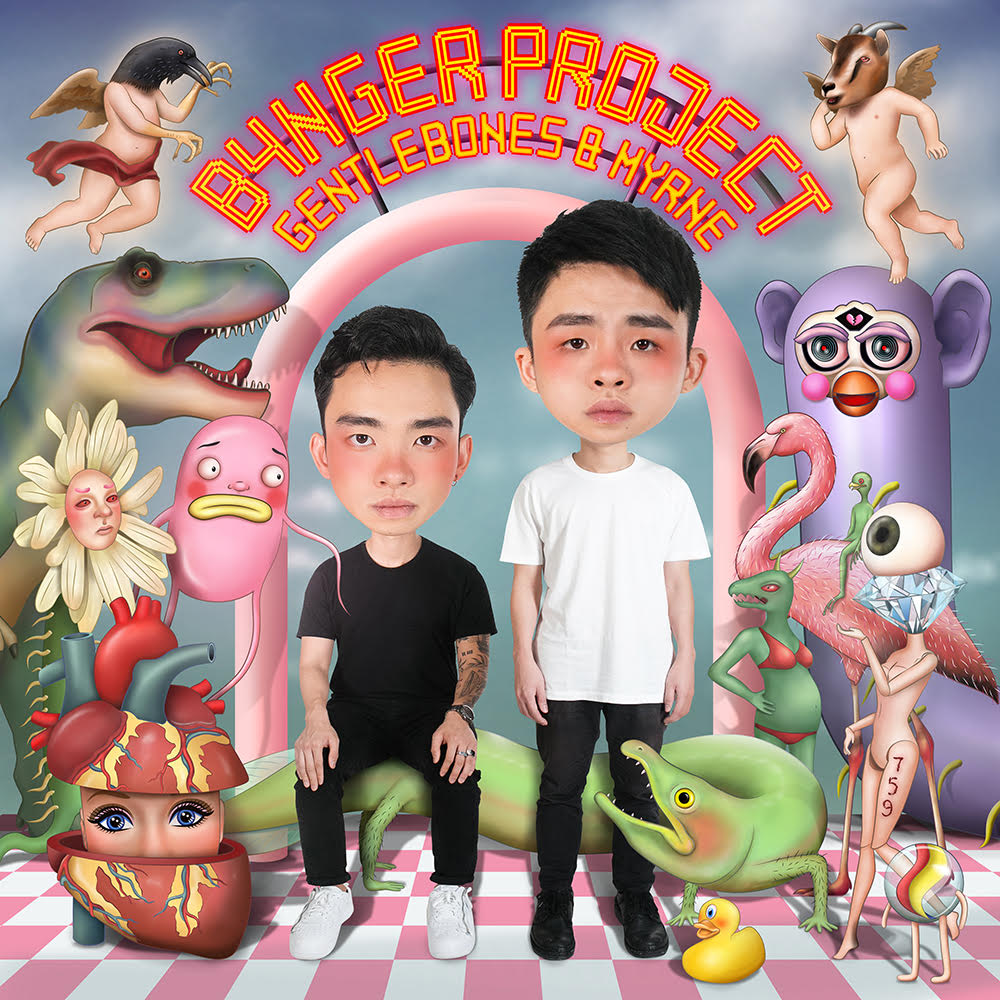 Gentle Bones and MYRNE are two of the hottest Singapore-based music talents in the electronic and pop culture right now. Gentle Bones paired with Myrne is the perfect combination of songwriter and producer. The two have been hard at work bringing us this new fresh LP "B4NGER PROJECT." This LP combines an abundance of different elements ranging from pop, trap, R&B, and funk. The two worked in infectious hooks and catchy melodies. This 10 track LP progresses throughout, giving the audience some jams for the dance floor as well as some smooth after hours music. 
The opening single "JULY" brings more dance tones with Gentle Bones on the vocals and a seemingly electro inspired beat from MYRNE. "CRA2Y" is up next with a retro feel comprised of grooving basslines. "S3OUL" takes a turn using more of a chilled out piano track that brings a new sound to the LP. "B4NGER" gives us insight into how the LP came about and the influences behind it. "5HE DGAF" incorporates melodic synths, and even a xylophone.   
Moving on we encounter the gloomy "6" whichallows MYRNE to veer into his usual trap territory with an eclectic low end, while the sparkly "7OVE YOU" uses emphasis on an electric guitar. MYRNE uses his infamous 808's in "HEART8BREAKS." The following "9" is geared towards R&B that showcases their downtempo work. And last, but certainly not least; "V0DKA" wraps up the entire LP with a cinematic and grand gesture tone with lyrics from Sam Rui. 
The two seem to be a match made in heaven. This LP is creative, diverse, and electrifying. The two clearly had a great time putting this one together for their audience. In Gentle Bones own words; "Working with MYRNE is such fun. We spent a year in between his bedroom and recording studios to complete this record. This collaborative sound we've achieved is something I am really proud of. We wrote the songs as we would for the journal entries in our heads."
MYRNE seemed to have similar views on the collaborative project."I've known Joel since his first indie-folk EP, which I did a remix for. Two years later, he put out a project that was a little more electronic, and we realized we could work on something together. The B4NGER PROJECT came together in a very natural way, with both of us sitting together in every session writing and producing. Joel would come over and I'd ask, "what are you feeling today?" and we'd write an entire song in a day for that mood. All the records on this project are playful, nostalgic, serious, and tongue-in-cheek at the same time. We wanted to put this record out to show that yes, you can produce and mix a record in your bedroom, and that Singapore has more than enough talent for music to thrive." 
To check out the full LP in it's entirety be sure to listen below. This is a masterpiece driven by two of the most creative music heads and we're glad they teamed up for this album.