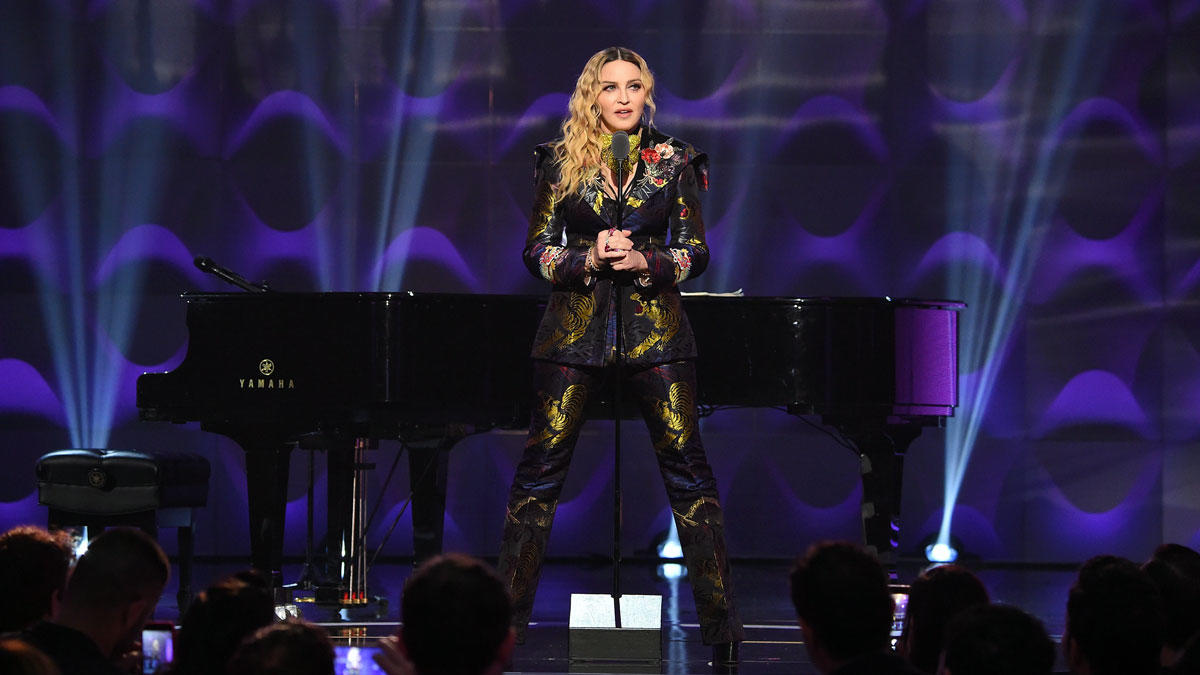 Madonna and dance music are inseparable. Madonna received Billboard\'s Woman in Music Award in a televised special on Lifetime last night. Lauded for her Rebel Heart Tour, which extended her lead as the most lucrative touring act with $1.3 billion in ticket sales, as well as her charity work in Malawi, Madonna is a cultural icon and a living legend with no equal. In a stirring acceptance speech, Madonna stated the most controversial thing she\'s done is stick around. With the deaths of Michael Jackson, David Bowie and Prince (to name just a few), the Material Girl\'s intelligence, work ethic, and healthy lifestyle has kept her \"relevant and revolutionary for more than 30 years,\" as Anderson Cooper introduced her. At 58 years old, Madonna is attacked more than ever online as being old, a has-been, and ugly, in addition to the usual criticism of being a talentless, satanic, slut.
Placing this criticism in the context of misogyny, Madonna started to cry, showing a vulnerable side she rarely exposes. \"I\'m a bad feminist,\" she exclaimed, owning that even women hate her for her success, and her outspoken rebellious spirit. Women\'s rights, gay rights, and even human rights in general would not be where they are today if Madonna hadn\'t paved the way with every calculated provocation and artistic expression. The world owes her a lot of gratitude, but rarely gives it, despite the fact that she took the punches so artists like Miley Cyrus could get away with anything today without so much as a raised eyebrow. Her pioneering work with AIDS charities in the 80s came at a time when being gay wasn\'t socially acceptable, and long before an artist would dare to be identified with that community. Today, Taylor Swift can be a gay icon despite saying little in support of her LGBT fans. Madonna has always been a trailblazer.
Billboard also named Madonna their most successful dance artist of all time. With 157 number ones on all charts, more than any artist ever, even Elvis and the Beatles, 46 of those are on the Dance Club Songs chart. Madonna has charted every year since her debut in 1982 with the infectious dance song \"Everybody\" all the way to her recent number one, the Sophie and Diplo produced vaporwave hit \"Bitch, I\'m Madonna.\" No single DJ or producer has more hits than she does, and no other singer—not even Beyonce, Rihanna, Taylor Swift or Jay Z—does either.
Madonna is celebrated for embracing emerging dance sounds and bringing them into the mainstream. She is an expert at identifying and collaborating with talented producers. Every dance genre we\'ve come to love since the 1980s owes a debt of gratitude to Madonna. She started out with new wave, and then dance-pop, and then 90s house with the iconic song \"Vogue.\" Her 1990s record \"Ray of Light\" explored dark, European melodic house, which she developed into thumping rave music with \"Music\" released in 2000. It is 2005\'s \"Confessions on a Dance Floor\" that ushered in the craze for EDM that really surged around 2008. Lead single \"Hung Up\" charted at number one in the most countries ever, and showed the world that it is indeed cool to dance. 2012\' \"MDNA\" saw Madonna embracing EDM outright, with Benny Benassi taking the helm.
William Orbit, Mirwais, Diplo, Avicii, Stuart Price, Galantis, Bloodpop, Benny Benassi have all produced hit singles for Madonna. It is her pioneering use of DJs to remix her pop songs, such as Dirty Vegas back in the 90s or Laidback Luke in the 2000s, that placed her so many times on the peak of the Dance Club Songs chart. Taking a look at a single remix EP reveals a list of the world\'s best DJs, all clamoring to work with her and bring her songs to the dancefloor of clubs from 1982 to the present.
Madonna\'s message has been one of empowerment, self-expression, spiritual enlightenment, and emotional honesty. But first and foremost it\'s always been an invitation to dance. Billboard named 1985\'s \"Into the Groove\" as the most successful dance song of the 80s, and its call remains just as jubilant today: \"You can dance for inspiration, come on!\"
Watch her acceptance speech below: