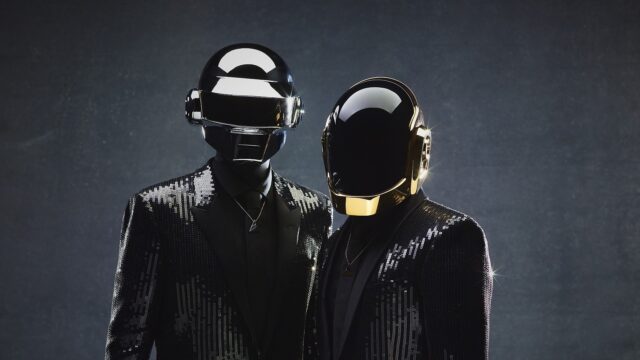 Daft Punk, the legendary humanoid robots, seem to be making a hopeful comeback as of lately, seeing their recent star studded collaboration with The Weeknd and rumors of a possible Alive 2017 Tour.
But did you know that their debut album \'Homework\' celebrated its 20th anniversary this past January 20th? – No that\'s not a typo. It\'s actually been 20 years –
With revolutionary anthems like Da Funk, Around The World, and Alive, it wouldn\'t be an overstatement when saying that \'Homework\' planted the seeds of modern electronic music.
As an honorary tribute to the robots\' legacy, two compilations have surfaced on the web both under the befitting title, \'Teachers\', and you might want to check them out.
The first is a playlist curated by one mega fan who goes by the name CK Boognotic, who supposedly dug through archives and archives of the duo\'s initial musical inspiration to culminate a near bible of prehistoric electronic tunes.
The second is an hour and twenty minute mix by FACT Magazine, and is a massive collage of early dance floor jams.
Both compilations proudly demonstrate the influence the two pioneers have had on today\'s generation of electronic dance music, and punctually represent the roots the great French duo originate from.
So whether you consider yourself an avid Daft Punk fan or not, we highly recommend you add these to your week\'s playlist.
Enjoy!
Tron excerpt
Deepside – 'French'
Ian Pooley – 'Mutual Extend'
DJ Sneak – 'Drums Are Us'
'Heroes in their own home' – 1986 Chicago TV report
DJ Hyperactive – 'Alteno'
Bomb the Bass – 'Beat Dis'
Drexciya – 'Lardossen Funk'
Herbie Hancock – 'Nobu'
Cerrone – 'Sweet Drums'
Boogie Down Productions – 'Jimmy'
Sparks – 'Beat the Clock' (Extended 12")
DJ Deeon – 'World War 3 Beat/Teachapella'
Paul Johnson – 'Aww Shit'
DJ Sneak – 'Keep on Groovin' (Ian Pooley Fierce mix)
Basement Jaxx – 'Deep Jackin'
Prince – 'Purple Music'/'Automatic'
DJ Funk – 'I'm So Hi'
Jack Da Ripper – 'Jack's Back'
Lil Louis – 'French Kiss'
The Madam/The Prince – 'The Sensuous Black Woman Meets The Sensuous Black Man'
Laurent Garnier – 'The Hoe' (Old School mix)
Serge Gainsbourg – 'CK's Whitneypella'
Basement Jaxx – 'Fly Life'/Blair – 'Life' (Derrick Carter remix)
Romanthony – 'Testify'
DJ Gregory – 'Hands'
DJ Slugo – 'Love Sensation' (rx)
Isaac Hayes – 'I Can't Turn Around' (Ashley Beedle edit)
The Jacksons – 'Living Together'
K.I.D. – 'Don't Stop'
Sugarhill Gang – 'Rapper's Reprise'
Chic – 'I Feel Your Love Comin' On'
326 – 'Falling' (Mike Dunn remix)
Deee-Lite – 'What Is Love' (Frenchapella)
DJ Pierre – 'The Horn Song'
Lil' Mo' Yin Yang – 'Reach'
Ruffneck – 'Everybody Be Somebody' (A capella)
Dimitri from Paris – 'Free Ton Style'/MFSB – 'Mysteries of the World'
Gene Farris – 'Disco Heaven'
Cameo – 'It's Serious'
Stevie Wonder – 'Race Babbling'
Luke Slater – 'Purely'
Boris Dlugosch – 'Keep Pushin''
Kraftwerk – 'Computer World 2′
Jammin' Gerald – 'Pump That Shit Up'
Jammin Gerald – 'Body Heat Track'
JohNick – 'Planet JohNick'
Trankilou – 'Atom Funk'
Fantom – 'Faithfull' (CK's Luv Dancer edit)
Fantom – 'Faithfull' (Prassay [DJ Gregory] remix)
Deee-Lite – 'Good Beat' (Beatapella)
Fade II Black – 'In-Sync'
Deee-Lite – 'What Is Love' (Frenchapella)
DBX – 'Live Wire'
Robert Hood – 'Museum'
DJ Funk – 'Move Your Body'
Parris Mitchell – 'Bitches & Money'
Tyree – 'Acid Crash' rx
Kraftwerk – 'Music Non Stop'
Sync – 'Mail'
Sparks/Giorgio Moroder – 'Beat The Clock' (Canadian edit)
R-Tyme – 'Use Me' (Carl Craig remix)
The Underground Solution – 'Luv Dancin" (Roger Sanchez's In Deep Mix)
JohNick – 'Play the World'
KRS-One – 'Jack of Spades'
Gil Scott Heron – 'Corners' (Cristal edit)
Ant Banks – 'Packin' a Gun'
Kenny Dixon Jr – 'Yesterdays'
Herbie Hancock – 'You Bet Your Love'
John Carpenter – 'The End'/Afrika Bambaata – 'Bambaata's Theme'
Zapp – 'More Bounce to the Ounce'
George Clinton – 'Loopzilla'
S'Express – 'Theme from S'Express'
Phantom of the Paradise excerpt
Don Ray/Cerrone – 'Got To Have Loving'/First Choice – 'Let No Man Put Asunder'
Daft Punk – 'Fresh' (Video excerpt)
Jan Hammer – 'Crockett's Theme'
Tangerine Dream – 'Love on a Real Train'
'Guy-Manuel's Tangerine Dream'
via FACT