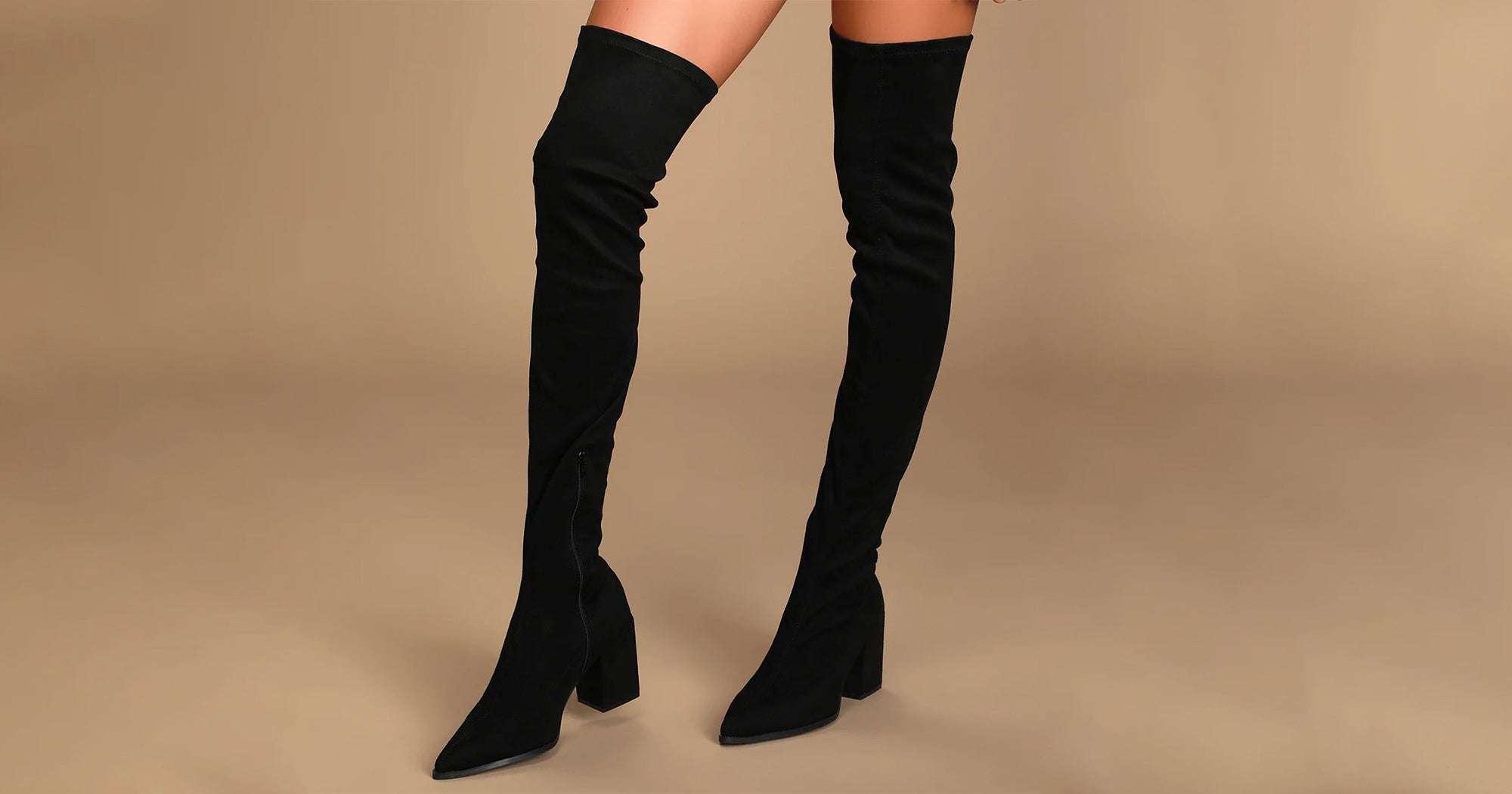 Knee-high boots are one of the top choices of fashion enthusiasts since they will make you look chic and stylish. It is possible to pair them with different types of outfits, regardless of the season. These long shoes go well with denim shorts, skirts, skinny pants, one-piece, and so on.
However, one primary drawback of these boots is that they often plunge down the knees after wearing them for some time. When these shoes slouch down, they tend to degrade your overall classy look. Do you want to know how to solve this issue and wear the long shoes without them tumbling down? If yes, check out this post.
5 Best Ways To Keep The Knee-high Boots Stay Up
Check out the best and most effective ways you can rely on to make sure that the knee-high gumboots stay in their original place without falling down.
Tighten The Pull Ties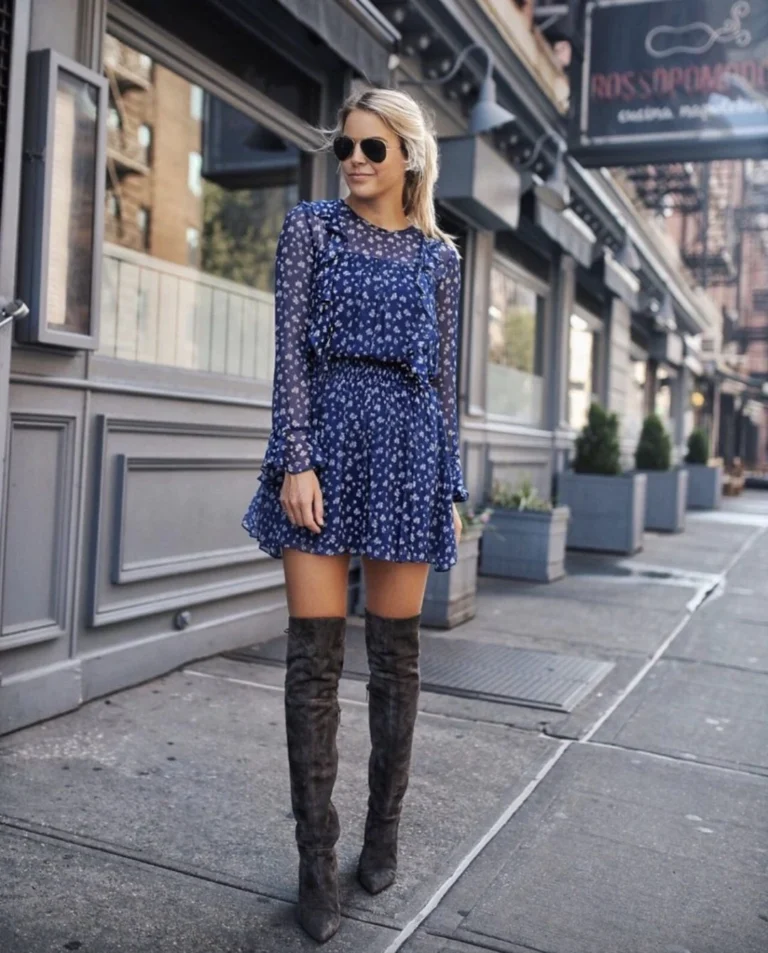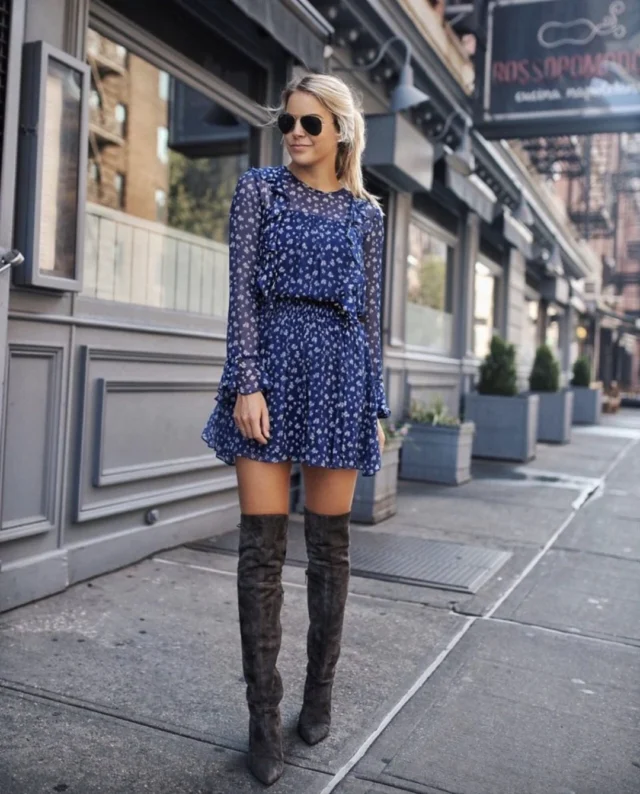 It is best to completely tighten the lace through the holes if your over-the-knee boots have a lace design instead of a zipper closure. If there is sufficient margin, fastening the pull tie twice might prevent it from plunging down. If you knot the pull ties excessively tightly, you risk slowing down your circulation, which can hurt you.
Use Stockings Or Tights
After wearing the long shoes for a certain period of time, they can occasionally retain a tiny bit of excess space. Wearing textured tights, jeggings, or leggings is an incredibly easy method to combat this. It is better to wear skinny tights, but avoid wearing stockings that are loose or have tears. The texture of the tights assists the knee-high gumboots to get the extra durability they might need to remain in place throughout the day.
Utilize Fashion Tape And Fashion Glue
It is possible to utilize fashion tape to attach your shoes to your socks. It tends to require plenty of tape pieces to retain the knee shoes in place because they are often created with a strong, durable substance such as leather. Pay attention to the hairs on your thigh when putting the tape on your skin. You might feel immense pain for a few seconds from mistakenly removing hairs with the tape as you peel it off.
If the socks do not seem to come to your thighs, you can apply fashion glue, which is made to delicately stick to your skin. You only need to add some glue on the legs on either side, put your gumboots on, and let the glue dry. In order to take them out, glide your fingers from the upper side to the bottom and peel the glue slowly.
Utilize Knee high socks
The socks will provide some grasp for the boots to cling to your legs when you wear them. Select socks that are the same length as the shoes to make them invisible if you prefer not to show them. If not, you can wear socks that are the same color as your footwear. Knee-high boots are a timeless fashion statement, and pairing them with crew socks adds a chic and cozy touch. Crew socks not only provide extra warmth during colder seasons but also create a stylish contrast when peeking out from knee-high boots. This fashion-forward combination keeps your legs both fashionable and comfortably snug.
Make Use Of Boot Straps
Another excellent option for preventing your knee-high gumboots from slouching down is to use boot straps. Either purchase ready-made versions or create your own DIY ones with elastic and Velcro to assist secure the shoes near the top of the thigh. In order to prepare it by yourself, buy sufficient elastic to equip each leg's top comfortably.
To create a band in the right size, stitch basic tack seams into the elastic. After that, you can secure it utilizing adhesive Velcro chunks. Attach the first piece of Velcro to the elastic pin and the second one inside the shoe so that they are in line.
4 Best Knee High Boots
Here are some of the best knee-high boots you can purchase right now.
1. Dream Pairs Slouchy Knee High Cowboy Boots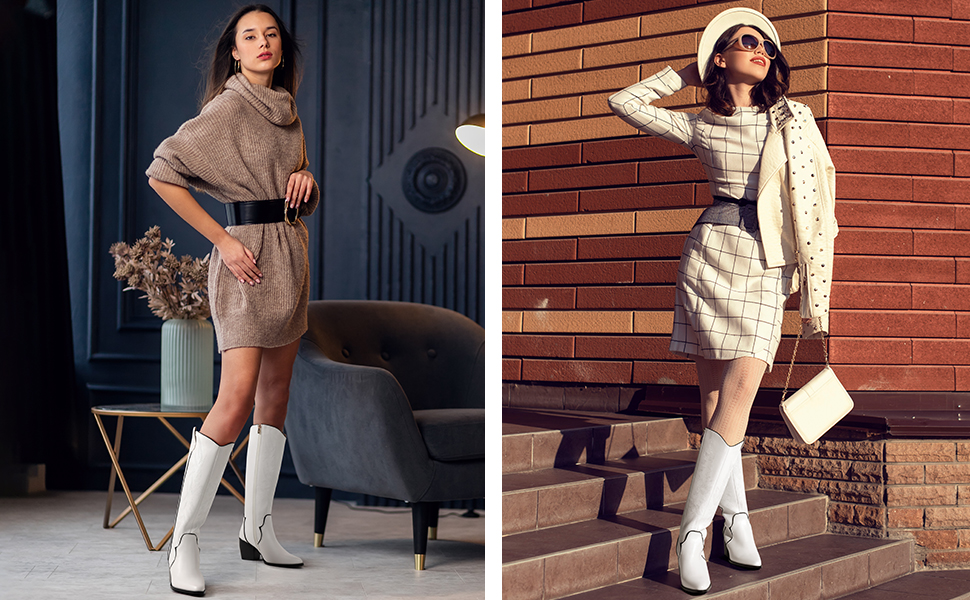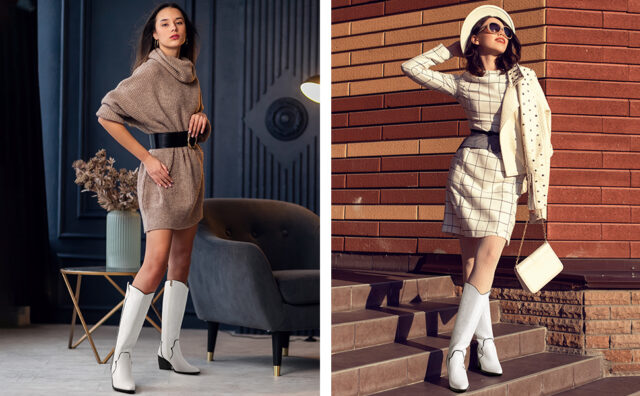 You can match these cowboy-style long shoes with skirts, denim, pants, or shorts to give a classy little look to your regular outfits. The timeless and functional pointy toes on these boots help to extend your figure. The 5mm-high heel is perfect for adding a little height without sacrificing comfort and stability.
A soft insole with a 4 mm thickness for softness and cushioning makes walking considerably more comfortable. For a more relaxed fit, the slouch detail on these long shoes is developed. You can buy the best quality knee-high boots by checking out https://www.dreampairshoes.com/collections/womens-knee-high-boots.
2. Shoe'N Tale Women Stretch Suede Chunky Heel Thigh High Over The Knee Boots
Here is another best knee-high boot model. These are made from 100% suede, and the sole substance is rubber. As it is prepared from a stretchy material, the gumboots will stick to your legs perfectly. The shaft circumference is 14 inches, and the heel is roughly 3.5 inches. The length of the shaft, excluding the heel, is 26″, and the top opening circumference is 14″.
3. Huiyuzhi Womens Pointed Toe Knee High Boots
These boots have a broad calf design, and there is a side zipper, making them easy to wear and remove. Faux suede is the main material used which feels soft on your legs and does not slouch easily. The sole is made from plastic and thermoplastic elastomers, while rubber is used for the outside surface. You can purchase these boots in 8 different colors.
4. Naturalizer Women's Adler Knee High Boot
If you are looking for a premium pair of gumboots, here is the right fit for you. These shoes feature a broad calf design with added comfort. The synthetic rubber material is used to make the sole of these boots, and the shaft circumference is 17.28 Inches. It has a round toe with a zipper at the side.
Bottom Line
The knee-high and long boots may often plunge down as you walk while wearing them. So, in order to solve this issue, we have added some of the best methods to prevent your shoes from slipping down. In addition, we have also listed a few of the best knee-high shoes which you can buy right now.