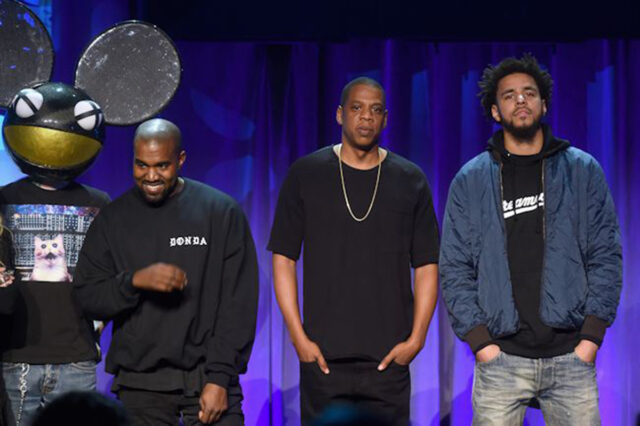 Today marked the official launch of Tidal, Jay-Z\'s new global music streaming service that was \"created by artists, for artists.\"
Today\'s press conference introduced Alicia Keys, Arcade Fire\'s Win Butler and Régine Chassagne, Beyonce, Calvin Harris, Chris Martin of Coldplay, Daft Punk, Jack White, Jason Aldean, J. Cole, Jay-Z, Kanye West, Deadmau5, Madonna, Nicki Minaj, Rihanna, and Usher as co-owners. Obviously, Tidal has rounded up an undeniably talented roster of artists across a variety of genres. This expansion across the musical spectrum gives the service a ton of attention and a wide base of likely subscribers.
The service is $9.99 for the standard sound quality one-month Premium subscription, which also includes high definition music videos and "expertly curated" editorial. The upgraded $19.99 a month version is the same, except apparently features High Fidelity sound quality. There is a thirty-day free trial available for both versions before you wholly commit to Tidal, if you choose to do so. Trial both: 60 days of music!
Vania Schlogel, a Tidal executive team member, introduced the launch stating Tidal was to epically create \"the most revolutionary music and entertainment platform for the planet.\" Really? After she announced the rock-star Tidal line-up of co-owners, Alicia Keys took to the podium and delivered what felt like a casual, well-delivered speech about how music has the power to shape culture and change the world. She mentioned that today's launch felt like a graduation and even hummed along the graduation song, which earned her some laughs. It touched on how music is a universal language, makes us feel and move in ways that we never have before, and has a powerful force in triggering memories. The monologue was a nicely written tribute to the soul and power of music, but something about connecting the event to a paid service just did not seem genuine.
From an electronic music fans\' realm, the premise of Tidal seems to match with many of our beloved artists\' beliefs, but its execution does not. How does this compare or compete with the ideals of Digital Liberation, a term worn on the hats and T-shirts of thousands of Griz\'s All Good Records fans? What about Gramatik\'s Lowtemp label, passionately dedicated to \"freeing music by making music free?\" Or the Pretty Lights label who has all its signed artists' music available at any time for free download straight from their website? Griz\'s Say It Loud is dropping for free tomorrow and Michal Menert's Space Jazz masterpiece is on our way in April for no cost. If Tidal is a move made with the belief "that it is in everyone's interests — fans, artists and the industry as a whole — to preserve the value of music, and to ensure a healthy and robust industry for years to come," why are the artists that so steadfastly hold on to the belief of free, authentic music not a part of this? The artists who clearly believe the value of music is priceless, are not a part of this.
When Keys quoted Jimi Hendrix\'s famous line \"music doesn\'t lie. If there is something to be changed in this world, then it can only happen through music,\" something was not right. Tidal is a paid subscription music service. Are we subscribing for change? Are we paying for Tidal to start a musical revolution? Music does that without money.
Schlogel also said in the opening remarks that \"today marks the true beginning of a mission to change the status quo, to reestablish the value of music, and importantly, to create a place that brings artists and fans together.\" Is the fact that we are still paying for music changing any status quo? What have we reestablished the value of music as? $9.99 a month? Is this really a place where artists and fans come together? A website?
Of course, these incredibly talented, innately gifted performers, producers, artists, social icons, innovators—geniuses, honestly—deserve to be paid for what the beauty they create. Packaging Tidal as a tribute to the social, cultural, and spiritual forces of music simply seemed a bit manipulated. This does not change the status quo or mark something revolutionary, it just marks something new. This was not a celebration of music, it was simply a celebration of the launch of a new music streaming service. Music is all of the things that this press conference said it was; Tidal, on the other hand, is a brand. This was not a tribute to the spirit of music; it was a tribute to the business of music.
About it? Subscribe here!
No about it? Why?