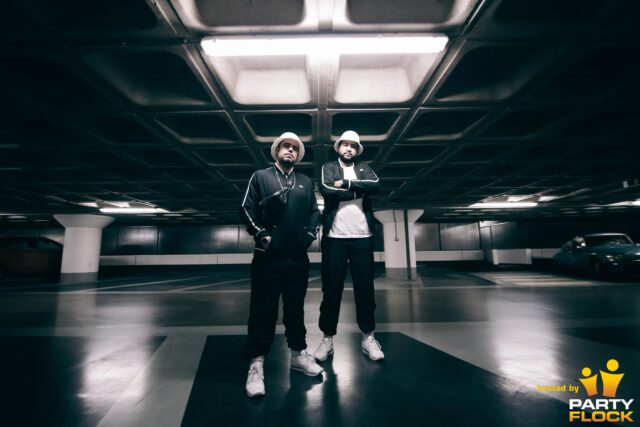 Recently just added to the Barong Family, Dutch duo Moksi has made its way from Holland to the states performing with Yellow Claw on their Blood For Mercy tour. Sam and Diego the two men behind Moksi signed to Yellow Claw's Barong Family label and have not long ago released their Brace Yourself EP and The Power of Moksi EP. The two are definitely artists to watch out for because this is only the start of their musical journey. I was appreciative enough to get to know a little bit more of this mysterious group on their stop in Chicago Saturday, finding out who is Moksi and what\'s to come next from them.
Q: You guys just released a new EP and there is also talk that you\'re going to be releasing another one, tell me about that.
S: We released the last EP in October and it did really well. It went to number 1 on the house releases on Beatport. We had huge support from all sides of the scene, from underground but also from the mainstream. Seemed like everybody was playing it. It was really surprising to us.
D: We also dropped some remixes in-between. We did some bootlegs as well.
Q: Could you say when this next EP will be released?
S: It\'s really difficult to say… We are so busy touring right now it\'s really hard to get the details done. But we hope somewhere around February, who knows.
D: It will definitely be in the beginning of 2016.
Q: Now being apart of the Barong family, how did you guys come in contact with Yellow Claw?
D: I know Bizzey for like 8 years now, when I started out MCing and hosting festivals and club gigs.
S: I know Jim from when we were like 12 years old, we grew up in the same town but he moved to Amsterdam when he was about 18, then we got a little bit out of touch. The funny thing is this actually didn\'t happen through Jim, this happened through Bizzey. A certain night in 2014 Diego and me were in the studio and he said let\'s try to make something different. That night we made Getting Higher, it\'s a song from the first EP and but at that point it was just a 45 seconds snippet. It wasn\'t even finished. 2 Months later Diego was visiting Bizzey and he showed Diego some new unreleased Yellow Claw stuff. Diego texted me; \"should I show him the song\". And I was like, nah it\'s not even finished. Diego showed it to Bizzey anyway and five minutes later my phone rang, it was Bizzey and he was like \"dude finish this shit!\" The days after Jim en Nils were all over that shit and were like \"make an EP\" so we did. That\'s how it went down.
Q: What\'s in the water that there are so many great Dutch artists in electronic dance music?
S: I think it comes from the fact that people in Europe are not really into the show aspect and when you play they really want to be taking you on a journey. They are a little bit spoiled because everything happens in Europe dance wise and now it\'s evolving worldwide, so people know a lot. People know when they come to the shows you play, they know whats good and whats bad. As a DJ that makes you wanna do better and work harder. I think that\'s the main reason why Dutch DJs are doing so well – because the crowds are not that easily entertained.
Q: There are a lot of talk of what genera you guys play, so how would you describe your type of music?
S: Thats a really good question cause we were talking about that with Jauz the other night in Seattle. People call it bass house, people call it future bass, I don\'t know it\'s just house.
D: We get a lot of influences from the UK from back in the days. Garage, two step, Grime – all of that stuff. But I also have no clue how to name it.
S: Let\'s call it Moksi?
Q: What artist are you most influenced by?
D: For me, a lot of names from the UK actually, DJ Q, Cause & Effect, Chris Lorenzo, Disclosure, those kind of names.
S: All of the above..
Q: What\'s your favorite thing to do upon the stage?
S: As for me I really like to make eye contact with people. That\'s what I remember from when I went to clubs or shows when I was young and I saw a DJ playing with their head down the whole time – there is no connection. So when I come in I really like to look at people in the eyes.
D: Yeah we really try to make a connection with them.
Q: So if you could explain your performances in three words what would it be?
S: Bass, wobbles and bass.
D: Bucket hats, bass, and bass.
Moksi will be doing a lot of touring for the remainder of the year and next year as well. It was first all about the music and now its time to let that music shine and go on tours. They plan to finish a lot of new music and a lot of collabs, and possibly release a single in the next year. To catch Moksi on tour check out there facebook.